11 Best Tools To Make Virtual And Distance Learning Effective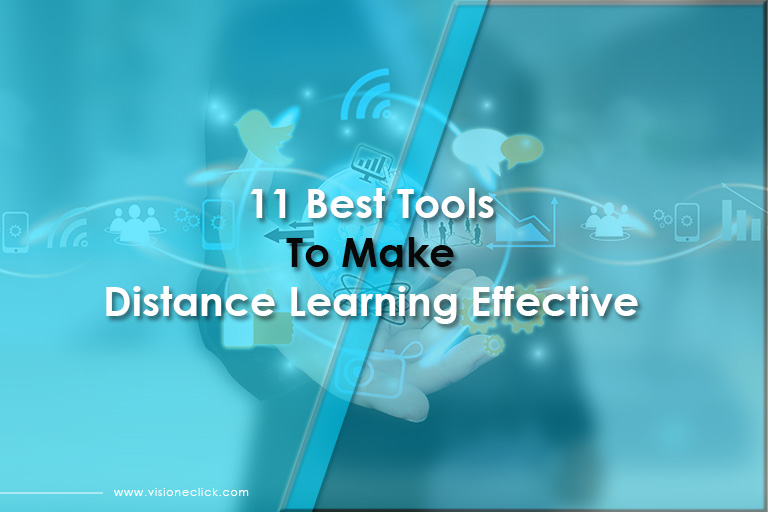 COVID-19 has been harsh on the majority of the people globally. And the most affected individuals (in terms of activities) are the students apart from employees of various companies. Many students did not even have their exams. This came as good news to them, however, the Coronavirus outbreak affected class schedules for many!
The good news is that the schools were quick to respond to the issue by conducting online classes. Here are some tools that you should consider as well.
Remind
This platform is for every student enrolled in Pre-Nursery to level K-12, and the teachers teaching these grades. This classroom friendly app makes communication easy. Teachers can conveniently send messages to the students and vice versa. The personal information of the sender is not revealed. Messages on this tool can get translated into about seventy languages.
When it got introduced, Remind was only a one-way messaging app. However, the latest version allows the parents and students to message back the teachers as well. However, users have a choice to disable this particular feature. Not only can the instructors share text but also video and audio messages through it. Sharing links, images, and files is also easy through this tool.
The signing in process is easy. The instructor sends a link to everyone and they can log in. Overall, it is a well-designed tool that makes communication easy between teachers, students, and parents.
TalkingPoints
Another tool that facilitates communication between the teachers and students is TalkingPoints. It is a multilingual communication tool that has an automatic translation feature. Apart from that, the extra-ordinary user support allows the instructors to communicate with the families of students easily. While Remind allows you to communicate in over seventy languages, TalkingPoints translates your messages in over 100 languages.
There might be little delays in message delivery but that is not a major issue. You may also have to be very careful regarding the grammatical and spelling errors. As they tend to affect the translation. If you have access to Spectrum Internet for students, you can access this tool with ease. Teachers have to create a spreadsheet to add the recipients of their messages. The instructors choose to send these messages in their language that can get translated into the recipient's home language.
Option for sending the messages to a group, a class, or a single individual is available. Sending photos and videos is also an available feature.
Screencast-O-Matic
Instructors who wish to record video sessions for the students should make use of this tool. This tool is most useful for level K-12. Screencast-O-Matic comes in both a free and a paid version. The free version lacks many features. You should not worry as the paid version won't cost you your arms and leg either. This app allows you to create screencasts at a reasonable price tag. Not only can teachers but students can make the best use of this tool as well. It allows both to record, edit, save, trim, and share the screencasts.
One of the cons of using this platform is that it will take you some time before you build a content library. The paid version (Solo Deluxe plan) of the app allows you to make more sophisticated videos. And it is available only at $1.50/month. However, if you are willing to spend some more bucks, then you should go with the Solo Premier plan that comes at a price tag of $4.00/month. But it offers unlimited features including secure backup and hosting.
You will never face any trouble while using this tool as the site constantly keeps posting blogs.
Seesaw: The Learning Journal
Suitable for level K-12, Seesaw: the Learning Journal is a great platform for assessment, classroom management, and formative assessment. In the time when people are facing cybersecurity issues, such platforms assure the parents and guardians that their children are safe. The activity library that the platform boasts contains tons of amazing material for students to pick from. You can choose between a paid and a free version of this tool as well. Like every other platform, the paid version for this app includes more features as well.
Teachers can use this platform to create meaningful multimedia for their students. Instructors can assign tasks to the students using Google, student emails, QR code, or Clever. Seesaw allows teachers to create very engaging content that students enjoy watching. Thus, making learning a rather fun experience for them. The teachers can choose to upload the content in the form of videos, images, text, photos, files, and drawings.
Families can also get access to these tasks where teachers provide their feedback on the students' progress as well. The app has an intuitive interface and offers a good level of security with password protection.
Bulb
Meant for grades 7-12, Bulb also makes sharing lectures easy for the instructors. Some of the good things about the platform include the attractive interface and the flexibility of creating content. Instructors do not need to rely on any pre-existing content library as well. They get o to create their collection and pages that they later share with the class. Moreover, the students also have the option of contributing to the teacher's collection. Hence, expanding then already existing one.
The bad part though is that the feedback option is not available on this platform. And what good is someone's work if it does not receive any feedback. However, you can always use the platform to create content with ease.
Edmodo
Edmodo is a classroom management and learning tool. It is the best available option for students of grades 4-12. You would find it fun to use the platform if you already use social media. Because the site resembles it. It is a Facebook-like learning platform that allows your kids to acquire new skills. It is quite easy for teachers to create content on this platform and invite students to view it. So, look around for the best Internet packages to get high-speed internet and access this amazing tool at all times.
Some of the pros of using this platform include the moderation of content by the instructors, available feedback from teachers to the parents, and the ability of teachers to put students on read-only mode. Videos, documents, images, and links – all of them can get uploaded. All you have to do is drag and drop an option. Apart from that, the platform also allows the teachers to add links to certain apps as well. These include Office 365 or snapshot. Thus, allowing them to create personalized assessments and save them.
In case the instructors do not want to recreate content every time they prepare for the same topic's lecture, they can use the Edmodo Spotlight feature.
Common Curriculum
Instructors can use this tool to prepare their lessons in advance. It is a great tool for productivity and lesson planning. So get ready to replace your bulky binders with these sleek lesson planners. This is the strongest feature of the tool as well. It makes planning easy and organized. However, you will find the tool easier to use if you log into it with some idea of what your daily lessons are like.
Tip: start with timelines and dates keeping your daily and monthly plans in mind. After this, continue to create your lesson templates. The site also offers a collaboration feature that can come in handy when various departments wish to contribute to a plan. Collaboration also aids the sharing of the plans with a colleague or the higher-ups.
Flipgrid
While many platforms have both a free and a paid version, Flipgrid is entirely free. Suitable for grades 3-12, the platform is great for media literacy, presentation, social media, and assessment. Moreover, it allows for customizable responses to the videos.
You can think of Flipgrid is a website that allows teachers to create boards that you normally refer to as topics. Students can respond to these topics by a video message that appears as a grid in front of everyone. Teachers have the authority to share grids with various classes and small groups. Every grid is capable of holding unlimited topics.
All the topics don't need to be text-based. Teachers can choose to add images, videos, attachments, GIPHY, and emojis. Students can respond to the grid by uploading a video that they record live. Or they can choose to upload a previously recorded one as well. The response can be anywhere between 15 seconds and 5 minutes long. You can think of it as a video conferencing tool. Only that there are no live video sessions.
Spiral
Spiral is a suitable platform for students in grades 3-12. It is a great platform for instructional design, classroom management, and assessment. A positive point about this tool is that I allow for instant feedback. Another pro of using this site is the voice and confidence that it gives to the shyest students as well. All the instructors who are looking for a quick assessment, interactive video sessions, student collaboration, and flipped classroom activities should use Spiral
You can have a real-time video chat with your students as well. The Team Up feature also allows the instructors to monitor the progress of each student. This becomes possible when students share the presentations that hey made on the various topics assigned to them.
Instructors can also ease themselves further by grading the assignments automatically. Statistics regarding the performance of students on individual questions are also available. Thus, making Spiral a well-detailed platform.  The best part is that teachers can assign assignments to students to finish at home. They can even sync Spiral with Google Classroom. Hence, making for great and convenient teaching experience.
Kaizena
Kaizena is suitable for students enrolled in grades 6-12. It is a great platform for productivity, assessment, and formative assessment. One of the best parts of using this app is that the instructors can provide instant feedback. They can choose to do so in a group or privately. Apart from that, Kaizena can also sync with Google Classroom.
Some of the features that make Kaizena a favorite among teachers are the ability to manage feedback writing process and publishing. Instructors can supervise the students throughout the writing and publishing process. If need be, the instructors can also give individual feedback to the students using Google Docs. Holding private or group conversations is also easy with Kaizen.
Pear Deck
Pear Deck is a great platform for sharing slideshows and engaging students well. It is suitable for students studying in grades 4-12. The tool is great for activities like assessment, classroom management, formative assessment, and instructional strategies. If you are a beginner then you should try converting your PowerPoint or Google Slides presentation into a Pear Deck one.
All you have to make sure is that you have access to good service by a reliable wireless Internet service provider. Because a downtime would mean that you will have to face interruptions. And you would not want that.
Other than these tools there are many more that can help the students and teachers to collaborate well during the lockdown. Some prominent names include Google Sites, Edublogs, and Nearpod. Making learning a fun experience with these tools. Stay safe!
Disclaimer: To our knowledge, we have made all the required efforts towards obtaining owner/publisher approval for the use of images in VISIONECLICK.COM blog posts. However, if you find violations of any sorts regarding any image, please feel free to contact us. Prices and packages mentioned may vary with time and the specific locations.