How to Use Cox Cable Digital Channels Without the Box?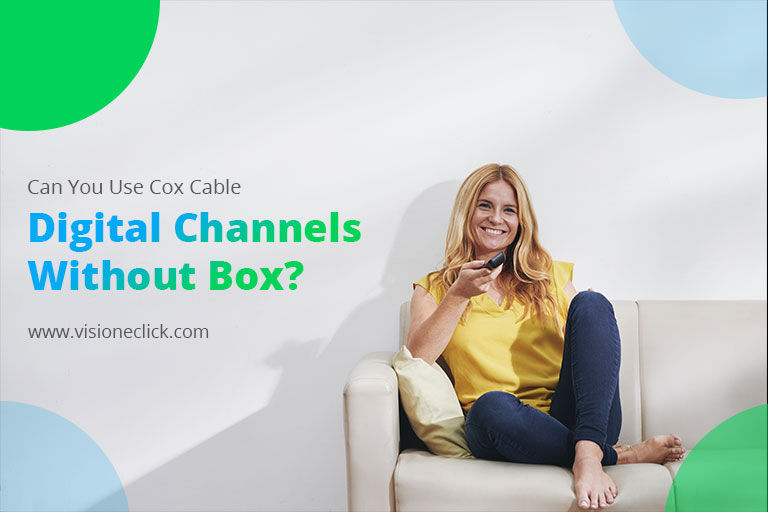 There are many digital channel service providers in the United States of America. The competition is very fierce with competitors coming up with attractive offerings and incentives frequently. Most of these offers come with double and triple-play packages. Therefore, subscribers of Contour TV can enjoy an enhanced experience due to its quality features. You can customize the packages and add channels of your own liking to the subscription. The channel list includes both national and international channels.
One of the key benefits of becoming a subscriber is that you can easily use the Cox DVR recording feature. This can allow you to record your favorite shows with ease. However, some people may be wondering if they can use the cable digital channels without the box or not. This is a key concern for many and needs a detailed answer. To understand if this is possible or not, go through the following passages. 
Cable Services of Cox
The company excels in providing standard and high-definition cable TV services to its viewers. It provides a fully digital cable service today. The company also provides DVRs (Digital Video Recorders) to its users for a more personalized experience of cable TV. It also provides a wide range of options for VOD (video on demand). Users can watch their favorite shows and programs by paying slightly more than their overall package cost.  When they do so, they can experience high-definition VOD services. 
Services Other Than Cable Services
Apart from the cable services, the provider also offers high-speed internet and quality telephone services. The company provides internet speeds of up to 1000 Mbps. The optic-fiber internet also comes with low latency speeds allowing users to experience a fast online gaming experience. Not only that, but they can also stream movies online. The internet works well in domestic settings. As far as telephone services are concerned, the company provides circuit-switched and VoIP systems in many areas. 
Can You Use Cable Digital Channels Without the Box?
Yes, you can use cable digital channels without the box as the provider updates its existing systems over regular periods of time, which is in keeping with its reputation as a company with a commitment to innovation and positive change. This is the reason that in 2009 they shifted to digital systems from the legacy analog ones. 
4K Contour Stream Player
The 4K Contour Stream Player from Cox is wireless. It also comes with many other user-friendly features. You can use it to stream your favorite channels without purchasing a box. 
Standard Channels
You will not require a box to watch your favorite standard cable channels such as ESPN, a local weather channel, or a news channel. However, a digital adapter is necessary. You can get it for free from Cox. Therefore, there's no need to buy a box to get access to standard channels. 
Local TV Channels
A box or a digital adapter is not required to watch local channels. However, you will need a digital TV to access all local public, government, sports, news, and weather channels. This is because digital TVs have QAM tuners. They can easily catch the broadcast from local channels once you plug in the TV.
To receive broadcasts of local channels on your digital TV, you will need to buy a DVR. Do note that for problems such as the Contour remote not working, replacement is the recommended solution. 
Check the Channel Listing
A channel lineup shows if you can access a particular channel without the box or not. Channels with the triangle mating are HD ones. Notes of services will also accompany such channels. If you are planning to buy the box just to be on the safe side, then there's one good piece of news. It is free for the first year from Cox. 
By now, you must know that you can use cable digital channels even if you do not have a box. For standard channels, you will need a digital adapter that this ISP gives for free. For local channels, you need a digital TV and DVR. With a box, however, you can be on the safe side and access all the channels. Have a good time enjoying your cable TV service!
Disclaimer: To our knowledge, we have made all the required efforts towards obtaining owner/publisher approval for the use of images in VISIONECLICK.COM blog posts. However, if you find violations of any sorts regarding any image, please feel free to contact us. Prices and packages mentioned may vary with time and the specific locations.