9 Amazing Facts You Didn't Know About Google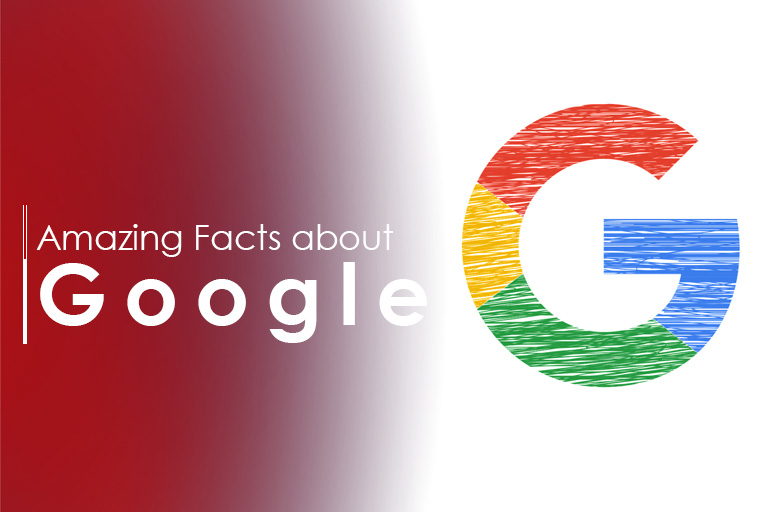 "Oh, let me Google it." The word 'Google' has almost replaced 'search' when it comes to online browsing. Google is a search engine giant and one would easily believe this statement even if it isn't supported by any facts and figures. However, not stating anything without supporting it with stats. Google has an amazing difference of 65% in search of Bing (that happens to enjoy second place in search engines).
Here are some other amazing facts about Google:
Market Value
Google enjoys a nearly trillion dollars of market value. Currently, the company stands at a market value of $858 Billion. The company has come a long way. In 2015, Google's market value was around $400 Billion. The company's value is only going up. Especially after the introduction of the smart devices that the company introduced that work well with fast Internet though. However, the devices are one-of-its-kind.
Revenue from Advertising
Google earns a whopping $110 Billion a year through advertising. Google advertising in many different ways. Hence, providing the advertiser with diverse options to choose from. For example, as a marketer or advertiser, if you wish to display an ad for Frontier Internet deals, you can choose to purchase ad spaces from Google on search result pages. Or you can choose to opt for the display network.
All the options that Google provides aids the advertisers (businesses and companies) to have a prominent place where they can capture the attention of their potential clients while they are searching for something on Google. Even if you are browsing the web and scrolling through your social media apps, advertisers tap the opportunity of displaying ads (related to your interests and likes) before you.
The Google ads' network is referred to as Google Ads (formerly Google AdWords). Google also collects information about all the users through their search history. It enables the search engine to display the most relevant ads before the people browsing. Thus, making it one of the best platforms for advertising your product or business as well.
Yahoo! Once Powered by Google
Google once powered Yahoo! Long ago Google did not enjoy the position that it does today. Yahoo! was 'the search engine' you set as your default browser to search about anything that you wanted. From searching about the internet providers in my area to finding the local eateries in my neighborhood, I  used to search for everything on Yahoo!
However, Yahoo! made a mistake that business schools teach as a part of the 'lesson to be learned' case study. The once search engine giant signed a deal with Google allowing the latter to power it. From 2000 till 2004, Yahoo!, powered by Google is what you would see when you would open Yahoo! People were quick to see the difference that the new collaboration provided them with. People now enjoyed a better quality of search results. But by the time Yahoo! realized its mistake and dropped Google, it was too late. The damage had been done.
It was like you switching from Spectrum Internet to any other service because you feel that there is a difference in performance or maybe prices. People started turning to Google to feed their appetite for searching online.
Google Employees
If your dream job is working at the most amazing workplace aka Google, you will have to work hard. Because the company employs over 100,000 people. You need the brains first. But even if you have the brains, you will have to face a tough competition. Despite being one of the most profitable companies, Google only employs around 100,000 people.
This speaks volumes about the company's culture. Google is famous for providing a work environment that is productive and employee-focused. The company is famous for providing a relaxed work environment for the employees with the amazing Internet that offers fast download and upload speeds. Hence, the small number of employees and the massive amount of revenue.
Google Searches
Every year there are around 2 Trillion Google searches. This translates to a whopping amount of 5 Billion searches every day. To elaborate it further, this means that 228 Million searches are carried out on Google every hour. No wonder Google is so prominent in the digital world these days. This will increase as access to the Internet is becoming economical with offerings like WOW! Internet deals.
The Search Market Share
At present, Google owns more than 90% of the total search market share worldwide. It is hard to believe that Google will ever fall from this spot as Google keeps on improving and people continue to relish the newest features that it offers. Some search engines that people resort to after Google include:
Bing
Yahoo!
Baidu
DuckDuckGo
Growth of 2000 Percent
The search traffic on Google has grown by 2000% in the last 20 years. The company also owes its success to services like Optimum Internet that make access to the Internet for people easy and affordable. Not only did this success come from more and more people having access to the Internet, but Google itself has also been snatching after the position. And trying to improve in whatever manner possible. If you compare the search traffic figure from that in 1999, it was only 1 Billion.
Google Maps Stats
Google Maps is perhaps one of the best inventions by the company. It is a blessing in disguise. Some of the amazing facts about the platform include:
Google Maps has over 20 Petabytes of data
Google Maps enjoys around 13% of all Google searches conducted
Google and Gmail
Another exceptional product introduced by Google is Gmail. The introduction of Gmail is also the reason why Google is so famous among people. Launched in 2005, today Gmail is the most prominent email client. The fact that there are over 1.5 Billion Gmail users says a lot about its prominence. This makes around 27% of the total email accounts worldwide.
On average a Gmail account is worth more than $3,500. And the Gmail AI is efficient enough to block over 100 Million spam emails each day.
There are so many more stats and figures about Google that if one starts writing them down, he would end up filling pages. However, you can always 'Google' about Google Facts. If you have Cox Internet or the like, Googling the facts will not be a tough task.
But these stats should give you a clear idea about Google's dominance in the market and the company is here to stay. It is a growing empire.
Disclaimer: To our knowledge, we have made all the required efforts towards obtaining owner/publisher approval for the use of images in VISIONECLICK.COM blog posts. However, if you find violations of any sorts regarding any image, please feel free to contact us. Prices and packages mentioned may vary with time and the specific locations.