Best Cox-Compatible Modems of 2022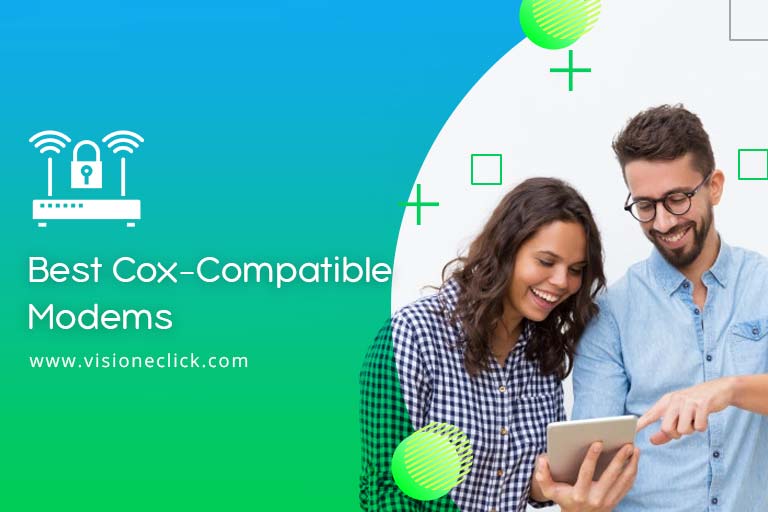 There's no denying that Cox internet plans are among the top ones on the market. The service provider offers high speeds and great after-sales services. But it also charges you $10 per month for equipment rental. If you did not know it before, now you know.  
So, why are you paying the monthly lease when you can get your own equipment? Getting your own mode can rid you of that equipment rental. However, it is important to note that not all devices are compatible with Cox. You will have to purchase a device that works with the service provider.  
Below are a few handpicked options for you to choose from:
Netgear CM500
When it comes to low-end modems, Netgear CM500 is perhaps the best one out there. If you've subscribed to Starter, Essential, or Preferred plans, CM500 is a strong choice. The device boasts download speeds of up to 680 Mbps (megabits per second).  
Now let's talk about the performance of the device. The Netgear CM500 comes with 128MB of RAM and a standard SoC. Because it complements low-internet plans, the modem works best when used to stream Netflix and other applications. Moreover, it supports normal browsing activity.  The modem provides steady and reliable internet speeds of up to 680 Mbps. When used with a preferred internet plan, the speeds can reach up to 140 Mbps. Ultimate plan users, on the other hand, can expect speeds of up to 400 Mbps. That's pretty impressive!  
TP-Link CR700
The TP-Link CR700 is another affordable modem on the list. It works well with low-speed internet plans. Its mid-range capabilities make it a strong contender to go with Essential, Preferred, or Ultimate plans. What's more, the device comes with four Ethernet ports – meaning you'll be able to stream content on your Cox TV easily. 
It has a dual-core processor, 256 MB of RAM, DOCSIS 3.0 setup, and much more. Also, the device comes with a bonding support feature (16×4 channel). That means you can get four times the speed of a DOCSIS 2.0 device. How cool is that!  
Other features include internal antennas and beamforming support. The TP-Link CR700 works best when it's combined as a router and modem. For the 5GHz band, download speeds peak at 400 Mbps. A 2.4 GHz band, on the other hand, will give you 150 Mbps of download speeds.  
Netgear CM700
The Netgear CM700 is an improved version of the Netgear CM500. This is a great modem for mid-range Cox internet plans. It lets you speed up certain processes with its excellent functionalities. One such functionality is that it can prioritize traffic requests. Safe to say that service quality is just brilliant with the Netgear CM700.  
The device comes with a quad-core processor, 128MB of RAM, DOCSIS 3.0 setup, and much more. Also, you can determine connection strength and speed by looking at the LED lights on the router. With CM700, you no longer need to worry about latency. Play your favorite games without worrying about connection strength and speed.  
Theoretically, the modem provides a speed of up to 1.4 Gbps (gigabits per second). However, in reality, download speeds peak at 500 Mbps, which is still pretty awesome if you're subscribed to the ultimate internet plan. The upload speeds, on the other hand, peak at 80 Mbps. Overall, it's a great device that allows you to make the most out of your internet connection.  
Arris SB6190
The Arris SB6190 modem is the go-to for Ultimate internet plan subscribers. Think of it as an internet speed test tool. That's how great it is. Because it uses the DOCSIS 3.0 setup, the device can transmit data eight times faster than the DOCSIS 2.0 router. Also, it comes with 32 downstream channels.  
The download speeds peak at 470 Mbps when used with the Ultimate internet plans. However, the same rocketed to 600 Mbps with the Gigablast internet plans. The upload speeds, on the other hand, are restricted to 80 Mbps. Using the Ethernet port can get you internet speeds of 1Gbps.  
To configure the device, you will need to follow the instruction manual. It is one of the best options on the market. The device comes with safety and security features. Also, it is one of the best choices to go with the Ultimate internet plan.  
Netgear CM1000
Another great modem that's making rounds due to its reliability and ease of use. It is compatible with the DOCSIS 3.1 technology. That means you can expect internet speeds of up to 6 Gbps. What more do you need if you've got such high speeds coming your way? Also, Netgear CM1000 is a future-proof modem. Sounds futuristic enough!  
The device comes with 256MB RAM, 32×8 channel support, and much more. It is powerful enough to provide speeds of up to 1 Gbps and that too with ease. That means you can use it with the Gigablast plan. If you're an internet heavy user, the Netgear CM1000 is a great device to have in your house. Also, it can detect IP with greater efficiency.  
Arris SB8200 DOCSIS 3.1
The Arris SB8200 is one of the most powerful modems on the market today. It comes with multiple Gig Ethernet ports and much more. If you want great speed over wires, get the Arris SB8200. It has extraordinary processing power due to the availability of a Broadcom chipset and 3GB RAM.  
The device is capable of upgrading to the DOCSIS 3.1 during peak hours. That means you can get eight times the speed of a DOCSIS 2.0 network. Also, you no longer have to worry about DNS issues. Why? Because it has a built-in intelligent IPS configuration feature.  
Perhaps the best thing about the SB8200 is that it is compatible with multiple internet connections. That means you can get up to 2 Gbps of download speeds across certain connections. With Cox, the download speeds can reach up to 800 Mbps.
Disclaimer: To our knowledge, we have made all the required efforts towards obtaining owner/publisher approval for the use of images in VISIONECLICK.COM blog posts. However, if you find violations of any sorts regarding any image, please feel free to contact us. Prices and packages mentioned may vary with time and the specific locations.