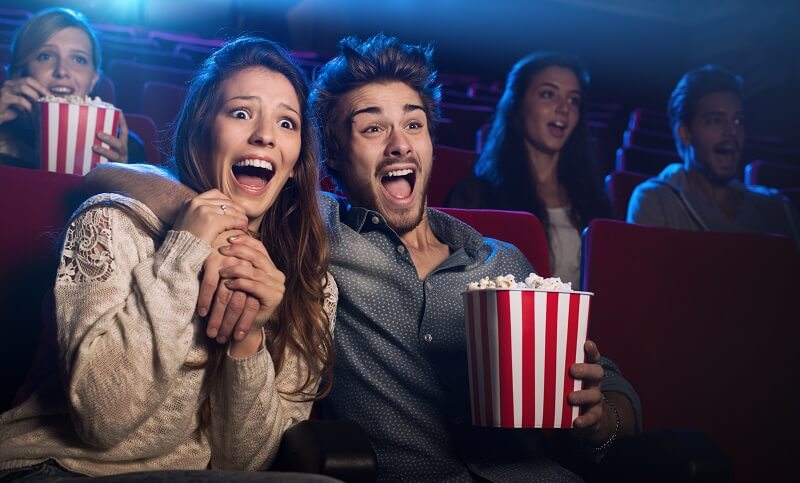 Best Netflix Movies to Watch over Christmas Holidays
Christmas! Isn't it the most amazing time of the year! As it nears the excitement heightens, people make vacation plans with their loved ones and go places to have memorable holidays.
However, not everyone has means and budget to go on vacay escapades to a faraway exotic destination. Or, indulge in pampering spa breaks. Or, go on endless shopping spree with friends and avail the advantage of all the amazing sales. If you are one of those people, don't feel left out because sometimes, the best entertainment is at home. You can invite your friends over and binge-watch movies with an endless supply of your favorite snacks. Don't you love such slumber parties! Also, with a lot on your to-do lists, such as cooking, shopping, New Year's planning, dinners, you get too tired. It's a good idea to stay home. And if you don't like watching movies on small screens, you can watch from thousands of On Demand titles on Cox TV. After all, nothing beats the traditional TV experience.
In the spirit of Christmas, here's a mega dose of some holiday entertainment with these exciting Netflix movies. You are sure to remain on your spot from Christmas to New Year. YES! We are really giving you plenty of movie titles.
Skim through this incredible list to bookmark your favorites.
The Christmas Chronicles
Who would miss seeing Kurt Russell as the hot Santa Claus? Netflix knew you are going to dig it. And there he is, clad in a crimson-hued Santa's costume. Watch The Christmas Chronicles, to see Russell teaming up with two lovely kids and performing a full Santa duty to save Christmas. The movie depicts the spirit of Christmas. I watched it on my Optimum TV and just loved it. It's on Netflix now!
The Princess Switch
The star that we all love has finally their own Christmas movie. And an original one. Yes, we are talking about Vanessa Hudgens here! She performs the role of Stacy, who is a baker in Chicago. While she decides to take a baking contest, she bumps into her doppelganger, and she turns out to be a Duchess. When they got to know each other, they decide to switch places, therefore causing a dramatic, romantic chaos. Perfect entertainment for holidays!
A Christmas Prince
Isn't love in the air during the Christmas time? Yes, it is and that's why you need to see this movie. Everyone is aware of the fact that A Christmas Prince literally broke the internet a year ago. If you haven't watched it already, you just need to browse through the titles of Netflix movies. It's right there! Starring Rose McIver, this movie is a good watch. She plays the role of Amber, who is a young journalist. She ends up going as an undercover tutor for the younger sister of Prince. And then, the romance begins!
Love, Actually
While we are updating you on Netflix movies to watch, how can we miss Love, Actually? To be honest, no Christmas movie list is complete without the said movie. For all the right reasons. The movie is criticized too but we believe it's a perfect-watch for Christmas holidays. After all, who doesn't like movies, which revolve around relationships and love? Also, a good reason to have it in your Netflix movies bucket list is the star-studded cast. For instance, Hugh Grant, Emma Thompson, and Keira Knightley! You'll end up loving the movie.
Mickey's Once Upon a Christmas
Every time I catch a glimpse of an animated movie on my Cox TV, I feel nostalgic. And I'm sure some people out there can relate to the feelings of nostalgia, especially in the holiday season. Netflix has it covered for you! Watch Mickey's Once Upon a Christmas and relive your childhood with your family. It will remind you of the Mickey and Minnie cartoon series that you used to watch as a kid. This movie is highly recommended because it's sure to bring some laughs, shenanigans, and love!
The Holiday Calendar
The Holiday Calendar is one of Netflix's brand new originals. While you skim through the list of Netflix movies to watch, you need to pause on this title for obvious reasons. It stars Kat Graham, the Bonnie from The Vampire Diaries! She performs the role of a photographer who is too reluctant to leave her day job in order to pursue something incredible. When she gets a magical advent calendar as a gift, maybe it's just a little insight and nudge for something real in her future. Find out!
A Christmas Prince: The Royal Wedding
Are you one of those who literally drooled over the incredible storyline of A Christmas Prince? So much so that you ached to see a sequel? Here is the good news; Netflix heard you! If you are looking for a movie to get you glued to the screen in Christmas holidays, it is going to be A Christmas Prince: The Royal Wedding! And for those who haven't seen both parts, they can binge on both of them together. So, are you ready to watch what happens between the charming Prince and Amber? Is our journalist ready to be the Queen because the Prince has become the King of Moldova? Mark it in your list of Netflix movies to watch!
How the Grinch Stole Christmas
Is Grinch reboot making you all angry about the reboot culture? Well, Netflix has the first reboot of Dr. Seuss' original.  And you can watch it too. Voice by the talented Jim Carey, the OG reboot of 2000 isn't animated. Jim plays the furry grump in a head to toe green Grinch! , How the Grinch Stole Christmas is a bit goofy, surreal, and a relic!
The Christmas Candle
When I watched Downton Abbey on my Optimum TV, I just loved it. And here I'm recommending another of the same kind. Although The Christmas Candle is quite heavy on drama, you are going to love it in the holidays. In a small town in England, a new minister comes and tries to reform the folks about their superstitions about Christmas. Watch the movie and find out how long it really takes to mend their ways. Maybe a miracle.
Christmas Inheritance
The protagonist, Ellen is full of a mess to be exact! She is a socialite and is soon going to inherit her father's company. She has to prove herself worthy of this incredible inheritance and her skills by helping other people. Only then, she can be in that top job!
White Christmas
The list is never complete without a classic entry. This incredible musical offers dance and song pair of two ex-army soldiers. They just want to make it big. And then they get a letter from some former sergeant who pleads them to go see his sisters' act. Yes, they fall for them. It was quite predictable. But, the movie is very entertaining and leads to an incredible whirlwind trip to the state of Vermont. The trip is full of some incredible drama and singing. A must-watch!
A Very Murray Christmas
You cannot miss this star-studded Netflix production. Starring Bill Murray, who is worried that no one, will show up on his Christmas event. But, what actually happens is that a bunch of incredible stars like Miley Cyrus, George Clooney, and Chris Rock hit the party. And, not just them, so many more from the Hollywood re there for this particular Netflix production!
El Camino Christmas
El Camino Christmas is another Christmas special Netflix original. Starring Dax Shepard and Jessica Alba as a sheriff's deputy and a reporter respectively, this movie will give you some thrilling entertainment. A situation like five strangers being trapped in a liquor store right on Christmas Eve gives you an idea of the excitement involved!
Christmas Crush
Crush is such a tempting word! And movies based on such things are actually very romantic. The movie is based on a woman who goes to her high school reunion. Only in hopes to win over her ex-boyfriend. But, as usual, there awaits someone better! Watch this incredible movie to find out.
Christmas with a View
Who doesn't like looking at some mesmerizing scenery? And that too, coupled with entertainment. Christmas with a View revolves around a restaurant manager. She meets a chef at her ski resort and things totally change for her from there. The new chef seems to have a mysterious concealed past. Find out what it is while enjoying some mind-blowing setting!
Dear Santa
Dear Santa is a movie that is entertaining and cute at the same time. A rich woman gets a sweet letter from some young girl. She expresses her innocent wishes about how she wants her widowed dad to be happy again. And she hopes that he finds love again. But does he?
Enjoy binging on these incredible Netflix movies and thank us later. Merry Christmas!
Disclaimer: To our knowledge, we have made all the required efforts towards obtaining owner/publisher approval for the use of images in VISIONECLICK.COM blog posts. However, if you find violations of any sorts regarding any image, please feel free to contact us. Prices and packages mentioned may vary with time and the specific locations.