Which is the Best TV service provider in the USA?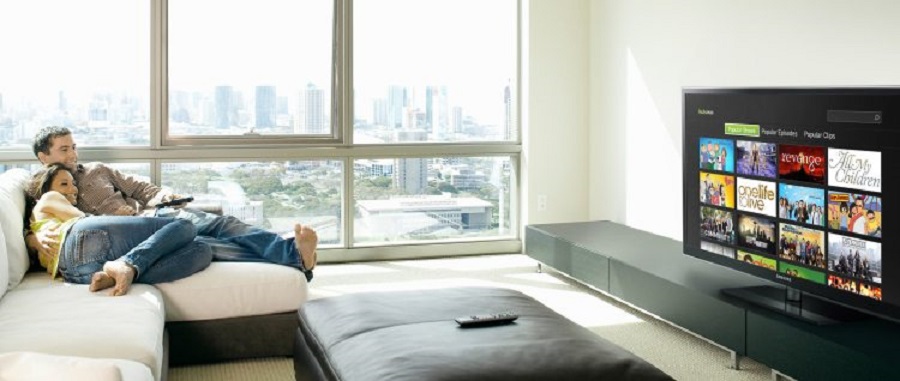 Fios The most accessible form of entertainment after a tiring day is perhaps your smart TV or just the simple TV. Tuning into your favorite channel to watch your favorite show or a blockbuster movie will aid you in relaxing. However, some TV service providers offer a better TV watching experiences than others.
An ideal candidate would provide sharp picture quality with HD resolution along with a huge variety of channels to choose from.
Top TV Service Providers in the States
Here's a list of top American Cable TV companies:
DISH
DISH is the best cable TV service provider by far. The prices of the packages might haunt you at first glance, but if you analyze the plans closely, only then you will see. DISH might offer packages at a higher price than DIRECTV. However, these prices are constant for the 2 years that you sign a contract for. DIRECTV does not offer a flat rate and hikes the price after the first year. The case is different if you opt for the 'no-contract' option.
Apart from that, DISH offers the subscribers an array of channels to choose from. You will get access to premium and local channels alike. The variety of sports channels will also amaze you. These channels include many college sports channels as well including Big Ten Network, and SEC. Not to forget that DISH's base package offers ESPN to the subscribers as well.
DISH does not just offer a great channel list but is also well equipped in the DVR department. Hopper 3 (DISH's current DVR) is the best in town. The amazing features for this DVR include recording 16 shows simultaneously. Apart from that, it allows the users to record up to 500 hours of HD videos. The only con here is that you will have to pay an extra amount for the DVR and an extra receiver (if you wish to opt for it).  But the money will be worth it.
DIRECTV
If you are a sports fanatic, then you should opt for DIRECTV. Because it offers you an array of channels in the 'Sports' category. You can select from a variety of plans including:
DIRECTV Select
Entertainment
Choice
Xtra
Ultimate
Premier
You also get access to ala-carte programming for most of the major sports leagues. These include MLB EXTRA INNINGS, NBA LEAGUE PASS and NHL CENTER ICE. NFL Sunday Ticket is a bonus. Now, what could be better than that. Moreover, opting for the 'Entertainment' packages means that you get access to channels like TBS, ESPN, and TNT. Sports fanatics would know that these channels themselves are a full form of sports entertainment that features all professional sports. Apart from that, these channels also air college basketball games.
Talking of the channel quality, DIRECTV offers more HD channels than any other provider. Also, the DVR (Genie) allows users to record up to 200 hours of shows and movies in HD quality. The only downside of subscribing to DIRECTV is the high price that the packages come at. You won't feel any difference in the price models initially. But from the 13th month onwards, the prices tend to skyrocket.
Xfinity
The 'all-rounder' in cable TV services is perhaps Xfinity. You can choose from the 'no contract' and '1-year contract' options. The difference between the two lies in the pricing, where the latter is cheaper than the former. Apart from that, there are three packages available to the subscribers including Digital Starter, Digital Preferred, and Digital Premier.
Talking about Xfinity's most basic package (Digital Starter), it offers great value for money as it offers above 140 channels at a reasonable price. This package includes many prominent channels including ESPN, AMC, and TNT. Apart from that, subscribers get access to many local channels as well. Thus, making Xfinity's basic package one that is loaded with popular channels as well. From relishing watching Thanksgiving movies to binge-watching your favorite series, you can do it all with the basic package.
However, like every service provider, Xfinity too has a couple of things that will bother you. Some people company about the poor customer service that the company offers. Not only is the bad customer service an issue but Xfinity also charges the subscribers a lot of extra fees. For example, the company will charge you an extra amount for subscribing to the following:
Regional sports
Broadcast TV
DVR
Additional receiver
Spectrum
If you want to enjoy a service that does not bind you to any contracts, Spectrum's the answer. You might compare it with Xfinity's base package and think that you are entering a bad deal. Because Spectrum's basic package offers 15 fewer channels than Xfinity does. However, look at the good side of Spectrum. You do not have to enter a 1 or 2-year contract. Moreover, if you have a favorite TV series or love watching certain movies, the chances of you tuning into all 140 channels are less. You are more likely to swap between the 3-4 channels that you like the most.
Now that you are ready to ignore the number of channels that Spectrum offers, you should know that the company still offers many prominent ones. You get access to premium channels including ABC, Disney, and ESPN as a part of the basic package. The three available packages to you are:
If you compare Spectrum's Silver package to any other service provider', you will see that Spectrum is offering great value for money. You get access to channels like HBO, Cinemax, and SHOWTIME as part of the Silver package. However, the DVR that Spectrum offers may disappoint you a bit. Not only the HD DVR offers 21 hours of recording only, but you also have to specify the type of DVR that you want while placing an order for your selected package. You get options from HD and SD. In case you forget to specify, you will receive an SD DVR. Not to forget that even the HD DVR can only record two shows at one time.
Cox
If you happen to be a sucker for customization, then Cox TV will be the perfect pick for you. The Contour TV package that Cox offers includes a preselected list of base channels. The list includes ABC, TBS, and FOX. Apart from this, you have a premium channel included in each of the base packages. In addition to this, you have 'Paks' at your disposal. You can refer to them as additional channels. Hence, making Cox a partial ala-carte Cable TV service provider.
However, as much as this partial ala-carte menu might excite you, the Paks come at a cost. So, for every add-on package that you wish to add to your existing base package, you pay a hefty amount. If you want to avoid paying huge sums of money, the Contour TV package is not the right one for you. You can choose from other packages. Apart from the pricey Paks, the DVR offered by Cox also comes at an expensive rate. So, you will have to weigh your choices and see if WOW TV or others have better prices to offer.
Verizon FiOS
If you wish to opt for a fiber-optic TV service provider, then Verizon is the option that you would want to choose. You can select from four packages including:
Custom TV
Preferred
Extreme
Ultimate
The reason people opt for fiber-optic TV is its fast speed as well as its ability to use multiple devices at once. Moreover, you do not have to get into any contract and the customer service is commendable as well.  However, you will have to bear the extra charges when it comes to DVR. Apart from that, you will also have to bundle your TV service with the Internet. But this should not be a worrisome issue as every household subscribes to Internet services anyway. The availability of the Internet makes it easy for individuals to stream shows and movies online as well via platforms like Philo TV.
Frontier
Frontier would be a perfect option for anyone who is looking for more in terms of the picture quality of the channels offered by a service provider. Frontier TV is also a popular choice among people because of the fiber optic option that it gives to the subscribers as well.  Depending on the location that you reside in, you can opt for either FiOS TV or Vantage TV.
Moreover, subscribing to Fios means access to an array of promotional offers. The company's very big on offering promotional deals. The discounts can eventually lead to you saving a lot of money that you can invest elsewhere. However, you might want to consider the company's customer service before you subscribe to any package as it is pretty average. But if the customer service is not something that bothers you, it would be a decent pick.
Apart from the options discussed above, you can also opt for Optimum TV or Mediacom. The options are unlimited but you have to make a choice. And when it comes to cable TV service providers, there is no best or worst. You have to choose according to your liking, budget as well as the area that you reside in. What may be a good option for one housel-hold but not be feasible for you. Therefore, one has to see the area of priority for him and then make an informed decision.
Disclaimer: To our knowledge, we have made all the required efforts towards obtaining owner/publisher approval for the use of images in VISIONECLICK.COM blog posts. However, if you find violations of any sorts regarding any image, please feel free to contact us. Prices and packages mentioned may vary with time and the specific locations.