Safest, Fastest and Best Web Browsers to Use in 2022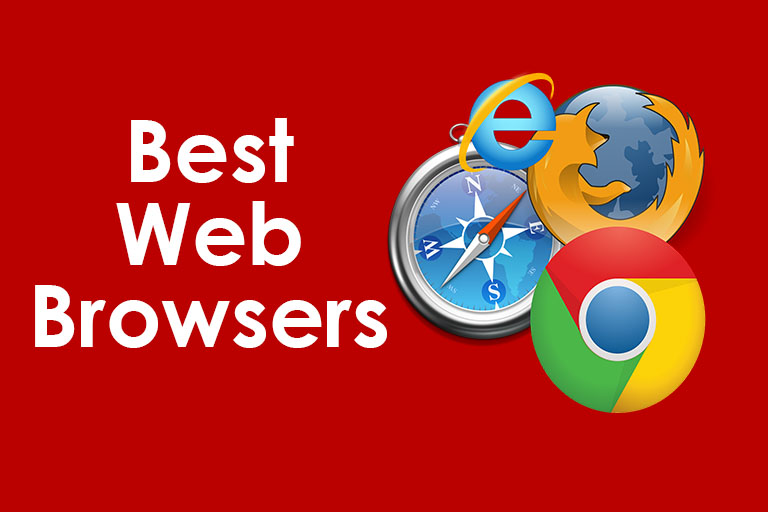 Defining the best web browser is totally subjective because that depends on the type of netizen you are. If you are looking for the right browser based on security, customization, and usability, you are in the right place. This blog suggests some of the most well-designed and comprehensive browsers for you. Take your pick according to your preferences!
The truth is that every browser has its pros and cons. It is for you to decide which of them will suit you the best according to several factors involved. Some of them are privacy preferences, internet speed, security needs, your operating system, and so on. Let's dig into all the pertinent details that a user may wonder about. In addition, you can go through the frequently asked questions about best web browsers. Tag along!
Which is the Best Web Browser?
Some of the most used and widely trusted internet browsers across the globe are as follows:
Mozilla Firefox.
Google Chrome.
Microsoft Edge.
Vivaldi.
Opera.
We are going to discuss the features of three of them for you to figure out which one may work best for you.
Mozilla Firefox
If you are particular about the privacy protection of your browser, this one is for you. It is especially for power users, and also various operating systems such as Mac OS, iOS, Windows, Android, and Linux support it. Firefox has rightly been the internet's Swiss Army Knife. Just like we hail Roku as the best among all other streaming services. It is one of our favorite browsers. Version 72 has been particularly hailed because of its effective features. Here are some of the quick features of the said internet browser:
It is incredibly flexible.
Offers great privacy protection.
It can be synced across various platforms.
Slightly slower than its rivals.
Capable of sending an alert in an event when there is your email address in a data breach.
It blocks annoying pop-ups to allow notifications.
Effectively blocks fingerprinting browser tracking.
The aforementioned features make it possible to avoid being hacked.
In the Mac version, it offers the picture in picture video mode.
It is endlessly customizable in terms of appearance and range of plugins and extensions.
Although it's still our favorite browser, 2019 was not a great year for it. It lagged behind in performance as compared to Chrome and its other counterparts. But it went through a dramatic overhaul and now it's outperforming its rivals. It is functioning solid and smooth even on the modest hardware.
Google Chrome
If you talk about the world's favorite internet browser, it has to be Google Chrome! Nevertheless, it can be such a memory-muncher. It is supported by various operating systems such as Mac OS, iOS, Android, Windows, Linux, and so on. Chrome 79 is quite a brilliant browser and here are some quick facts about it:
Speedy performance.
It can be resource-hungry.
Very expandable.
It boasts of a superb library of incredible add-ons.
Comes with cross-platform compatibility and can be synced.
Developers can take advantage of some effective tools, which it features.
It has brilliant autofill features.
You will get a warning if your email is compromised. You can keep cybersecurity issues at bay.
For compatible providers, it offers a secure DNS lookup.
It effectively blocks dangerous mixed content like images and scripts on otherwise secure connections.
Capable of enabling WebXR API for Virtual Reality and Artificial Intelligence.
Chrome dark mode makes browsing easier on the eyes at night time.
Take note of the cons here. Chrome is a little notorious for its hefty resource demands. It can easily chug along with limited RAM and low-powered hardware. Chrome remains to be hardware hungry. Firefox has an edge on it when it comes to privacy protection. In addition, unlike Google, niche browsers don't come with this lingering fear of too much involvement in our lives.
Microsoft Edge
When it comes to browser wars, we have always taken Microsoft as the villain. This genuinely great browser makes them the angels now! We are simply in love with it! It is compatible with Windows, Mac OS, iOS, and android. And soon be supported by Linux too. It wouldn't be wrong to call it the best web browser in terms of many different factors and features. Here is quick glance at its incredible features:
Very, very fast.
It can save/download websites and webpages as standalone apps. Without launching the whole browser again, you can use them.
Offers crystal-clear privacy tools.
It has been rebuilt with Chromium.
Microsoft Edge is the default browser of Windows but versions for Mac, iOS, and Android are also available.
The brand new version powered by Chromium is way faster than its predecessor was.
It offers great add-ons like ad-blockers, password managers, and so on.
The start page is Opera-styled and offers useful features such as Read Aloud.
You can take advantage of tons of customization options for the services page and privacy.
We agree that Edge works and looks like Chrome. However, we definitely like it better than chrome because the customization options are incredible and it is noticeably fast with all the internet providers!
FAQs:
1 – What was the first browser?
The first-ever web browser was WorldWideWeb and it was developed in 1990.
2 – What is the best web browser?
That depends on the type of users and their preferences. Some of the best web browsers are Chrome, Edge, Firefox, Opera, and so on.
3- How browsers make money?
Independent browsers such as Firefox and Opera make money by revenue sharing from the ad business of the search engines.
Disclaimer: To our knowledge, we have made all the required efforts towards obtaining owner/publisher approval for the use of images in VISIONECLICK.COM blog posts. However, if you find violations of any sorts regarding any image, please feel free to contact us. Prices and packages mentioned may vary with time and the specific locations.