What Channel is Bounce TV on Spectrum?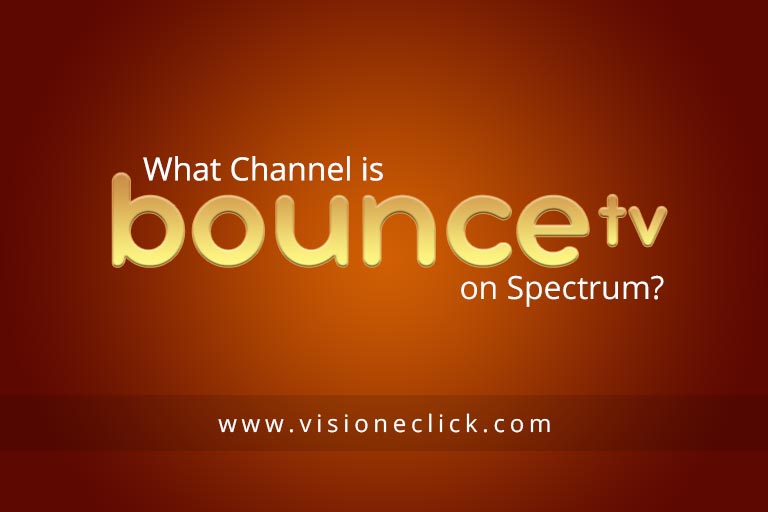 Hollywood has shown acceptability when it comes to casting African American stars for lead roles. Racism and nepotism haven't completely gone but black skin is steadily being celebrated. Channels like Bounce TV are giving voice to the black community and their story is being told without filters.  Regardless of your ethnicity and race, if you are an advocate of black lives, Bounce TV on Spectrum better be your favorite channel.
Brief History of Bounce TV
This multicast TV network is owned by Katz broadcasting. It is the first 24/7 digital broadcast network targeted at African Americans! It is a combination of original and acquired programs targeting Afro-Americans between 25 and 54 years.
Bounce TV was formed on April 5th, 2011. The founding group and initial team that owned the network included Martin Luther King III, Andrew Young, Bo Young III, Will Packer, and Rob Hardy. Currently, Ryan Glover is the president and Jonathan Katz is the COO of the network. The name Bounce signifies this network is "going somewhere with energy."
How to Watch Bounce TV on Spectrum?
Of course, to watch Bounce TV on your spectrum cable, you must be a subscriber of the Select package, the basic cable tier.
If you're already a customer, refer to this table to find the channel number in your city/state and tune in to Bounce TV without sifting through channels.
| | | | | | | |
| --- | --- | --- | --- | --- | --- | --- |
| Athens, GA | Backer City, OR | Cincinnati, OH | Dallas, TX | Harvard, MA | Kansas City, KS | Los Angeles, CA |
| 188/194 | 191/193 | 992 | 1280 | 189 | 1295 | 1281 |
Bounce TV Programming
The primary target of the programming featured on Bounce TV is adults. The network broadcasts acquired series and featured films alongside some Originals. It also managed to acquire rights to sitcoms via deals with CBS Television, Television Studios, Warner Bros, 20th Television, and a few more.
Its Original programming includes music, documentaries, comedy, and some Specials. The network acquired rights to air American football and basketball games as well. This means you will have a variety of programming to enjoy much like Paramount Network and other networks. The only difference is it's African American-based.
Trending Shows on Bounce TV
You won't regret tuning in to Bounce TV on Spectrum. This network has a range of interesting programming to keep you occupied throughout the day. Let's find out what's trending:
Mann & Wife
It's an original comedy series featuring David Mann and Tamela Mann (a real-life couple). They play the role of Daniel and Toni, the newlyweds with four children. They muddle through tricky situations arising when two different families are combined. The family learns to navigate this new life and bear with each other under one roof.
Watching News Max all day can be tiring. Mann & Wife is the perfect solution to lighten up the mood with a few laughs.
The Wendy Williams Show
People all over the world are familiar with the Wendy Williams Show. It needs no introduction! This daytime talk show is created and produced by Williams herself.
Some of the highlights of the show include celebrity interviews, hot tips, Williams' honest open about entertainment and the lastest pop culture, and everyone's favorite Ask Wendy where she offers advice to a random member from the audience. It's fun to start your day watching Wendy's distinctive personality.
Dying To Be Famous
If you are into crime documentaries, this one's going to knock you off your feet. This docu-series follows the mysterious death (much likely a murder) of a young model Ryan Singleton. Ryan's body was discovered in the Mojave Desert. It's a true story folks and a must-watch.
The Real
It is a panel show featuring outspoken female hosts with varied life experiences to share with the world. They bring a unique perspective to topics such as fashion, beauty, celebrity news, and relationships.
This variety talk show often invites a guest host from reality TV programs. Get ready to hear candid stories and opinions of women who don't necessarily agree with each other.
Caution: The Real literally gets real on the subject in question. It's not like the regular talk shows airing on CNN and other news networks.
Saints & Sinners
Are you into drama? Then this soap opera is for you. The show is about Mayor Ella Johnson who positions herself for the Senate seat. Her mother's secrets surface and Ella's world is shaken to the core. She struggles to keep her children safe as the enemies threaten her. The storyline of Saints and Sinners is captivating. You might get addicted to the show.
Final Words
After learning so much about this network, a desire to watch Bounce TV must have sparked inside of you. Grab your remote and tune in to the channel right now.
If you are not a Spectrum customer, call support to learn more about Spectrum cable plans and their availability in your area. Get the best cable plan to watch networks like LMN and Bounce TV and many others.
Disclaimer: To our knowledge, we have made all the required efforts towards obtaining owner/publisher approval for the use of images in VISIONECLICK.COM blog posts. However, if you find violations of any sorts regarding any image, please feel free to contact us. Prices and packages mentioned may vary with time and the specific locations.