Buckeye Broadband Customer Support FAQs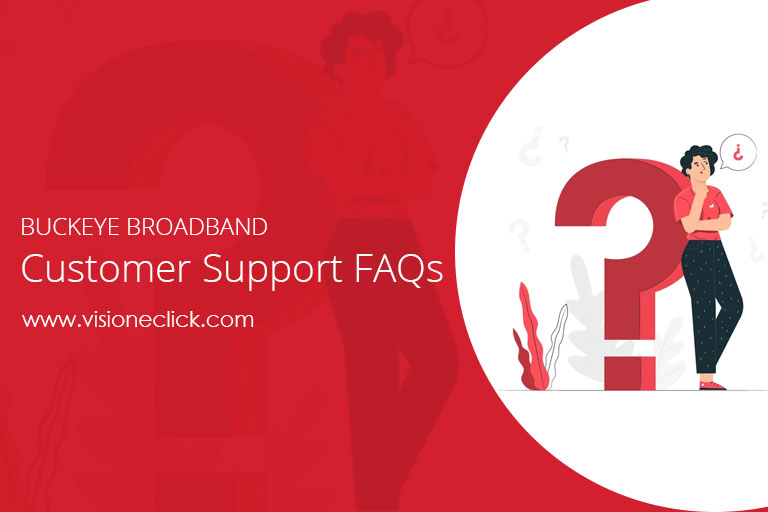 First launched in 1996, Buckeye Broadband is a popular provider of internet services today. Headquartered in Toledo, Ohio, the provider offers services of cable TV, internet, and home phone. It is among the trusted digital service providers with coverage in major states of the United States – the prominent being Ohio and Michigan. Let's find Buckeye Broadband FAQs and take advantage!
FAQs
Most frequently asked questions Buckeye Broadband:
Do I have to pay for a DVR?
Yes, you have to pay to get a whole-home DVR. It doesn't come free with Buckeye cable. Compared to the other cable TV providers, the price is quite nominal at $18.00 per month and you can get your Buckeye media getaway for one TV connection. The charges are the same for Express TV powered by Tivo, which also provides a whole-home DVR. At this price, you get to watch the re-runs of your favorite shows and movies at your leisure.
Does Buckeye Offer its Own Modems & Routers?
No, but you can purchase or rent one from the list of supported modems and routers. You can either make a one-time purchase or you can pay a monthly rental fee for it. All the supported modem models are on their website. The makers of modems include Hitron, Arris, Technicolor, and so on.
The provider allows its customers to have a customized experience and gives them the liberty to choose a suitable modem for themselves.
Does Buckeye Charge Installation Fees?
Yes, it does charge installation fees. They have a clear-cut list of installation charges for Internet, cable TV, and digital phone. These differ for already wired, transfer, and no wiring cases. The range of installation charges is roughly $5 to $75. The fee will vary according to your installation type and requirement, for instance, installing an additional outlet, relocating modem, etc. Generally, the standard installation charges are to be paid along with the service charges of the first month, by all the new subscribers, right at the time of installation.
Does Buckeye charge rental fees for modem/router?
Yes, it does charge rental fees for modem/router. And going for the rental option is a more economical choice. Buckeye charges are as low as $10 for the internet equipment fee. This equipment includes modems and routers. This is a very economical price compared to the purchasing option. The prices are roughly $100 to $150 if you make a purchase.
Is Buckeye broadband available in my area?
Buckeye Internet and broadband offers residential as well as business internet to the states of Michigan and Ohio. They have made their cable internet available to as many as 252,803 homes. Some of the prominent cities with its internet coverage are Oil City, Piedmont, Parkville, Forestbrook, and so on. If you are trying to figure out its availability in your area, make a simple online search. You can also see the coverage bap on their website.
How to contact Buckeye Customer Service?
You can live chat with their technical agent on their website. You also have the option to get assistance and support via email on the same page. Just write your query and they will address it via email.  You can write to them too on their mailing addresses, which are as follows:
Buckeye Broadband, 2700 Oregon Rd. Northwood, Ohio 43619.
Buckeye Broadband, 409 East Market St. Sandusky, Ohio 44870.
What is the Buckeye broadband Customer Service Number?
You can get in touch with Buckeye customer service 24/7 on this number 1-855-838-9721. The friendly customer care reps will have all your queries addressed. They are also efficient enough to help you sort out a malfunction or a service glitch.
How do I lower my bill?
Consider subscribing to cheaper plans. You can also limit your internet usage and make sure that you don't surpass the data allowance. It would be advisable to get in touch with their customer service rep and negotiate regarding your escalating bill. They may inform you about any deals or promotions offered currently,  or give you useful tips/hacks to save.
How do I change my Wi-Fi password?
If you have forgotten your Wi-Fi password, or you want to change it, it is best to call 1-855-838-9721, speak to the customer service rep, and seek assistance.
How do I reset my cable box?
Resetting/rebooting the cable box is also known as power cycling your equipment. Here is what you need to do:
Remove the power wire of the set-top box from the electricity.
Verify if all the other connections are intact to the set-top box.
Re-plug the power cord into electricity – it takes 4 to 5 minutes to be back on.
Try to stay below the channel 72 for approximately 20 minutes after rebooting.
Does Buckeye Broadband offer a home phone?
Yes, it offers home phone plans, which allow you to make unlimited local calls. You can also make unlimited long distance calls. The plans come with some lucrative features. You get to keep the current phone number that you have. The plans start from $9.99 a month. For a nominal fee, you can get useful features such as call blocking, call forwarding, automatic call back, call waiting, caller ID, speed dialing, repeat dialing, and so on.
Disclaimer: To our knowledge, we have made all the required efforts towards obtaining owner/publisher approval for the use of images in VISIONECLICK.COM blog posts. However, if you find violations of any sorts regarding any image, please feel free to contact us. Prices and packages mentioned may vary with time and the specific locations.