The Difference between Cable Modems, Routers, and Gateways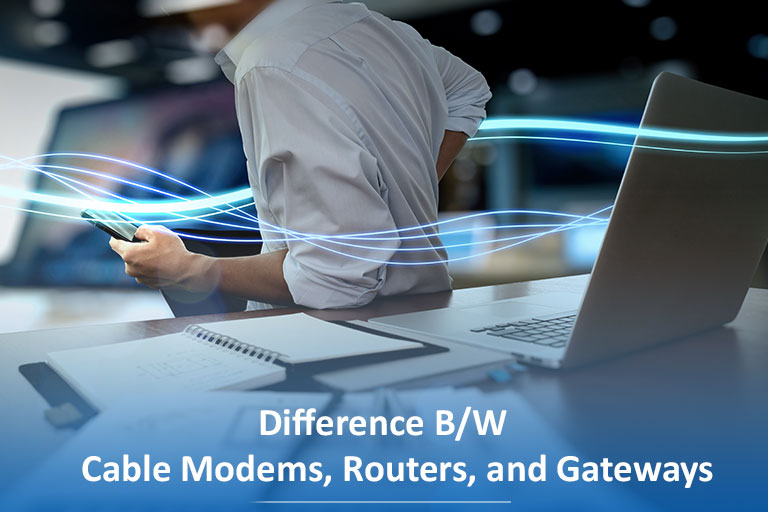 Are you amongst those people who are not familiar with the difference between modems, routers, and gateways? Well after reading this blog post you won't be confused. The best part is that you will also learn how to save money from your home WiFi.
Here is your detailed guide on how to differentiate between modems, gateways, and routers. Apart from that, you will also see why it is a better idea to buy these instead of leasing.
Why Purchase Your Gateway?
Are you aware of what a CM is? If not, then you will learn now. Think of CM as a bridging device that connects the coax network and any of the customer's equipment including media players and computers. A CM is responsible for modulating and demodulating wave signals that have digital information. This process takes place during the transmission and receiving of data.
Coming to routers and modems now. These are two different things/equipment. However, if your cable service company is providing both in one, it means that it incorporated both of them in one device. These combo devices that the companies introduce are called gateway devices. As they are responsible for connecting home Ethernet to the Internet.
Now the question is that why do companies do not want that subscribers purchase their gateways. The answer is simple. You leasing these gateways creates a monthly income stream for the companies.
Perks of Owning Gateways
If you purchase the most recent model of the gateway, you will see that you get access to high-speed Internet at peak hours during the day as well. Other than that, you can also keep yourself protected from the malware attacks as they are common these days. Do not think of the gateway devices as some magic device that would never get attacked by viruses. After all, a gateway is a computer too. And with every passing day router malware is becoming more common. Therefore, it will always benefit you to have the most recent version of your own.
You might think that you can ignore this security issue. But remember that a gateway's purpose is to provide a shield between the LAN and the Internet. But if the gateway is not able to protect, then you could be a victim of cybercrime. Now you might think that what difference would it make if you purchase a gateway or lease one. If you have your gateway, you will have the peace of mind that you have secured it well by having the recent model and strong password. However, the company owned one might have the default-setting password. And do not worry about installation as installation guides are available.
How to Select Home Gateway, Cable Modem, and Router
Here are some of the best suggestions for you if you wish to purchase a gateway, modem, or router of your own.
Chosen Gateway
You would love this latest edition in the gateway community. The name is SBG6782-AC Surfboard. And some of the features that make it liked by many include it delivering a whopping 343 Mbps of download speeds. Thus, no Internet stuttering would take place. Other than that, owners of this device will receive 1800 Mbps of Wi-Fi throughout. Not only this but this router also supports the IPv4 and IPv6. Some of the other perks include having four ports for flexible routing.
As far as the channels are concerned, this device is capable of bonding 12 of them. Out of these 12, 8 are for downloads, and 4 for uploads.
Recommended Wireless Router
ASUS's routers are one of the best in the world. They are one of the fastest in the world. The company's most recent router comes at a dual-band data rate of 1900 Mbps. Apart from that, it also includes a dual-core processor. Other features include two USB 3.0 ports. You will love this model for the ASUS AiCloud service that it provides. Thus allowing you to connect from anywhere that you want. The easy router settings also make it convenient for buyers to install it.
Suggested Cable Modem
CM400 modem comes with a capacity of 340 Mbps. Apart from that it also includes 1 GB Ethernet port.
Hopefully, this guide offers you more clarity so the next time you want to go for any of these, you choose wisely!
Disclaimer: To our knowledge, we have made all the required efforts towards obtaining owner/publisher approval for the use of images in VISIONECLICK.COM blog posts. However, if you find violations of any sorts regarding any image, please feel free to contact us. Prices and packages mentioned may vary with time and the specific locations.