Everything You Need to Know About Cable TV Splitters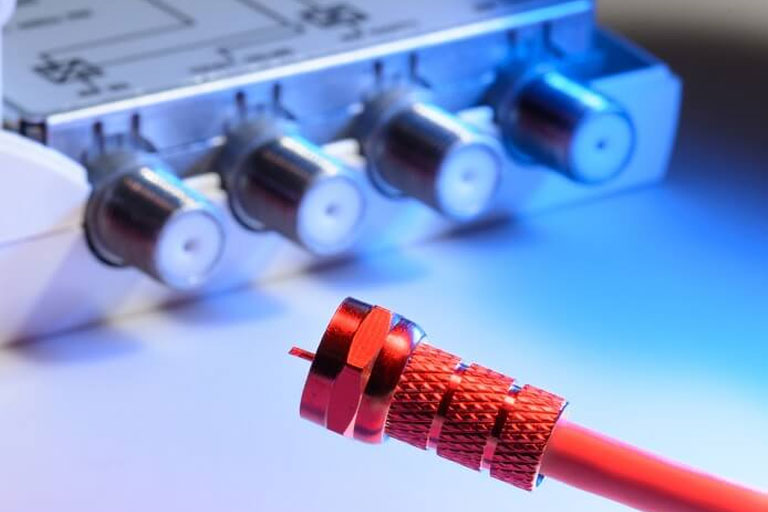 Nowadays, families have multiple TVs installed in their homes. However, the rise in the number of TVs also translates into the direct rise in the number of cable services. So, if you want to stay on budget while enjoying quality TV services in multiple regions of your house, then buying cable TV splitters is the right choice for you. Depending upon your lifestyle, you can buy either a coaxial or a wireless cable splitter.
What Are Cable TV Splitters?
It is mainly a gadget that can allow you to connect several TVs at your home with the same cable connection source. So, through a single source, you can enjoy TV in multiple regions. Depending upon the number of TVs in your house, you can choose as large as a 16-port splitter.
However, the signal strength matters a lot to enjoy equally good quality on multiple TVs. If you live in a remote area where outage issues occur repeatedly, then opting for a cable splitter is not a smart choice.
How Do They Work?
It has two main parts; one of them is the port for the cable source and the other one consists of multiple ports to be connected with the TVs. It is important to note, however, that as the number of output ports increase, the signal strength will weaken. So, if you want the stronger signals to reach other devices, then it is better to buy cable TV splitters with a fewer number of ports.
Wired and Wireless Options
These are two popular kinds of splitters available in the market. Coaxial cable splitter is quite cheap and easy to set up. So, if you don't have a signal problem in your area, then this splitter is the right choice for you. However, the major downside of this kind of splitter is that no two channels can be watched on different TVs at the same time. Also, the signal can get lost easily in case of bad weather or other Internet outage issue.
Wireless splitter, on the other hand, allows you to bypass the hassle of managing multiple wires. Also, you can watch the same channels on different TVs as well with this kind of setup. However, it is much costlier than the wired option. Also, it requires high-speed Internet to function properly. If you can't afford one in your area, then you can try the receivers/DVRs for cable TV to enjoy HD streaming in multiple rooms.
Setting Up a Coaxial Cable Splitter
It is not very difficult to set up a wired splitter in your house. If you're not comfortable setting it up yourself, you can also opt for a pro-installation option. But that can cost you a hefty sum. These devices mainly get connected to the signal source and divide it to feed the TVs and your modem. No matter how many ports/ways a splitter may have, it essentially performs the same function.
If you don't want to buy another cable box, then you can connect the cable splitter with the main box and main TV. From this kind of connection, other wires can be connected to other TVs in the house. But as mentioned before, the same channels can't be watched on multiple TVs with this kind of setup.
Setting Up a Wireless Cable Splitter
If you don't want to manage several wires at the same time, then wireless cable splitter is the right choice for you. You'll just need to connect a short wire with the splitter to watch your favorite upcoming movies anywhere inside your house.
With this kind of setup, you'll find two different parts/regions. One will be to get the cable box connected and the other one will be to connect various devices like receivers and gaming consoles extra. After that, you'll only need to connect various receivers with your TV. Then you can enjoy the same channels on multiple TV sets simultaneously.
Problems that Can Arise
The wire length matters a lot to successfully install the splitter. In case the length exceeds 50 feet, the signal strength can weaken considerably. You'll have no benefit of installing a splitter if the wire is too long. Even if you buy a signal booster, there's no guarantee that it will be compatible with the splitter. The signal reaching your modem can weaken as well. So, in such cases, you can consider other options offered by renowned cable TV providers.
Another solution to this problem can be to purchase splitters with only the required number of outputs. Ideally, you should buy a splitter with two-way outputs for remarkable functioning. As compared to this setup, a wireless setup allows you better TV viewing options. You can also watch the content being streamed on receivers/cable boxes on your multiple TVs in the house.
Important Point to Note
Lastly, it is important to note that cable splitters are quite different from the satellite splitters. If you live in a remote area and have a satellite setup, then cable splitters won't work for you. They'll further weaken the signals. So, make sure the setup and the splitters are compatible with each other before purchasing a splitter.
Disclaimer: To our knowledge, we have made all the required efforts towards obtaining owner/publisher approval for the use of images in VISIONECLICK.COM blog posts. However, if you find violations of any sorts regarding any image, please feel free to contact us. Prices and packages mentioned may vary with time and the specific locations.