CenturyLink vs Comcast: Which is the Better Service Provider?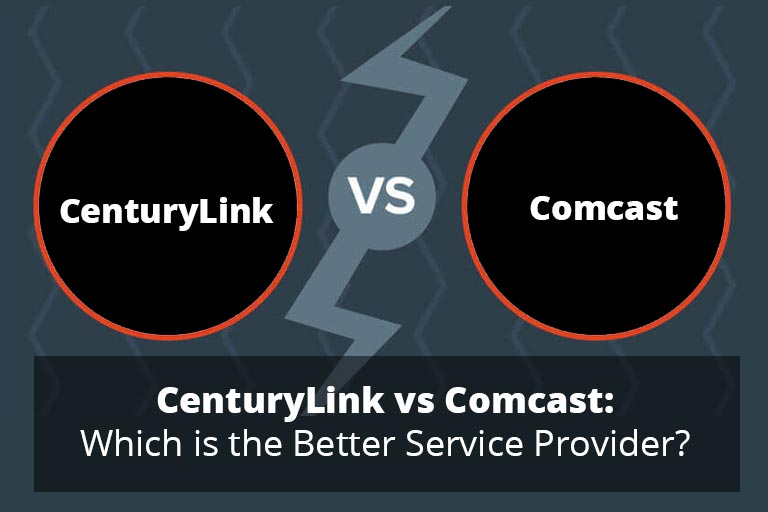 The internet allows us access to a world of entertainment. Two of the most common uses of the internet for entertainment purposes are video streaming followed by gaming. But both these applications tend to be heavy on data. And as such both require strong internet connections. So comparing Xfinity vs CenturyLink becomes important, to see which is not just faster but also reliable.
Internet Requirements for Streaming Services
If you are willing to compromise on the quality of your streaming then slower internet connections can suffice. A slower connection of between 1 and 2.5 Mbps is usually enough to stream videos at lower quality. Usually, you will be able to stream at 360p or lower quality. But along with lower quality, you may also face the issue of buffering delays.
Amongst video streaming platforms, YouTube does have lower data usage than Netflix. An hour of streaming at 480p quality on YouTube would roughly use 264MB of data. Watching a video of 720p quality will cost you 870MB of data. Whereas an hour of 1080p quality video streaming requires approximately 1.65GB of data.
Alternatively, Netflix streaming usually requires more data. A Study depicts: An hour of Netflix streaming at basic quality, which is 360p or lower will use 300MB of data. Streaming at 480p quality can take up to 700MB for an hour. 720p quality streaming uses approximately 3GB data. And 1080p full HD quality streaming can run as much as 7GB of data.
Internet Requirements for Online Gaming
Online gaming enjoys countless supporters across the world. The online gaming culture has seen a lot more boost due to the latest releases. But while these newer multiplayer open-world games offer a terrific gaming experience, they are also data-heavy. Albeit not as heavy as video streaming, if you don't factor in the data used for downloading the game.
However, data usage is not the only factor to consider for online gaming. You also need to factor in connection speeds and ping rates. Generally, a latency of less than 100 Ms is considered acceptable for most games. But professional gamers believe that latency of 20 – 40 Ms is optimal.
 CenturyLink vs Comcast Comparison
Both enjoy large market shares in the country. And both are also available across all states. So to find the difference between CenturyLink vs Comcast you need to look beyond coverage areas. Comparing CenturyLink internet service technology with the other is one way to figure out which would be better for streaming and gaming. Both these providers offer internet, TV, and voice services across the nation and have residential and business solutions. They also have Fiber internet services and special hybrid options.
However, CenturyLink has a locked-in pricing structure for higher customer loyalty, unlike Xfinity.
Customer Service
An important factor to differentiate between CenturyLink and Xfinity is to review their customer service. Reading reviews about their respective customer service departments can help you analyze. Xfinity and CenturyLink deals should not be the only deciding factor in your comparison. While they are undoubtedly important. It is equally important to know how often their respective services run into technical problems.
Service Packages
Finding current pricing for both services is important. But since they are available across the country, they likely have special deals for specific locations. Searching for 'CenturyLink near me' should give you the results for special packages in your area. Remember to compare not just the pricing but also what is included in the subscription costs.
Read: WOW Vs Comcast – Which is the Better Internet Service for YouTube Video Streaming?
FAQs
Who owns CenturyLink?
CenturyLink, Inc. is a technology and communications company that was founded in 1930. It is a publically traded company and the majority of its shares are under institutional ownership.
Are Comcast and CenturyLink the same?
Both are separate entities. CenturyLink is traded in NYSE, while Comcast is traded in NASDAQ.
Is CenturyLink Internet better than Comcast?
CenturyLink Internet is available largely as a DSL-Fiber hybrid option but Xfinity is only available as a cable internet service. While fiber internet is the best, Cable internet is faster than DSL.
Is CenturyLink 40 Mbps good?
40 Mbps is good depends largely on how many devices are connected.
Disclaimer: To our knowledge, we have made all the required efforts towards obtaining owner/publisher approval for the use of images in VISIONECLICK.COM blog posts. However, if you find violations of any sorts regarding any image, please feel free to contact us. Prices and packages mentioned may vary with time and the specific locations.