All You Need To Know About Charter Spectrum Hidden Costs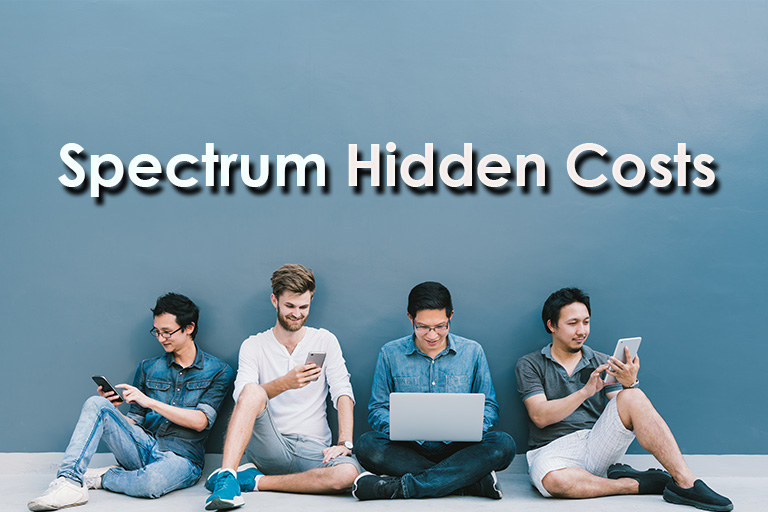 During the lockdown, many people work or study from home. That also leaves a lot of extra time to kill since you can't go outside for entertainment. In this situation having a subscription to the Spectrum TV service is great. Also, because this provider offers a range of quality channels and bundling options.
Before subscribing to any of the Internet and TV packages, it is important to know about the hidden costs that you might have to bear. Read on to know about these costs in detail.
TV Plans and Pricing
Charter offers a range of TV plans and packages for users to choose from. It even offers bundling options like Double Play for those users who want to enjoy two services while staying on budget. The best part about this company's TV plans is that they all come with a FREE TV app. This app allows you to stream your favorite content anytime and anywhere easily. Below are all the plans offered by this company to its TV customers:
| | | | |
| --- | --- | --- | --- |
| Plans/Packages | Promotional prices/month | Number of Channels | Regular prices/month |
| TV Select | $44.99 | More than 125 | Up to $35 hike |
| TV Silver | $74.99 | More than 175 | Up to $35 hike |
| TV Gold | $94.99 | More than 200 | Up to $35 hike |
After one year has passed, the TV service charges can go up significantly. The price increase depends upon two factors; the area where you live and the package that you have subscribed to. So, it is kind of an additional cost that you'll have to bear after one year.
Internet Plans and Pricing
Charter Internet is quite popular across several USA states. This is because this company has a very powerful fiber and coaxial infrastructure. So, it delivers reliable speeds to students. It also offered free Spectrum Internet for students for two months to help them continue remote learning amid the Coronavirus crisis. Here are all the Internet plans offered by this company to its customers:
| | | | |
| --- | --- | --- | --- |
| Plans/Packages | Promotional prices/month | Download Speeds in Mbps | Regular prices/month |
| Internet | $49.99 | 100 | Up to $21 hike |
| Internet Ultra | $69.99 | 400 | Up to $21 hike |
| Internet Gig | $109.99 | 940 | Up to $21 hike |
Depending upon your plan and your area of residence, the prices after one year can go up significantly. But one thing you can do to control the price is to dial the customer service number. You can convince them that you have been a loyal customer and would like to get a discount. It is also important to note that this company has collaborated with Bright House Network and Time Warner Cable to provide Internet services. So, the speeds can vary depending upon the kind of provider in your area.
Additional Costs
Besides the price hike after one year, there are many other service-related costs that you should be aware of. This is because a larger than expected monthly bill can easily disturb your budget and add to your worries. Whether you subscribe to regular packages like TV Select or bundles like Triple play, here are all the additional costs that you might have to bear:
Service Provision Costs
Since the provider is offering a range of popular premium and local channels to its customers, the users have to bear service costs as well. Depending upon the kind of TV package that you subscribe to, you might have to bear up to $13.50 per month. So, keep this expense in mind while deciding to subscribe to this company's TV services.
Taxes
Besides the regular broadcast fee, you might have to bear other charges as well. Depending upon the area where you live, the government can impose a range of additional fees. For instance, if you are a sports lover and choose a package with several sports channels, then you'll have to bear a regional sports fee as well. You can contact Spectrum customer support to know about these additional costs.
It is important to note that the fees get imposed by the government. No matter what kind of provider you might choose, you'll have to bear these costs in any case.
Installation and Activation Costs
This company offers very affordable service installation options to its customers. If you are subscribing to a TV plan, then you'll have to pay $49.99 to get the service installed at your home. You'll have to pay for it one time only. But if you think that this price is too much to bear, then you can opt for the self-installation option as well. It won't cost you anything at all.
To get an Internet service or Spectrum home Wi-Fi, you'll have to bear $49.99. However, if you don't want to bear this expense, you can choose to self-install the service. It will only set you back by $9.99. So, the latter is a quite affordable option for you.
Early Termination Charges
If you move to a new location, then you might have to cancel the Charter services. You might also choose to do so if you can no longer afford the services by this company. In such a situation, this company greatly facilitates its users.
It allows them to easily terminate their services without paying any additional charges. So, you won't have to worry about bearing the costs of long-term contracts when you subscribe to this company's services.
Popular Channels
This company offers many popular channels for users to enjoy. Some of its premium sports channels can be accessed when the user subscribes to its bundles. But if you choose the TV select package and want to enjoy some premium channels, here are the prices of all of them:
| | |
| --- | --- |
| TV Channel | Price/Month |
| STARZ | $9.99 |
| SHOWTIME | $15.00 |
| HBO | $15.00 |
| CINEMAX | $9.99 |
Late Bill Payment
If you forget to pay the bill for one month, you'll have to bear additional charges. For both the Internet plans and TV packages, the late fees can add up to $8.95. So, make sure you pay the bill on time to avoid bearing this cost.
Hardware Costs
Charter equipment costs are quite straightforward and affordable. If you subscribe to an Internet plan, you'll get a FREE modem. But if you want to install Wi-Fi service at your home, then you'll have to pay an additional amount of $5 per month to get the router.
Similarly, if you subscribe to a TV package and want to get a receiver with a DVR, then you'll have to pay $7.99/month. For one DVR, the cost usually is $4.99/month. If you want two DVRs, then the price will add up to $9.99/month.
If You Exceed the Data Usage Limit…
Since the plan/packages offered by this company have no data caps, so you won't have to bear any data overage fees.
If You Decide to Get the Services Again…
If you had previously unsubscribed to this company's services but now want to enjoy the services again, you'll have to pay $4.99 to get reconnected again.
---
Learn More About
---
Disclaimer: The prices/offers mentioned in this article are only accurate at the time of publication and are subject to change without any prior notice. Please visit the relevant websites for verification before making a purchase.
Disclaimer: To our knowledge, we have made all the required efforts towards obtaining owner/publisher approval for the use of images in VISIONECLICK.COM blog posts. However, if you find violations of any sorts regarding any image, please feel free to contact us. Prices and packages mentioned may vary with time and the specific locations.