Top Reasons to Choose VPN to Use Cox Internet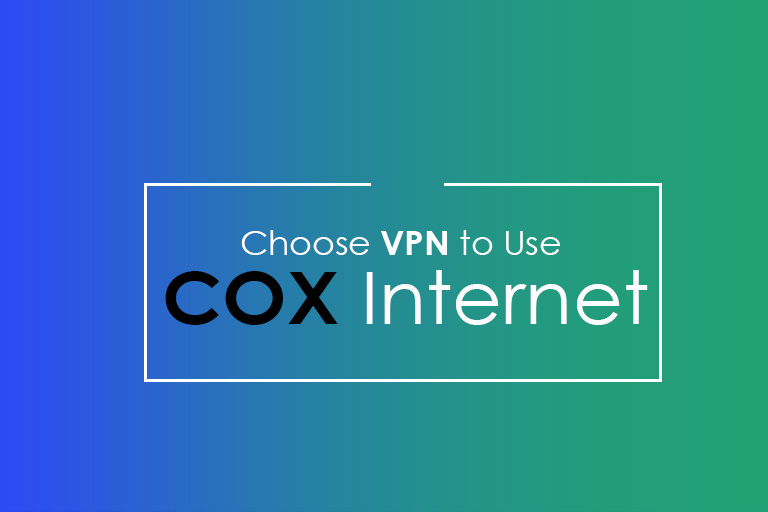 Cox serves 20 million households which makes it one of the largest Internet service providers in the country. It's offering 5 different Internet subscription packages to suit the needs of all types of users. Cox offers are great however, there's one problem. The provider applies surcharges when you reach your data limit.
Be Vary of Data Throttles
Every Internet service provider uses the throttling technique to limit the download or upload speed. So does Cox. The moment you bypass data caps, the quality of your Internet connection starts to decline.
This is where many Internet plan buyers start comparing Cox VS Spectrum plans since Spectrum promises no data caps whatsoever. Why? Because Spectrum promises no data caps whatsoever. When throttling hits, you are likely to experience trouble using popular sites like YouTube and Netflix no matter when you access them.
How to Spot Throttling
Is it easy to recognize bandwidth throttling? Well, not really. Chances are you have experienced it already and you haven't been able to recognize it. This is because throttling comes in different forms which makes it hard to identify. However, there are certain indicators that you may keep an eye on such as:
Slow speed during peak hours
Irregular speed patterns
Discontinuous patterns
Ideally, keep on testing your Internet speed at different times to recognize throttling. This will help you build your case if you want to complain to your ISP.
Why Do Providers Apply Throttling?
So why do providers throttle data?
Some service providers throttle the Internet connection if you have used an excessive amount of data at a given time.
If you are steaming content on a high-traffic site such as Netflix, then your Internet service provider may throttle the connectivity.
Some ISP throttle to see the response of the user.
Some legal reasons force ISPs to apply to throttle. These include preventing DDoS attacks, controlling network mobbing, etc.
Don't lose hope. There is a way to continue getting high-speed Internet from Cox. You will simply need a VPN (Virtual Private Network) for that.
Does Cox allow VPN?
Yes, it does. VPNs offer dedicated and secure Internet connections. They are mostly used by corporate users and are highly recommended for remote and telecommuting employees. In the past, the VPN services could only be accessed by connecting through the Cox franchise via a broadband Internet link. However, things have changed. Now, anyone can connect from a remote location. Hardware requirements no longer apply.
Why Use VPN with Cox?
A VPN is a great option if you want to trespass the data throttling restriction. With a VPN, you mask your identity and IP address and connect to different servers. Your connection is encrypted and no one can decrypt your browsing activities. This makes it possible to view or use even a blocked website.
The best part is bandwidth restrictions are laid off. Location masking empowers a user and gives them access to geo-restricted content. You won't lose bandwidth and continue to enjoy high-speed Internet.
There is another benefit of using a VPN and that is its security. Feel free to use your Cox internet for online shopping and conducting transactions. Since you are masked, as a result, personal information will remain safe and you won't be at the risk of cybercrime. But remember one important thing. The provider is strict when it comes to copyright infringement. That means you will not get away with downloading links from Torrent and other illegal sites.
Top VPN Services to Use
So are you ready to encrypt your browsing activities? Great! You will need a good VPN for that. To reduce the legwork for you, here are the top VPN services you can trust. Use them with Cox or CenturyLink Internet whenever you like:
Express VPN
It's based in British Virgin Island and it was launched 9 years ago. Their service is available in 90 different countries. Their customer support includes live chat support as well as email support.
Express VPN works on Android, Windows, and Linux Operating systems. It has a special feature called split tunneling that ensures no security compromise happens in certain traffic areas.
Nord VPN with Cox
It's a premium VPN that's perfect for masking an Internet connection. It magically removes ISP throttling so that you continue to get good speed.
Nord VPN is spread in 60 countries and they have 4000 different servers. They offer AES encryption for better online security. It's the most recommended VPN because it's paid.
Tips for Using VPN
To use the VPN service smoothly, you must consider some tips. Let's have a look:
Avoid Free VPN with Cox
Free services are attractive but they are slower and less versatile. They don't support all blocked websites and countries. It's best to avoid them.
Prefer Mobile VPN with Cox
Not every VPN you choose supports mobile. You must subscribe to a mobile VPN so that you may experience the same speed on your mobile phone as well. You won't have to open your laptop to browse or shop online.
Conclusion
Save yourself from the data throttling and data cap limits set by internet service providers by using a VPN. You will continue getting steady speed and no surcharges will reflect on your Cox bill. This is indeed a great victory for home Internet users.
Disclaimer: To our knowledge, we have made all the required efforts towards obtaining owner/publisher approval for the use of images in VISIONECLICK.COM blog posts. However, if you find violations of any sorts regarding any image, please feel free to contact us. Prices and packages mentioned may vary with time and the specific locations.