How to connect iPhone to TV?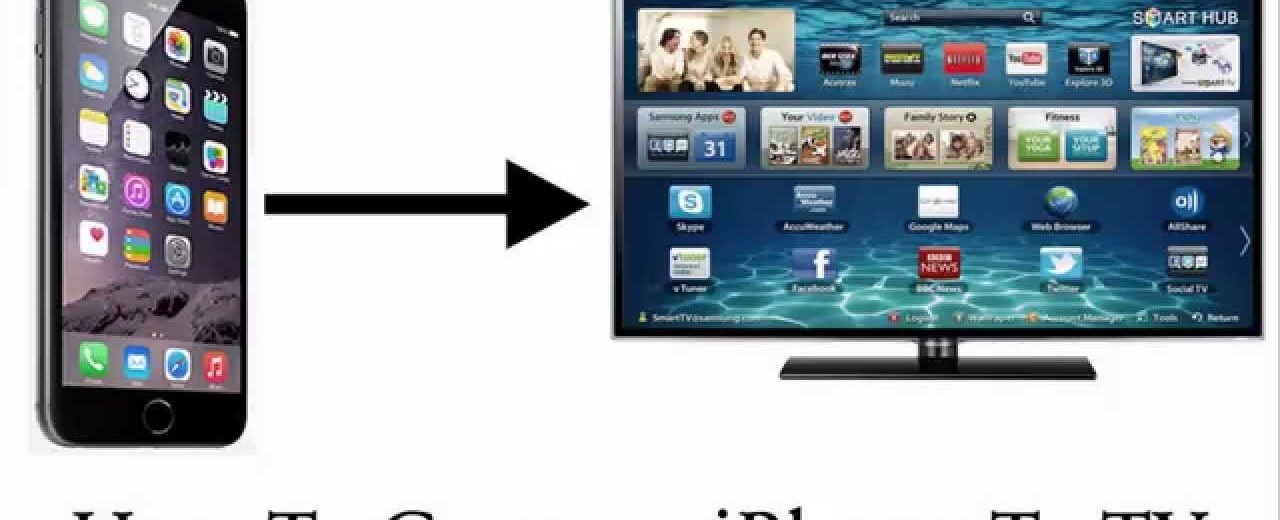 youtube.com
Many would agree that the bigger the screen size, the better. Perhaps all of you will agree to this claim. It's hard to fathom the fact that some people very conveniently watch movies on Netflix on their mobile screens – Those tiny 6-inch screens that hardly fit more than one character at one time! This holds true for viewing pictures as well. It's a trend to have a look at old pictures and videos when friends and family gather over New Year's or Christmas, for instance.  Some families or group of friends would play pass the mobile (does that ring a bell?) so that everyone can have a look at a single photo. This can be annoying, to say the least. You may boast about your iPhone XS Max that comes with a 6.5-inch screen, but it is always a better idea to connect iPhone to TV.
If that sounds complicated to you, know that it isn't!
Here are all the options at your disposal.
HDMI Cable
This is the most common way to connect iPhone to TV. And perhaps the easiest one as well. You do not need to have an Apple TV to connect your iPhone to a big screen. Using an HDMI cable you can mirror iPhone to any TV. But you will have to make a small investment in a Lighting Digital AV Adaptor. This will help to connect your iPhone to the HDMI port. However, avoid going for the knockoffs in order to save money.
The original adaptor might be a bit hefty on the pocket, but others will pose problems later. Once you have bought the correct AV adaptor, you will need to purchase an HDMI cable as well. However, when you go to buy the latter, keep the size of the cable in mind. Too short, and you won't be able to sit at a comfortable distance from the TV. After you have successfully purchased the required gadgets.
Follow the given steps to connect iPhone to TV:
Connect one end of your HDMI cable to the TV.
Connect the other end of the cable to the adaptor.
Plug the adaptor in the Lighting port that you will find on your iPhone.
Switch to the HDMI port option on your TV and enjoy.
From movies to shows to pictures, you can enjoy watching everything on a big screen using this technique. You can even open an app like Spectrum TV app or any other app that you have and opt for the On Demand option. The choices are unlimited.
Connect with Chromecast
For this, you will have to make a little investment as well. You will have to purchase an Android-powered TV stick. Once you have it, you will have to plug it into the back of your TV. Now here's the deal. The Chromecast will not allow you to mirror an iPhone on your TV. But it allows you to send pictures, videos, audios, and other information. However, you need supporting apps for this as well. Once you have plugged the Chromecast device into your TV, use the Google Home Companion app to connect the device with your wireless device. However, to send photos or videos to the TV, you will need a supporting app. There are a couple of options that you can choose from including Kodi and AllCast.
Here's a step-by-step guide on how to view pictures or videos using Chromecast.
Plug in the Chromecast device (Google Chromecast or Chromecast Ultra) in the HDMI port on your TV. The difference between the two is that the latter supports Ethernet and 4K connections.
Open the Chromecast supported app that you have on your iPhone.
Tap on the 'Cast' button.
Select 'Chromecast' as your chosen option for available devices.
ENJOY!
As mentioned earlier that your device won't mirror the iPhone on TV. Therefore, you might not be able to view content from your U-Verse TV app directly, for instance.  However, for video streaming, there is an option for your iPhone. You can navigate the apps that Chromecast supports. This includes Hulu, Netflix, and YouTube, to name a few. Basically, your iPhone becomes a remote control for these apps.
Connect with Apple TV
A rather expensive option and if you have it, you can connect to Apple TV.  Connect your Apple TV to another spare TV of yours using an HDMI cable. Once done, you can connect your Apple TV to your wireless device (iPhone in this case). After you have connected, choose the appropriate input on your TV. Make sure that you see Apple TV's home screen on your TV. Apart from this, you will also have to keep in mind that your Apple TV, as well as your iPhone, is connected to the same Internet or Wi-Fi connection.
Here's what you will then have to do in order to view the content of your choice.
Start playing any video or show on your iPhone.
Swipe up from your iPhone's Home Screen to view the various options from the Control Centre.
Choose the screen mirroring option from here.
Once done, tap the Control Centre to exit.
Play the video you initially wanted to. And enjoy.
However, there is a little twist. You will have to look for the 'AirPlay' icon ion the apps that you have on your mobile. For instance, if you wish to watch something using the DIRECTV APP, you will have to determine if it supports AirPlay. Because not all apps do. The support for AirPlay is what the developers of an app decide. There is nothing much that you would be able to do about it, in case an app does not support it. Under such circumstances, you will have to do with mirroring. Which means that anything that you play on your iPhone's Home Screen will appear on your Apple TV as well. Note that mirroring is not necessary most of the times. Tapping the AirPlay icon will do in most of the cases.
In case, you wish to view photos or videos on Apple TV.
Here's how to go about it:
Open the photos app and click on the 'Share' button.
Click on the photo or video that you want to view on the TV.
Select 'AirPlay' from the menu. Select Apple TV.
Now you can view your photos or videos individually on your Apple TV.
You can swipe back and forth on the TV screen through your iPhone. Apart from that, you can also choose to view the photos as a slideshow on your TV. The fun part is that you can also play background music to go with the slideshow. To do so tap on 'Options.' By doing so, a list will appear before you. You can select the option of Music or select music from your iTunes library. The latter is a rather fancy way to go about it. In case you face any trouble, you can contact Apple's helpline, wish that it is as good as Cox Customer support service and ask the reps to guide you.
Hope all this helps you to connect iPhone to TV and not get a headache from watching movies on your mobile screen!
Disclaimer: To our knowledge, we have made all the required efforts towards obtaining owner/publisher approval for the use of images in VISIONECLICK.COM blog posts. However, if you find violations of any sorts regarding any image, please feel free to contact us. Prices and packages mentioned may vary with time and the specific locations.