How to Connect Smart TV To Optimum Wi-Fi?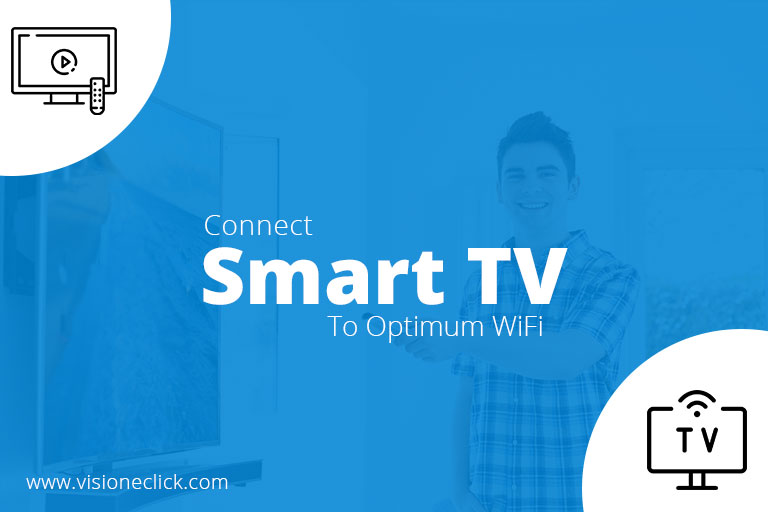 If you have a smart TV, then you can explore a whole world of entertainment and informative possibilities. It lets you access online content and streaming services, using your internet connection. These days, most of the content you want to watch depends on a steady internet connection. Optimum cable connections are also useful, with facilities such as Optimum DVR. However, if you connect your TV to your internet connection, then you have a lot more to work with.
Doing this is quite easy, and just involves a few simple steps. Just make sure you have a good internet connection and have the router in a central position. This will enable your TV to catch the maximum number of signals it can get, giving you a steady viewing experience. This way, you can access a whole world of content easily, with both cable TV and streaming services at your disposal. Here's how you can easily connect your smart TV to your home Wi-Fi network.
How to Connect Smart TV to Optimum Wi-Fi
If you want to enjoy the internet and streaming content, then you absolutely need to connect your smart TV to your home network. Most of you probably have Wi-fi services such as Altice One WiFi, complete with all the relevant details and subscriptions. Note that most packages can handle TV internet activities, as they do not take up too much bandwidth.
However, if there are numerous active devices in your home, then you shouldn't overburden a midrange internet connection. Instead, use a package with more capabilities and higher limits to get optimal performance. Here are the steps to connect your TV to this WiFi connection.
Enable Wi-Fi on Your Smart TV
First, enable WiFi on your smart TV. Most of them will already have it enabled, but if that's not the case, you'll have to go into the settings. Usually, this option will be under the network and connectivity menu.
Just go to this menu, and you'll see a WiFi toggle, just like on all your other devices. Using that, switch the WiFi on, and you're ready for the next step.
Choose the Right Internet Connection or Hotspot
Once you switch on your smart TV's WiFi, then you'll see a list of network connections in the area. Check the list to see which networks belong to your home and connect to the relevant ones. If you want to connect to a hotspot or booster in your home, then choose that option. Your smart TV will let you connect to hotspots as well, so you don't have to worry about your network's limitations or router signals.
Enter Your WiFi Credentials or Optimum Account Details
If you're directly connecting your smart TV to your WiFi connection, then the process is really simple. You just need to enter the relevant credentials for the network in your TV, and you're good to go. However, if you're using a hotspot, things can get a little more complicated.
You'll have to open your browser once you add the network to your smart TV. Then, you'll enter your Optimum account details into the pop-up which comes up in your browser. Once you do that, you should be able to use your WiFi on your smart TV without any hassle.
Ways to Deal with Common Errors
You may face a number of problems or minor errors when you try to connect your TV to your WiFi connection. You can resolve most of these issues quite easily, with no external help needed. These problems range from outdated software to Optimum port forwarding issues.
If you face any of these errors, do some basic troubleshooting, and you should be able to get connected easily. You'll only have to call up support if the problem is beyond your ambit and you need extra help to solve it. Here are a few simple solutions you should run through.  
Update Both Devices
Sometimes, your router or your smart TV might be outdated. Check your fTV for any system updates, especially if it's an Android TV. You may have gotten an older model, with new updates now available for it. Check your TV update notifications, and if you've received any, install them. This should bring your TV systems up to par.
In other cases, you might have an old, outdated router. Check all your devices, and if the internet is slow on most of them, then the problem is most probably your router. Either get an updated one yourself or have your provider send you one of their latest models. This should resolve your problems quite easily.
Reboot Your Network
If your TV is updated and working fine, but not connecting to the internet, then you need to check your network. You can do this by trying to connect other devices as well. If the internet is not working properly on other devices either, then you need to reboot your network.
To do this, simply unplug your router and modem for around 10-15 minutes and then start them back up again. This should clear their caches and reset the router. This should work with bringing your connection back online, and let you connect your smart TV as well.
Contact Support Team
If all else fails, and you simply can't figure out what's going on, then you should call up your provider's customer support helpline. This helpline will have someone on board to walk you through a few more solutions and also confirm your network status. Your internet might not be working due to the nonpayment of billing. So, contact Optimum pay bill number to clear it out.
If walking you through some solutions does not work, then your provider will send over an expert to deal with the problem. If the problem is with your TV, however, then you may want to call the relevant company. If your TV itself has a defect, then you may want to replace it.
Conclusion
Connecting your smart TV to your network connection is quite a simple process. Furthermore, if any sort of error does occur, then the solutions are very easy to walk through. Just make sure you go through all these steps carefully, and you should be good to go.
Disclaimer: To our knowledge, we have made all the required efforts towards obtaining owner/publisher approval for the use of images in VISIONECLICK.COM blog posts. However, if you find violations of any sorts regarding any image, please feel free to contact us. Prices and packages mentioned may vary with time and the specific locations.