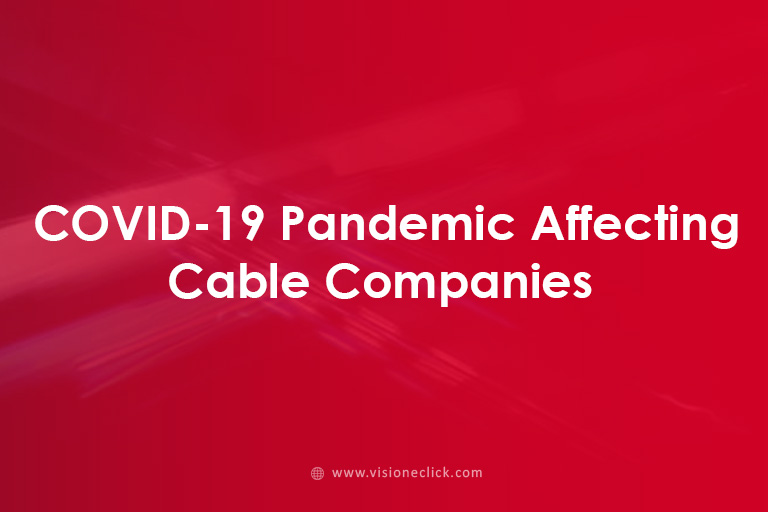 How the COVID-19 Pandemic Is Impacting Cable Companies?
The COVID-19 pandemic has caused the schools, colleges, and businesses all over the world to close down. Since any form of human contact is largely restricted during such times, a large part of the population is staying at home and working remotely. Since people are now able to save more, they are subscribing to cable services with attractive on-demand TV content. Doing so is enabling people to stay informed about the pandemic and keeping themselves entertained at home.
Challenges for Cable Companies
Amidst the global crisis, notable cable companies like AT&T, Cox Communications, Charter Communications, Verizon, and Comcast are facing unique challenges. As most of the world population is staying at home, they are engaging in three activities more than ever:
TV and on-demand content viewing
Accessing online streaming services
High-speed Internet usage
Since many cable service providers also offer high-speed and reliable Internet, they are witnessing a huge rise in demand. As people across the US are working from home, the current cable customers are using these services more than ever. But, these cable companies are facing a unique challenge in terms of acquiring new customers. This is because cable technicians can't visit the new customers' homes to set up Internet or cable services.
Here's how the Coronavirus pandemic is affecting the big cable companies:
Rise in TV Demand
The number of TV watchers has gone up significantly because of the current remote work situation. Cable TV companies are not the only ones that are benefiting from this situation. Satellite TV and online streaming services are also witnessing a surge in demand.
While Nielsen previously estimated that the TV viewing would go up by 60%, the numbers have not risen to that level yet. However, it can be said with confidence that the numbers have certainly risen. The news channels and shows are doing particularly well in this situation. Although millions of people do use social media and YouTube to watch the news on their mobiles, cable companies have an edge over these media. Cable companies are the only ones that can provide their customers with live TV broadcasting. So, people are preferring to watch the news on their TVs during the quarantine.
Technical Help
With millions of people watching TV in their homes all day long, the problems are meant to arise. Normally, when customers encounter a problem, cable companies send technicians to their homes to get it fixed. But the authorities have labeled such practices as unsafe amid the crisis. So, the technicians can no longer visit the homes to install new services or fix issues. To combat this situation, different companies are adopting different measures. Cox Communications and Verizon have taken the following course of action:
Customers call the companies to inform about issues
The representatives try to get the issue fixed remotely
If that doesn't work, a technician visits the customer's house
He/she doesn't go inside the house
The technician guides the customer from outside the house
This is a big hurdle for many cable companies in the path of acquiring new customers. Many cord-cutters across the US want to have TV access during the quarantine. But they are not able to get the services installed amidst the crisis. Some cable companies have found a creative solution for this situation. AT&T has recently launched a new service called AT&T TV. People can subscribe to this streaming service online and can access a range of channels while staying at home. Although it wasn't meant to be a streaming service, because of the pandemic, the company has taken this decision.
The Rise in Internet Demand
As the businesses and educational institutes have switched to remote working and learning, people across the US are using Internet services more than ever. This is putting a lot of stress on Internet service providers especially the local ones. This is because their infrastructure is not powerful enough to fulfill these additional needs.
The surge has been so great that well-known companies like Netflix and Google have started to lower their streaming quality on their streaming services. Also, the well-known cable ISPs already have a strong infrastructure in the US. Companies like Cox Communications and Comcast have ensured their customers that they can easily handle the demand.
However, no one is clear about how long the pandemic is going to last. So, nothing can be said clearly about the reliability of US broadband networks. It is clear, however, that if the pandemic lasts longer, the rural areas with weak infrastructure are going to suffer. Currently, cities like New York and Seattle are suffering the most.
Only time will tell whether even the big cable service players will be able to survive the Coronavirus crisis or not. For, now the big companies like Comcast, Cox Communications, and Charter Communications are handling the demand easily.
Disclaimer: To our knowledge, we have made all the required efforts towards obtaining owner/publisher approval for the use of images in VISIONECLICK.COM blog posts. However, if you find violations of any sorts regarding any image, please feel free to contact us. Prices and packages mentioned may vary with time and the specific locations.