5 Simple Ways to Fix No Signal Issue on Cox Mini Box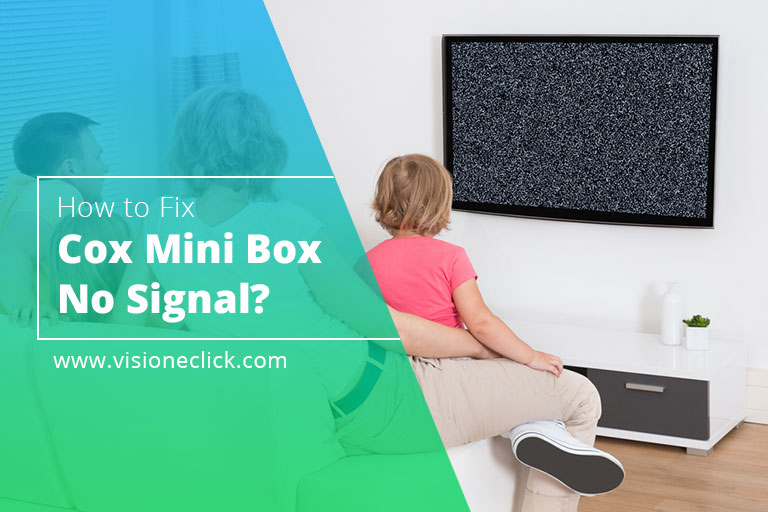 A mini box device converts digital signals into analog signals. Every TV, digital or analog, requires said converter. Cox Mini Box is one of the most popular TV equipment in the United States. And there are several convincing reasons behind its popularity. It remains the best mini box overall. Moreover, it offers exceptional audio and video quality as well as impeccable processing speed.  
The device offers a great streaming experience. People who switch to mini box often talk about how great it is. However, despite its tremendous benefits the mini box faces certain issues like a No Signal glitch. This particular error can create a bad experience. Of course, you will want your streaming experience to be smooth.  
The good news is, you can fix the issue in different ways. This guide will take you through each process. That said, let's discuss each method in detail.  
Method #1: Reboot
One of the best ways to fix your Cox Mini Box no signal error is to reboot the device. It is also the first step. Oftentimes, your mini box will receive signals but won't show them due to some error. We call this glitch the "No Signal Error". You can reboot your mini box by simply unplugging it from the power source. Wait for several minutes and then plug the device back into its power outlet.  
The wait time will allow your mini box to cool down. Alternatively, you can turn off the device via the remote controller or the power button. Simply locate the power button on your mini box and press it. The device will shut down. Wait for a minute or two before turning the power on. The reboot method will most likely solve the no signal issue. Follow the next step if the issue persists.  
Method #2: Contact Your Cable Service Provider
Sometimes, the issue lies at the provider's end. Several factors can cause temporary network outages at Cox cable. For instance, bad weather, ongoing maintenance, or technical faults are seen to disrupt network services. Most service providers notify users in advance about planned repairs and maintenance.  
You can contact your service provider to confirm if the issue is at their end. It is advisable to check their website and social media handles for updates. Most cable providers update their websites and socials like Twitter and Facebook regularly. You can check the news or updates section on your provider's website for recent developments.  
Method #3: Check Your Mini Box
For that, you will need to check the coverage light on your device. You might receive a notification about no coverage error on your TV. The mini box throws a light when it receives signals. Check the light to confirm if your device is getting signals at all. Alternatively, you could ask a neighbor with a mini box device to confirm if they're facing the same issue.  
Method #4: Check Your Cable
You will need to adjust your cable settings to confirm if you're getting coverage at all. Make sure to contact your cable service provider before checking your TV settings. If they say that all is well at their end then the issue might be due to a poor cable connection. Check the coverage light to see if it is on. If it isn't, then you might need to fix the input cable. Moreover, you can check and adjust the connector to get back your network coverage.    
Method #5: Adjust Your Cables
Sometimes, your Mini Box will show you the coverage light but you won't see any signals on your TV screen. In such a case, the TV screen will display a message that it isn't receiving any signals. You will need to check the output cables on both your mini box and TV. Tighten the cables to see if your coverage resumes.  
If the issue persists then you will need to re-plug the cables. Make sure to switch off your mini box and TV before unplugging the cables. If you see any broken cable then replace it with a new one immediately. It is advisable to contact your cable service provider for a suitable replacement.  
Frequently Asked Question
What Channels Do I Get with a Mini Box?  
The Cox Mini Box only provides access to basic channels. The device comes with limited features. You will need more than a mini box to get premium channels, on-demand content, and PPV programming. Services like Contour 2, on the other hand, come with advanced features like access to digital channels, predictive search, etc.  
How to Use the Mini Box Remote? 
Make sure to point your remote directly at the device. Press the up and down buttons (marked as arrows) on your remote to change channels. In case you have an IR Extender, point your remote in the direction of the device. Doing this will get you the best signals and performance from the device. You can get an IR Extender from your nearest Cox Solutions store.  
Note: Use the remote that comes with the mini box packaging. Universal controllers or the ones purchased from third parties may not always work with your mini box. So, make sure to use the gadgets and tools that come with your device and not the ones provided by third-party suppliers or stores.
Disclaimer: To our knowledge, we have made all the required efforts towards obtaining owner/publisher approval for the use of images in VISIONECLICK.COM blog posts. However, if you find violations of any sorts regarding any image, please feel free to contact us. Prices and packages mentioned may vary with time and the specific locations.