The Ultimate Guide to Self-Installing Cox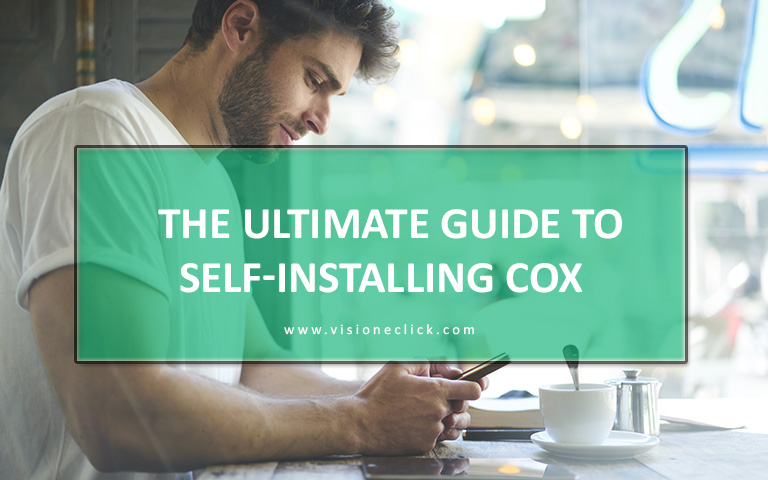 Just bought your new Cox services? You must be itching to start using them! The company is the largest privately-owned provider in the US and the third-largest overall. So, rest assured you've made the smart decision to use their services. However, you still need to install your services and go through the steps for a  Cox-activated modem. Of course, nobody wants to wait longer than they need to use high-quality internet, cable, and home phone services.
Using Self-Installation for Cox Activated Modem
Cox has over 6 million subscribers as of today. From a business perspective, this is great! But with the increased subscriber base, there could be several customers just like you demanding installation and activation. But there should be more convenient and quicker ways than waiting for your turn, right? Cox values its subscribers and allows them as much flexibility as possible. That's why the provider offers a useful self-installation option to subscribers like you. You don't have to set an installation and activation appointment. You don't wait for a technician to arrive and get your Cox internet setup.
All you need is this useful guide to self-install and activate your subscription services yourself. And you may even save money on the installation and activation charges that appear on your first Cox bill payment. Here's everything you need to get started:
Step #1. Acquire an Active Internet Subscription to Cox
First things first. This guide only addresses self-installation for Cox internet setup. It may or may not work with other providers. If done wrong, you could damage your equipment, get disruptive service, or even lose internet/cable access altogether. Therefore, use this guide only with respect to the specified provider's services.
But to use the Cox self-install option, you first need an active subscription. If you just signed up, that's great! You can skip ahead to the next section and learn how to set up your equipment and activate your service.
Don't have a subscription yet? Don't worry! Check out some of the best Cox plans and choose the one that best fits your needs.
The provider has a fast and efficient subscription process. Therefore, you shouldn't have to wait very long to subscribe to some of the best internet services in your area. Once done, you can move on to the Cox installation guide.
Step #2. Find the Coax Connection for Your New Modem
The modem is an essential part of your Cox internet setup. When installing it, you need to keep certain things in mind. For instance, you will need coaxial cables and connectors to set up your modem and service. The cable connection acts as a bridge connecting your home to the internet provider's service delivery infrastructure.
A coaxial connection is usually included in modern homes. It is a wall outlet similar to most others you have in your home. But it typically has only a single round connector for the coaxial cable. If you don't have an outlet, you may need to get one installed.
Step #3. Setting Up a Compatible Modem
A modem is a gateway that allows internet access to your home network. Cox self-install offers users the option to choose their own compatible modem. Or for an easier setup process, you can choose to get the provider's own modem for a monthly rental included on your bill. But regardless of the one you choose, here is how to uninstall it:
Locate your coax connector.

Connect your coaxial cable to the outlet and modem.

Plugin your modem's power cord into an electrical outlet.

Make sure the cord is connected to the modem's power input port.

Use an ethernet cable to hardwire a computer to your modem.

Power on the modem and wait for it to cycle through the initial power-up.

Wait for the flashing lights.

Check if the "online" indicator light stops flashing and becomes solid.
Step #4. Connecting Your Router for Wi-Fi Access
Like the modem, Cox lets you choose between your own router or use the one the provider offers. Modern routers like the provider's Panoramic Wi-Fi device often act as both the modem and the router. So, the setting up process is almost the same. Here's what to do:
Connect your router to the connector with a coaxial cable.

Connect the router to a power outlet using the included cord.

Place your router near the center of your home for better coverage.

Remove obstructions or appliances that can interfere with the router.

Power on the devices and wait for them to cycle on.

Check if the "online" light stops flashing and becomes solid.

No need for ethernet cable but can be used to hardwire devices.
The process will be almost identical to a compatible router of your own choice. Moreover, you won't be paying any rent to use it. But you may need to connect it to the modem via an ethernet cable. So make sure the cable is connected to the right ports.
Step #5. Connecting and Activating Your Home Wi-Fi
If you've executed all the steps above correctly, you're almost done. The only thing remaining is to connect a device to your brand-new in-home Wi-Fi. Once done, you should be able to quickly finish with your Cox activate modem. Here's what you need:
Log into your router using the default credentials.

You can use a smartphone, tablet, or a PC to do this.

To be safe, add a network password to prevent unauthorized access.

Change the default network SSID on your router's settings or app.
Using your newly designated credentials, you can start connecting devices to your wireless network. All you need is a device that supports wireless internet connections and the right credentials. The number of devices you can connect to the network at the same time varies on the make and model of your wireless router.  
Step #6. Activate Your Services and Start Using Them!
Congratulations! You just finished the setup. You should be able to go online using a device connected to your network. There's just one final step to the process. For unrestricted and smooth access, you need to activate your Cox account and services. Luckily all you have to do is call the provider to do so. But before you call, make sure you have the following information ready so the activation proceeds smoothly:
The account number or phone number associated with your subscription.

The login user ID and password to your subscriber account with Cox.

The complete residential address (including zip code) for your subscription.

The last 4 digits of your SSN or the provider's generated PIN code.
It only takes a few minutes to get your Cox-activated modem. Once you have all the necessities, just call the provider and follow the instructions to activate your new Cox internet service. Within a few short minutes, you should be ready to make the most of your enhanced subscriber experience.
---
Learn More About
Disclaimer: To our knowledge, we have made all the required efforts towards obtaining owner/publisher approval for the use of images in VISIONECLICK.COM blog posts. However, if you find violations of any sorts regarding any image, please feel free to contact us. Prices and packages mentioned may vary with time and the specific locations.