Everything You Need to Know About DIRECTV Hidden Costs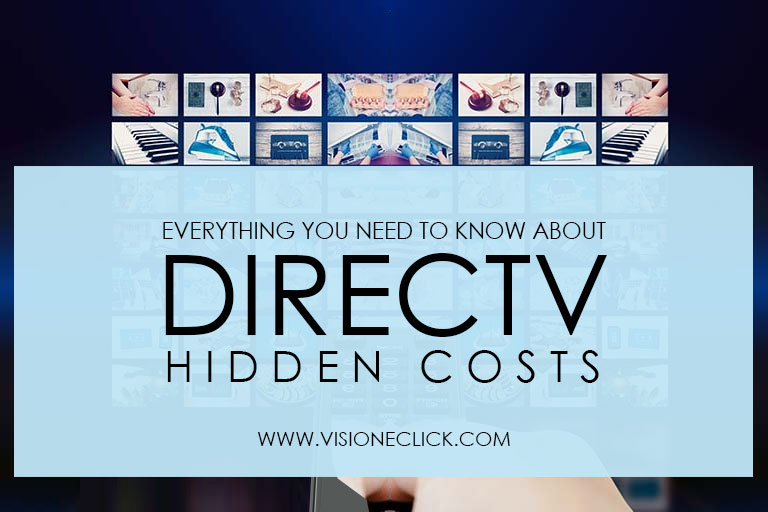 Because of the COVID-19 pandemic, you might be working or learning remotely. Since you are spending so much time at home, you might want to subscribe to TV and online streaming services to access unlimited and quality content. DIRECTV is one such service that offers a wide range of channels, free storage, and amazing packages.
But before subscribing to any of its packages, it is important to know about every DIRECTV cost. This can allow you to stay on budget and keep unnecessary expenses at bay.
DIRECTV Monthly Costs
For the first year, this company offers lower than normally priced packages to its customers. But after these 12 months, the prices can go up. These prices remain the same until the customer keeps subscribing to a specific package/bundle.
But the answer to the question 'how much does DIRECTV cost?' is not that straightforward. The introductory prices are available only for new users. If you cancel the services and subscribe to them again, then you won't be getting the introductory prices.  However, you might be able to enjoy some discounts and offers.
It is important to note that this company offers services on a contractual basis. So, if you cancel the services early on you'll have to pay extra charges.
DIRECTV Plans and Pricing
If you subscribe to its services, this is how much the DIRECTV packages cost without the taxes and extra fees:
| | | | |
| --- | --- | --- | --- |
| Plans/Packages | Promotional Prices/month | Number of Channels | Regular Prices/month |
| 160 Channels | $59.99 | 185 | $115 |
| 185 Channels | $69.99 | 235 | $131 |
| SELECT | $49.99 | 155 | $85 |
| ENTERTAINMENT | $54.99 | 160 | $97 |
| ULTIMATE | $74.99 | 250 | $142 |
| PREMIER | $124.99 | 330 | $197 |
DIRECTV Internet Cost
It does not provide the Internet on its own. However, it has partnered with big names like AT&T and HughesNet extra to provide its customers with high-speed Internet services. When you subscribe to this company's Internet service, then the system determines your location. After that, it selects any of the 3 available providers to deliver you quality Internet services.
But since AT&T is the parent company of DIRECTV, so the majority of the customers get AT&T Internet. AT&T offers both DSL and Fiber Internet to its customers. The speeds delivered can vary according to your location. The following plan and their prices are not inclusive of any taxes or additional charges.
Internet Packages
Promotional Prices/month
Internet Speeds (in Mbps)
Regular Prices/Month
No. of Chann

el

s
SELECT
$79.98
Up to 100
$124.99
155
ENTERTAINMENT
$84.98
Up to 100
$136.99
160
CHOICE
$89.98
Up to 100
$154.99
185
XTRA
$99.98
Up to 100
$170.99
235
ULTIMATE
$104.98
Up to 100
$181.99
250
PREMIER
$154.98
Up to 100
$236.99
330
Extra Charges
This company has to pay a regulatory fee to the federal government. This service provider, in turn, charges this fee in the form of tax on the customers' bills.  According to your location and state laws, the taxes and sports fees might vary. That is why this company doesn't mention these with the promotional price.
With each package, customers can watch quality channels PBS, TBS, and CNN on DIRECTV. The sports channel fans have to pay an additional fee of $99.99 to stream quality sports events. You can subscribe to this service along with packages like Choice, Ultimate, Premier extra.
Installation Fees
In case you only order TV services, there'll be no DIRECTV installation cost. The technician will come to your house and set up the satellite equipment free of charge. You can also get your DVR configured with the home Internet if you want to record your favorite shows.
But if you also subscribe to its Internet service, then you'll have to pay installation charges. Also, for any kind of service activation, you'll have to pay $19.95 once.
Equipment Fees
If you buy one of its equipment, then the installation will be free of cost. Also, there'll be no hidden or extra charges. But if you buy more than one equipment or might need an equipment upgrade, then there'll be additional charges. For each extra DVR equipment, you'll have to pay $7/month.
If you want to opt for the wireless option for your DVR, then the costs will be around $99. Doing so would allow recording 200 hours of your favorite shows in HD.
Late Fees
If you fail to pay your monthly bill on time, you'll have to pay a late fee. This fee is usually around $4.25. But it can vary with your plan and your monthly bill.
Early Termination Fees
To enjoy popular channels like ESPN, Nat Geo, and Fox on DIRECTV, you'll have to sign a 2 years long agreement with this service provider. In case, you want to stop using this company's services, you'll have to pay $20/month for the rest of your contract tenure.
Non-Return Fees
In case you fail to return the equipment in due time, you'll have to pay additional charges. The fine is usually around $45. The company charges you this amount in case you fail to return its receivers or Genie Mini. If you don't return more than one piece of equipment, then this amount can go up to $135.
Premium Channels
With each SELECT and ENTERTAINMENT package, you can enjoy quality channels like HBO, SHOWTIME, STARZ, and EPIX extra. These channels can be accessed free of cost for the initial 3 months. But if you want to keep streaming these channels after this period, then you'll have to pay $59.98. You can simply unsubscribe if you don't want to keep watching these channels. For the CHOICE, ULTIMATE, and XTRA packages, you can enjoy the following:
Free HBO access for one year
Free SHOWTIME, STARZ extra access for 3 months
To keep watching HBO, you'll have to pay $17.99/month after one year. For other channels, the costs are $41.99/month. If you subscribe to the PREMIER plan, you can enjoy access to premium channels at no additional costs.
DIRECTV Features
There are several features of this company that make it an excellent choice for TV lovers.
Amazing TV App
The company offers a great TV app to its customers with each TV package. With the DIRECTV app and a stable Internet connection, you can enjoy the following:
Live TV access
Option to record shows
Hundreds of on-demand titles
Option to schedule the recordings
Option to watch shows anywhere
NFL Ticket
To enjoy Live sports and games from around the world, this company is an ideal choice for you. It provides exclusive access to NFL Sunday Ticket to its customers. However, to enjoy this feature, you'll have to subscribe to packages like CHOICE, XTRA, and ULTIMATE extra.
Amazing Customer Service
DIRECTV customer support is quite well-recognized across the country. Unlike other providers, this company makes sure to help their customers timely and effectively. That is why it has been leading other providers in terms of customer satisfaction for the past 18 years.
Bundling Options
This company offers amazing bundling options to its customers. So, by paying a discounted price, you can enjoy blazing-fast speeds and HD TV channels at your home.
Rewind Features
With this company's amazing services, you can enjoy your favorite shows that aired within the last 72 hours. This means that you don't have to miss your favorite shows in any case. You can simply record them and watch them later.
HD Quality
Lastly, all the channels provided by this company are in HD. So, you can enjoy a range of sports, movies and news channels on a single platform without worrying about the SD quality.
To learn more about the packages, additional charges, and promo offers of DIRECTV, call on this number 1-855-850-5973.
FAQs:
–How much does it cost to cancel DIRECTV?
You might have to pay $20/month if you cancel your contract early on.
– How much does DIRECTV Now cost?
It can cost anywhere from $65/month to $135/month.
– How much does DIRECTV cost after 12 months?
The prices can vary depending upon the type of DirecTV package that you choose.
---
Learn More About 
---
Disclaimer: The prices/offers mentioned in this article are only accurate at the time of publication and are subject to change without any prior notice. Please visit the relevant websites for verification before making a purchase.
Disclaimer: To our knowledge, we have made all the required efforts towards obtaining owner/publisher approval for the use of images in VISIONECLICK.COM blog posts. However, if you find violations of any sorts regarding any image, please feel free to contact us. Prices and packages mentioned may vary with time and the specific locations.