Get DIRECTV and Viasat Bundle & SAVE $120 Today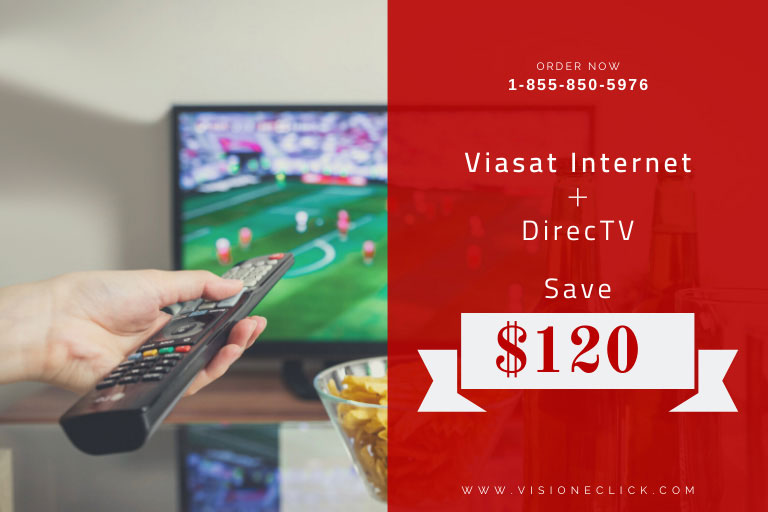 With Christmas just around the corner, you must be busy buying gifts, decorations, and food. Christmas shopping must be driving you crazy. In the holidays, it is very easy to go over your budget and spend the next few weeks trying to recover from the spending spree. If anything, you should be trying to save more money than you spend.
Which is something the DirecTV and Viasat bundle can help you with? Subscribing today can save you $120 on your internet and TV expenditures! Read on to find out more.
What is the DirecTV and Viasat Bundle?
AT&T acquired satellite TV provider DirecTV in 2015, and since then has positioned it to be the leading satellite TV service in the country. The company has now partnered with internet provider Viasat to bring together satellite internet and TV services to American homes all over the country.
Who Can Get the DirecTV Viasat Bundle?
If you're already a DirecTV Choice or above subscriber, you can become a subscriber to Viasat unlimited internet easily. Viasat uses the same satellite technology as DirecTV to deliver high-speed satellite internet directly to your home. That means if you have DirecTV or can get DirecTV, you can also get Viasat high-speed internet.
That is why the company is currently offering a Directv and Viasat bundle to new subscribers as well as to people who haven't subscribed to either service in the last 24 months.
Bundle Details
Think of the bundle simply as DirecTV satellite internet. Both satellite services operate using the same technology, which means that it is a well-complemented service. Here are the details on the DirecTV Viasat bundle:
Order Now:-
1-855-850-5976
Viasat Satellite Internet Package

Unlimited Bronze

Unlimited-Silver

Unlimited Gold

Price
$50 per month for 12 months (3 months if not bundled)
$70 per month for 12 months (3 months if not bundled)

$100 per month for 12 months (3 months if not bundled)

Speed
Up to 12 Mbps
Up to 25 Mbps
Up-to 50 Mbps
Channels
Over 200 DirecTV Channels
Over 200 DirecTV Channels

200 Plus DirecTV Channels

Extras
1 year of DirecTV and HBO.

3 months of Starz, Cinemax, Showtime, and Epix

One year of DirecTV and HBO.

3 months of Starz, Cinemax, Showtime, and Epix

1 year of DirecTV and HBO.

3 months of Starz, Cinemax, Showtime, and Epix
The bundle starts at $50 per month if you subscribe to the Viasat Bronze package in a 24-month agreement. You will also need to enter into a separate agreement with DirecTV.
Is Satellite Internet Any Good?
There are several reasons to choose satellite services as an option for your home. An internet speed test will show you download speeds up to 50 Mbps if you subscribe to the Viasat Unlimited Gold package. This speed is sufficient for any number of internet activities such as browsing, downloading, streaming 720p videos, and playing music.
Satellite internet is a good option for areas without access to fiber, cable, or DSL internet. That is because providers do not need to lay an infrastructure to reach you. The internet service makes use of a satellite in geosynchronous orbit above Earth. As long as your receiver has a direct line of sight to the satellite, the service can reach you.
Of course, that means bad weather such as an overcast sky or a thunderstorm will affect your internet speeds. But on the whole satellite internet is just as good as Liberty internet, if not better.
Why should I Go for the Viasat and DirecTV Bundle?
Choosing to bundle your satellite services can be a good move, especially if you're looking to save money. With the Viasat and DirecTV bundle, there are two major advantages. The first is convenient billing for all your satellite services in one place.
The second and more important one is the fact that you save $10 on Viasat monthly bill for the next 12 months. That adds up to $120 of savings in an entire year!
Frequently Asked Questions
Is Viasat part of DirecTV?
No, Viasat is a separate service that you are billed for separately.
What Internet can I get with DirecTV?
You can pair DirecTV with Viasat or HughesNet satellite internet.
How much are TV and Internet a month?
Viasat's internet starts at $50 per month. DirecTV packages start from $45 per month. For order, call now 1-855-850-5976
Disclaimer: To our knowledge, we have made all the required efforts towards obtaining owner/publisher approval for the use of images in VISIONECLICK.COM blog posts. However, if you find violations of any sorts regarding any image, please feel free to contact us. Prices and packages mentioned may vary with time and the specific locations.