Dish vs. DIRECTV: Who is the Best Satellite TV Provider?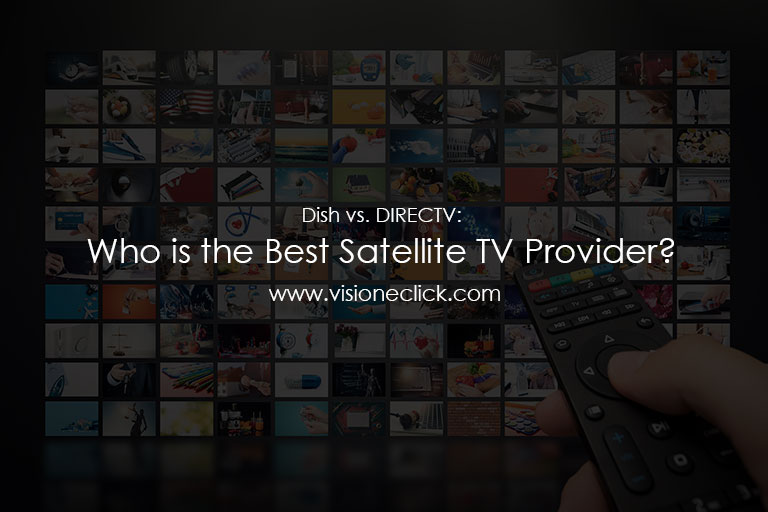 The mere thought of people sitting at one defined angle for hours with their eyes glued to the colorful TV screens comes across as unusual. It does not seem to fit in today's world. A more relatable picture painted to describe the present era would not have Televisions in the frame. However, many people continue to live by the traditional ways and resort to Television channels and shows as their choice for entertainment.
Choosing between service providers then becomes a crucial decision. Here a detailed comparison of Dish vs. DIRECTV should come in handy. They have been compared based on the plans, pricing, packages, and channels for your convenience.
The Scoop on the Dish
The Dish Packages come in four different varieties. Here's what is similar and unique to each package:
America's Top 120: – The most economical of the offers that the cable provider has with 190 channels. The selection of the most popular networks is such that you cannot miss the sports, reality TV, drama, or comedy. There's a channel for every mood, for every member of the family. Some of the most famous channels included in this package are ESPN, Disney Channel, and E! The local channels are included in the deal without any extra charges (other providers tend to charge the subscribers extra bucks). Moreover, it allows the viewers to relish watching premium channels like Showtime and Starz free for three months.
America's Top 120+: – This package offers pretty much what America's Top 120 does. The add-ons being a buffet of 190+ channels. Apart from that regional and college, sports networks are a part of this deal. So, this is a package that is best for budget-minded sports fanatics.
America's Top 200: – This particular deal by Dish offers 240+ channels giving the subscribers a greater variety of sports and top networks. These channels include Bravo, Sundance, ESPN and NHL Network to name a few.
America's Top 250: – Offering an even wider range of channels to choose from (290+ in particular), the Dish TV deal is carefully designed for movie lovers. The package comes with an array of movie channels including Turner Classic Movies, Starz Encore, and The Movie Channel. There is also a greater variety of top networks to choose from including DIY Network, Nicktoons and Nat Geo Wild
All the above packages come with HD Free for Life for an unmatchable picture quality and include local channels. You can opt to have six dish connections without any charges. Dish Anywhere app to allowing viewers to watch TV online is also a feature common to all the above-stated packages.
Add-ons
Apart from the basics included in America's Top packages, viewers can opt for add-ons that include:
Latino Channels: – 40+ Spanish channels available with hundreds of English channels
International Channels: – 270+ international channels in 29+ languages available
Premium Channels: – Includes premium film, sports, series and movie channels
Out-of-market Sports Channels
Adult Channels
HD Network
The cable TV packages come with HD channels as a default. The viewers do not need to pay extra for opting to watch their favorite shows or sports in high definition. Moreover, the company allows the viewers to watch more channels in HD than its competitors. The list of channels in HD includes Starz, HBO, Showtime, ESPN, and Disney Channel, to name a few. Not once will the users experience a channel blackout or a price hike for watching channels in HD or 4K HD.
Dish Hopper 3 Whole-Home HD DVR
The viewers get to experience channels in High Definition with 4K HD available to them as well. This system with its latest feature and slimmer design has been dubbed by CNET as 'the most powerful and feature-packed DVR to date.' Subscribers can opt for this system for paying a very minute amount every month. The users can pair it up with 4K Joey receivers and enjoy an in-house theatre experience. The device also allows the viewers to skip the annoying commercials and can store up to a whopping amount of 16 HD shows at once. Apart from that, it enables the subscribers to store up to 500 hours of HD programs.
You can even pair it up with Amazon Alexa or any member of its family to navigate through channels using voice commands. And if someone does not own Alexa, the Smart Voice Remote follows all your commands without you having to move a finger.
Having discussed all of the features that it has to offer, a Dish vs. DIRECTV comparison calls for a discussion on the latter's similar features. The choice is then yours!
Do Not Underestimate DIRECTV
They offer more packages. The six deals are categorized as follows:
Entertainment
Choice
Xtra
Ultimate
Premier
Let's delve into the features that each package has to offer:
Select: – This deal comes with an option of 155+ channels and includes premium channels as a part of the package free for the first three months after subscription. The channels include HBO®, Starz®, Showtime® and Cinemax®, to name a few. Sports channels do not fall in this deal. Hence, it won't suffice the sports lovers' needs.
Entertainment: – An option to choose from 160+ channels including sports channels like ESPN® and Fox Sports®. The premium channels are available for free for the first three months as in the 'Select' package.
Choice: – Subscribers can select from an array of 185+ channels including sports channels and travel channels.
Xtra: – As the name suggests, this deal goes extra on the channel offerings with a variety of 235+ channels. This includes sports channels, weather channel, science-related channel, travel channel and channels like WGN America and Viceland HD.
Ultimate: – Subscribers get to choose from 250+ channels which include sports channels, weather channels, travel channel, American Heroes Channel, Oxygen, Encore, and Boomerang, to name a few.
Premier: – 330+ channels. The premium channels are included and free for as long as the subscription stays. Besides that, all other channels that the 'Ultimate' package offer is a part of this deal as well.
Local channels are included in all the above-mentioned packages. Apart from that, an HD DVR is included as a part of the deal in all DIRECTV packages without any extra cost.
AT&T Plans
A feature unique to DIRECTV is its collaboration with AT& T to offer various plans and deals to the subscribers. This feature allows the subscribers to enjoy nationwide calls with a crystal clear voice quality across the States. The three bundles offered are:
DIRECTV + AT&T Plans – Get access to internet speeds of up to 50 Mbps. Apart from that get access to AT&T Wi-Fi hotspot network across the States.
DIRECTV + AT&T Internet + Home Phone – Add the landline to the bundle and get the most out of it.
DIRECTV + AT& T Wireless – Watch live TV on the go by subscribing to this bundle. All you need is to install the DIRECTV app and you are good to go!
Genie
Genie has a little less to offer as compared to Dish Hopper 3 Whole-Home HD DVR. It can record up to five shows at one time and gives the subscribers 200 hours of HD storage. Apart from that, Genie does not come equipped with voice remote, remote control locator, built-in Netflix or the option to automatically record primetime shows on channels like ABC and NBC. However, its rival offers all the features that Genie does not.
Winner of the Dish vs. DIRECTV Trial
Having discussed the various features, the thing that bothers most of the subscribers is the value for money. And rightfully so. Although, subscribing to Dish packages mean paying a higher first-time amount, but it is cheaper than its counterpart in the long haul. Also, it does not increase package prices after a year of subscription. Whereas, DIRECTV does.
As far as customer service is concerned, both companies have efficient and well-informed reps. However, it might be ranked a place higher as AT&T U- verse customer service has been ranked as number one. That too eighteen times in a row!
Now, it is up to you to make a decision!
Disclaimer: To our knowledge, we have made all the required efforts towards obtaining owner/publisher approval for the use of images in VISIONECLICK.COM blog posts. However, if you find violations of any sorts regarding any image, please feel free to contact us. Prices and packages mentioned may vary with time and the specific locations.