Google WiFi: Can it Connect to Spectrum?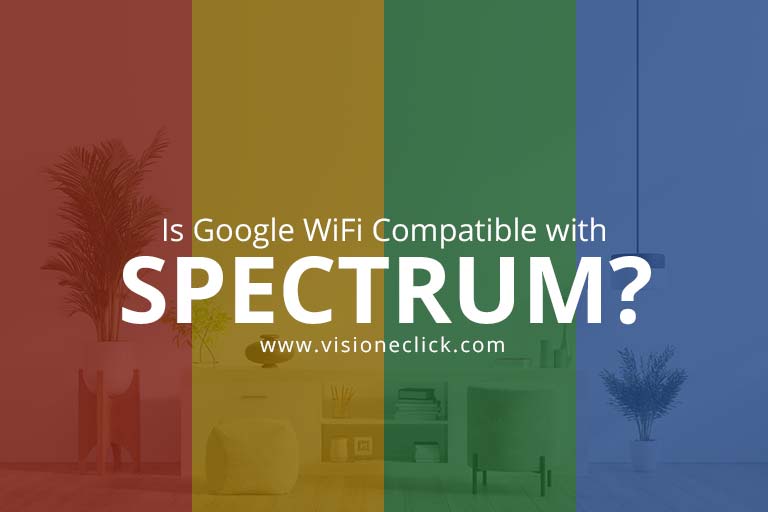 In today's fast-paced world, there is great demand for a stable network. As a result, a large number of people are always looking out for efficient and reliable internet connections. Charter Spectrum is one of the most popular networking companies in the United States. With thousands of users, this company provides services related to the internet, cable, TV, and telephones.  
In addition to this, you can access numerous features once you subscribe to Spectrum's services. However, you will need to analyze your preferences depending on speed, setting, and location when choosing various packages offered by Spectrum. It's important to base your decision on bandwidth limits, speed, and pricing.  
Google WIFI comes at a time when the world is becoming increasingly digital. Today, important industries related to education, entertainment, business, and even healthcare are becoming reliant on the internet for progress and advancement. In this context, a fast-paced, efficient internet connection is both a necessity and a luxury. Tech giant Google launched one of the first mainstream mesh WIFI systems almost 5 years ago. Google WIFI offers customers a convenient and simple setup. Last year, in 2020, Google came out with a new mesh WIFI system called Nest WIFI. This too attracted a lot of attention and customers.  
In addition to this, Google's new service offers great accessibility along with a large number of features. Despite such attributes, Google WIFI maintains a reasonable price for customers. Moreover, this service provides higher performance and 4K streaming. If you're a gamer, you're likely to enjoy this even more than regular users. With Google WIFI, lag is reduced and audio-visual quality is enhanced. Also, its design and setup are both convenient and easy to use. As a result, setting up and maintenance is relatively simple and effortless.  
Can You Connect Google WIFI to Spectrum? 
When you subscribe to internet services by Spectrum, you are typically provided with an additional option to avail yourself of wireless features with the modem. If users want to choose this option, they're given a router. This is both convenient and easy to use and set up. In addition to this, you can get WIFI in every part of your house. However, the monthly fees for this router can cost you a significant amount. In addition to this, its performance is relatively mediocre. This means that you can find better alternatives in the market.  
However, if you have a Google WIFI or Google Nest WIFI, you must be questioning the compatibility between the two. Here's the good news. They both work with each other. In fact, the pairing of these devices doesn't require much except for a simple configuration. Once you switch to this service, our wireless connection will improve in efficiency and speed. In addition to this, you'll also be able to get more features.  
But a large number of users also report errors like the Spectrum login loop error when using this service. In order to fix this, you need to first redirect the loop. When you've done this, it's important to recover your credentials. You also need to check for any bugs in the app. This can seriously affect the quality of your browsing experience. If nothing else works, your device could be congested. In this case, it's important to clear caches and cookies.  
How Can You Connect Google WIFI to Spectrum? 
If you want to use Google WIFI with Spectrum, you will need to follow the steps below. However, it's important to make sure you do this in order. Here's what you need to do.  
First, you will have to connect your Spectrum modem with Google WIFI. A large number of people believe this requires both time and effort. However, this can be easily done through an ethernet cable between the two devices. After you've connected these systems, you can log into your router. When signing in, it's necessary to ensure you use the correct credentials. If the original hasn't been altered, then you can use them instead.
Now, you can go through the various options available to you. Click on the option that says LAN setups. Once you've reached this step, you can change your device's NAT mode to Bridged. This will ensure that the process runs smoothly. However, there's also a chance that this option will not be available. In this case, disable your router's DHCP.  
Following this, it's safe to disconnect the WIFI services from your Spectrum modem. This is done because these aren't required anymore. You can do this by disabling both 2.4 and 5 GHz frequency channels. After successfully completing this step, it's important to reboot the whole network. When you do this, your Spectrum modem will restart with the Google system. This will enable you to make use of its WIFI features and services.  
However, you could face common issues like "Spectrum not tunable issue". When this occurs, it's important to give rebooting of your Spectrum receiver a try. This will refresh the signals and give them time to restart. In order to do this, unplug the receiver. But you'll have to wait at least a minute before you plug it back in. This increases the chances of this issue being fixed. If nothing else works, call Spectrum's customer support.  
When you connect the Google WIFI to your Spectrum device, your connection's speed, efficiency, and reliability are likely to increase. While you may still face errors like Spectrum RLP-1001 and Spectrum Error Code SUC-1107, you'll be able to enjoy 4K resolution, high-quality speed, and enhanced connectivity.
In addition to this, shifting to a high-mesh network also means a wide variety of features and attributes. These are not possible if you have a standard internet connection.  When you connect Google WIFI to Spectrum, you get the features of both devices.
Disclaimer: To our knowledge, we have made all the required efforts towards obtaining owner/publisher approval for the use of images in VISIONECLICK.COM blog posts. However, if you find violations of any sorts regarding any image, please feel free to contact us. Prices and packages mentioned may vary with time and the specific locations.