DSL Vs Cable Internet Vs Fiber: Comparing the Options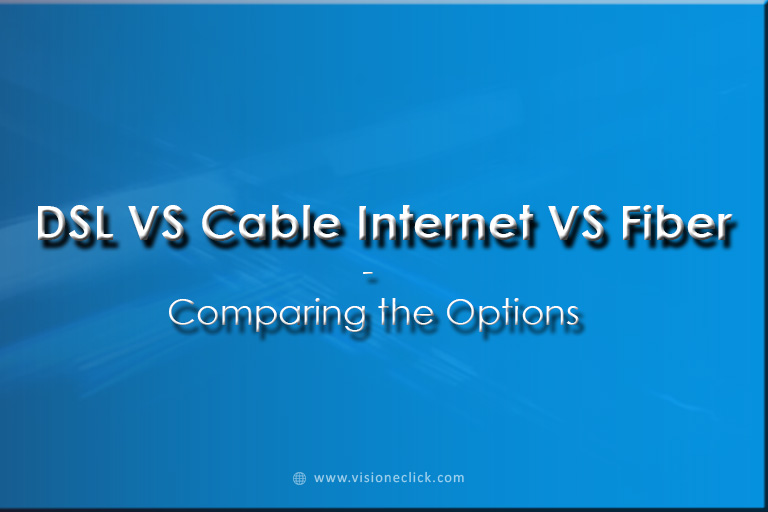 Since no one uses the archaic dial-up internet anymore, you must be using one of these three internet connection options; DSL, cable, or fiber. All these three types of internet provide you with the essential internet access and they have their own perks and drawbacks.
To choose the right internet connection type that suits your family's online activities and preferences, you need to know a few pertinent details. This way you will make a well-informed and wise decision and save yourself the hassle of switching services.
Some Quick Facts about All Three Types of Internet
Here are some must-know facts about all these three types of the internet for clarity:
| | | |
| --- | --- | --- |
| DSL Internet (Landlines/Telephone Lines)/strong> | Cable Internet | Fiber-Optic Internet |
| DSL internet uses telephone lines. | The same coaxial cable that is used by your TV service is used by the cable internet | The most impressive and brilliant development in the internet world. |
| Using the internet via phone line doesn't interrupt phone use. | The biggest benefit is its widespread and substantial availability. | Utilizing the fiber optic lines, this type of internet is high-performance for data transfer. |
| While it is not as slow as dial-up internet, it is the slowest among the other internet types. | It offers a good connection speed. | It offers blazing speeds. It's no exaggeration that fiber internet has the speed of light. |
| | | It isn't widely available. |
Speed Comparison
As users and subscribers, the factor that matters the most for us is the offered speed. The different types of internet have their own speed capacities. Let's have a general internet speed overview of all internet types:
| | | |
| --- | --- | --- |
| Fiber-Optic Internet | Cable Internet | SL Internet (Landlines/Telephone Lines) |
| The fastest available speeds are that of the fiber-optic internet. And that goes for both downloading and uploading speeds. | Cable internet speeds are quite impressive and can even compete with fiber's downloading speeds. | DSL speed is the lowest. It maxes out around 35 Mbps. |
| Fiber internet speed can be 400 times faster than the DSL | When it comes to uploading speeds, cable internet cannot compete with fiber optic internet. | DSL can give you a downloading speed of around 128 Kbps a second to 24 Mbps a second in most places. |
| Fiber internet has already achieved gigabit internet speeds. 1 GB = 1000 Mbps. | Cable internet offers a download speed of up to 150 Mbps. But it is shared bandwidth. | Upgrades in speeds are expected. |
| Gigabit internet means you are able to upload or download the one-gigabit file in 8 seconds. | Since the bandwidth is shared with the neighborhood, you will experience speed lags in peak hours. | |
Clearly, fiber-optic is the winner here. And this doesn't end here. Researchers have already achieved a speed of 255 Tb (terabits) per second. Just like they have achieved Wi-Fi 6 technology and have made it available to users, this is also not an impossible concept.
Some More Facts about DSL Internet
Let's get enlightened about some more info about Digital Subscriber Line or DSL internet:
It offers downloading speeds in the range of 5-35 Mbps.
The upload speeds are in the range of 1-10 Mbps.
Wireless internet service providers offer DSL internet in addition to other internet types.
Currently, it is the slowest internet type.
It cannot compete with fiber and cable internet in offered speeds.
It is a cheap option.
DSL is available as a hardwired internet connection in rural areas.
Copper phone lines are used to deliver DSL internet.
DSL offers around 90% coverage across the states.
This has lower bandwidth and higher latency as compared to cable internet.
Its speeds may vary depending on the distance from the provider's source.
A Few More Facts about Cable Internet
It offers downloading speeds in the range of 10-500 Mbps.
The upload speeds are in the range of 5-50 Mbps.
Some ISPs offer more speeds than the aforementioned ones in select areas.
The internet speeds are sometimes likely to lag in peak hours.
If your entire neighborhood turns Netflix on, expect around 20% slowdown.
The sellers of cable TV services are usually the sellers of cable internet too.
These providers offer clubbed options to save better.
Cable internet is delivered via copper coaxial TV cable.
Cable Internet offers 89% nationwide coverage.
The bandwidth is usually shared with the neighborhood.
Peak hours are evenings, when you may experience a speed lag by 20-40%.
Cable internet generally has lower latency and higher speeds as compared to DSL.
More about Fiber Internet
Fiber-optic internet is comparatively a newcomer when it comes to the home broadband internet market. Some companies have invested in running high-speed and pricey fiber-optic lines to the customer addresses.
It offers downloading speeds in the range of 250-1000 Mbps.
Fiber internet is future proof and reliable technology.
Unlike DSL and cable internet services, fiber internet offers symmetrical services.
Symmetrical means that both, uploading and downloading speeds are almost the same.
It uses fiber-optic cables to deliver the internet.
If you have fiber coverage in your area, the higher price is worth every penny.
With fiber, simultaneous HD streaming/downloading on multiple devices is easy.
No matter how far you are from the provider, your bandwidth wouldn't lag.
It offers 25% nationwide coverage.
Most likely, you will get extremely close speeds to the advertised ones.
Which is Your Best Choice?
You can choose the type of the internet for your household or workplace by considering the aforementioned details. Generally, for rural areas, DSL is perhaps the best choice because otherwise they will be stuck with even slower satellite internet.
For those who don't have access to fiber-optic internet, cable internet is the best choice. It is also better for people whose online activities don't need lightning-fast internet speeds. Or, for people who are into TV-viewing and want to take advantage of a budget-friendly plan with bundles services.
As for those who have heavy internet usage, fiber internet is a much better option. And also for households with multiple devices and online activities like gaming, binge-streaming, video-conferencing, and other similar ones.
Disclaimer: To our knowledge, we have made all the required efforts towards obtaining owner/publisher approval for the use of images in VISIONECLICK.COM blog posts. However, if you find violations of any sorts regarding any image, please feel free to contact us. Prices and packages mentioned may vary with time and the specific locations.