What Channel is ESPN on Optimum?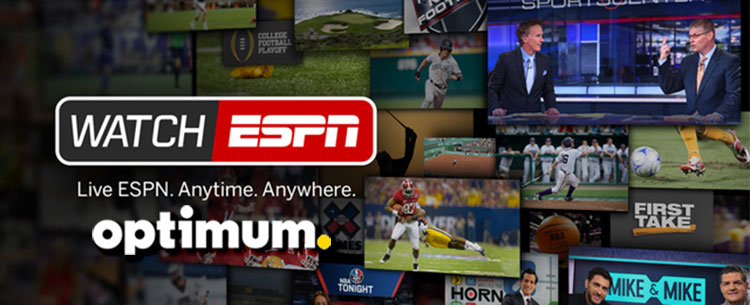 ESPN needs no introduction. It is one of the most popular sports networks in the country. ESPN on Optimum is the only place where you can find Sports Center – one of the longest-running sports talk shows. And not to mention your favorite games.
Finding ESPN on Optimum
Although the channel number of ESPN on Optimum might be different in different states, it does not affect show schedules. Your favorite talk shows and games will air at the same time as scheduled. But if you have traveled between different time-zones then you might want to recheck the schedule.
Use the Optimum channel guide in the table below to find ESPN channel numbers in your area:
| Channel Name | SD / HD |
| --- | --- |
| ESPN | 36 / 210 |
| ESPN2 | 35 / 211 |
| ESPN News | 216 |
| ESPNU | 217 |
| ESPN Deportes | 227 / 1066 |
If you can't locate your city/state in the table above, then there are other ways you can search. You can type in 'What channel is ESPN on Optimum" with the name of your city and state. You can also use a similar method to find other channels like CBS in your area.
What's Special About ESPN 2 on Optimum?
The most special thing about ESPN 2 is that it is an extension of the mainstream ESPN channel. It was initially set up as a channel aimed at the younger generation. But over time, it grew into an extension. There are so many popular programs on the original network that the air time was falling short.
You can follow Major League Baseball, College football, including the East-West Shrine game on ESPN 2 on Optimum. The channel also covers Major League Soccer and NASCAR series. When the programming schedule is fuller on the original channel, ESPN 2 also hosts some of the NBA Games.
Why is ESPN NEWS on Optimum So Popular?
ESPN News has everything you could want to know about sports. Its programming goes beyond covering just the news. It also covers highlights from games, press conferences, as well as commentary by analysts. It launched in 1996 and is one of the most highly-rated sports news channels on Optimum TV packages.
ESPN News on Optimum also airs the popular show Sports Center from the mainstream ESPN channel. As for original content, Golic & Wingo is the most popular. It airs in the mornings on the radio as well as ESPN News simultaneously. The show is hosted by Mike Golic, Sr., Mike Jr., and Trey Wingo.
ESPNU On Optimum – All You Need To Know
ESPN Network launched the channel in 2005. The idea was to have a separate space for all coverage related to college athletics. Since college-level sports have such a huge fan base, the channel enjoyed instant success. It is available in more than 73.5 million households in the US today.
Its programming includes coverage of baseball, basketball, football, soccer, hockey, volleyball, and much more. Even if you follow water polo at the college level, you can find coverage on ESPNU on Optimum. The channel plays a major role in giving aspiring college athletes the publicity they need. It helps them make it to the Big Leagues.
Where Can I Find ESPN Classic on Optimum?
Unfortunately, you will not be able to find ESPN Classic on Optimum Premium package anymore. Back in 2017, Optimum made a deal with Disney through its sub-company Altice. As part of the deal, Optimum would stop airing the popular channel, ESPN Classic as part of their premium package.
Instead of ESPN Classic, you get the AAC Network and the SEC Network as part of your Optimum packages. Both these channels are also part of the ESPN Network. If you want ESPN Classic with your package, you will have to get the sports tier. Fortunately, ESPN 2 on Optimum is still included in the premium package.
What is ESPN Deportes on Optimum programming like?
ESPN Deportes on Optimum is aimed at the Spanish speaking population. Instead of dubbing the content from the original ESPN into Spanish, the channel has completely new content. So you can find Spanish versions of popular shows like Sports Center, as well as original sports talk shows. If you have subscribed to fast internet services, like Optimum 400, then you can easily stream your shows online.
Conclusion
The aim of this blog was to help you find the channel numbers for ESPN. If you were not able to locate your city/sate in the table above, then you can search online. Or, alternatively, you can also get in touch with Optimum customer support. The rep will be better able to answer all your queries.
Disclaimer: To our knowledge, we have made all the required efforts towards obtaining owner/publisher approval for the use of images in VISIONECLICK.COM blog posts. However, if you find violations of any sorts regarding any image, please feel free to contact us. Prices and packages mentioned may vary with time and the specific locations.