10 Significant Features of Cloud Computing
Cloud computing is one of the most useful and cost-effective ways to supplement your business operations. From collaboration to cloud backups to scalability, cloud computing services have a lot to offer. Both to enterprise-level businesses as well as smaller ones of all sizes. The infographic below illustrates some of the most useful features that cloud computing offers
Table of Content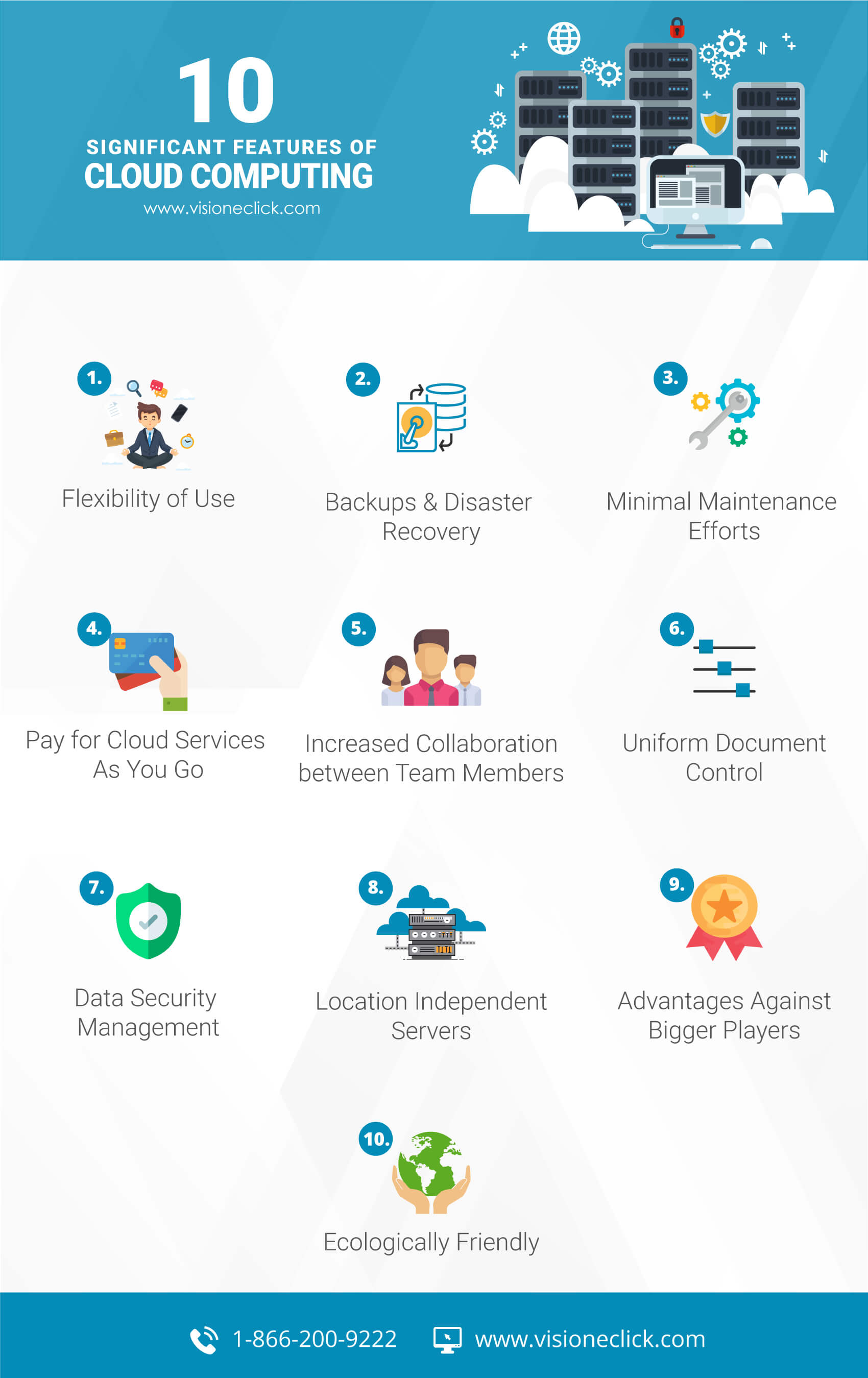 Flexibility of Use
Cloud computing solutions are scalable to your business size and needs, giving you agility in managing your operations. You can easily step up your server requirements or reduce them as your needs change. Operational agility means your business can adapt to changing business needs without extensive restructuring or overhauling.
Backups and Disaster Recovery
Cloud backups are a good alternative to more robust disaster recovery methods for small businesses in protecting data. They let you place your valuable data offsite where it is safe from disasters, both natural and artificial. Since data is one of the most valuable business assets, protecting it is not only necessary but also significantly important.
Minimal Maintenance Efforts
Cloud computing takes away the hassle of maintaining servers by rolling out automatic updates and freeing up time for you. Since the servers are located and maintained offsite, you don't have to worry about maintenance or downtime or hiring specialized resources. All you need to concentrate on is the other aspects of your business.
Pay for Cloud Services As You Go
Cloud solutions do not require significant capital expenditure, letting you subscribe to manageable options that are easy on your budget. You only need to pay for the level of services you are using, which is much friendlier to your cash flows. This has proven to be especially attractive to smaller business concerns.
Increased Collaboration between Team Members
Different members of your team can access, edit and share documents in real time, ensuring that collaboration and productivity increase. A cloud system makes for an effective framework in which workflow can be managed and tracked.
Uniform Document Control
Since all files are stored centrally and reflect changes in real time, there is only one version of facts for all. This means there is lesser confusion over different versions of the same document, increasing collaborative productivity.
Data Security Management
Cloud systems store your data on cloud servers, which operate independently from your business. You can access stored data even without your laptop, and you can even wipe data from a lost/stolen machine. This ensures your sensitive data never falls into the wrong hands.
Location Independent Servers
All you need is an internet connection like Xfinity internet plans to work from anywhere, allowing more employee flexibility. Employees can work remotely, from home or even while traveling. This is especially useful for businesses with operations across locations and time zones.
Advantages against Bigger Players
Cloud computing puts smaller companies on a level playing field with enterprise-level companies without the associated intensive expenditure. Smaller players can break the hold larger fish have over the market.
Ecologically Friendly
Because cloud solutions are scalable, you're only using as much energy as you need. This goes a long way toward reducing your overall carbon footprint. Not only is cloud computing good for your business, but it's also good for the environment as a whole. Environmental consequences should always be at the core of any responsible business decision.
Disclaimer: To our knowledge, we have made all the required efforts towards obtaining owner/publisher approval for the use of images in VISIONECLICK.COM blog posts. However, if you find violations of any sorts regarding any image, please feel free to contact us. Prices and packages mentioned may vary with time and the specific locations.