How To Fix Cox Gigablast Not Working?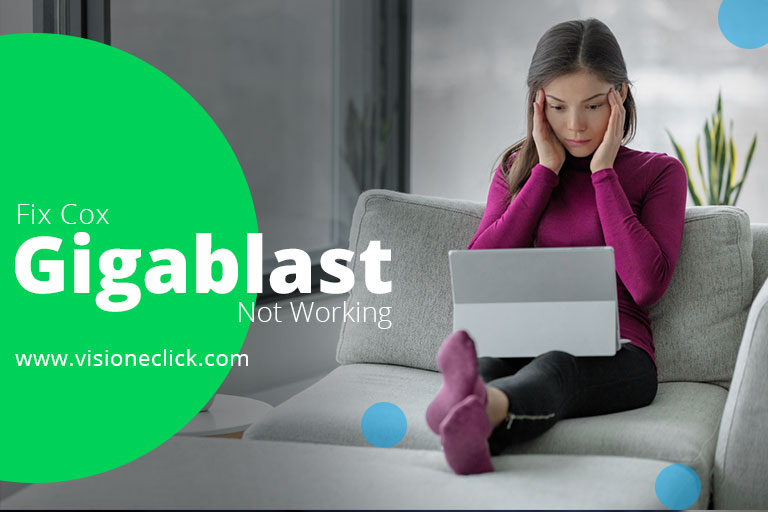 Getting a Cox Gigablast connection is one of the best decisions you can make for your home. It offers phenomenal download speeds of up to 940mbps, giving you instant connectivity. If you have multiple Cox internet users in the house, with gaming, work, online classes, and other activities, then you should definitely invest in it for a smooth experience. This will help your whole family get the speeds they need, even if they're doing heavy-duty activities like online multiplayer gaming. If you get stuck with a slow upload speed, you might get frustrated, so a faster connection is well worth it. With it, you can run all your devices smoothly and download anything you want at unbelievably high speeds.   
 While this connection offers a smooth and rapid experience, there is sometimes no way to avoid problems from happening. In such cases, you have to figure out what went wrong, and then find a way to resolve it. Most of the time, you'll just need to do a few simple fixes. Rarely, there might be an issue you can't handle yourself. Then, you'll have to call customer support and see how to go ahead from there. But before you do that, make sure you go through the following solutions.   
If your browser window is showing connectivity problems, the first thing you should do is clear your cache. If your browser is overloaded with cookies and a full cache, it will not function properly and refuse to load pages.  
So, clear your cache and restart your browser. Usually, this should work fine. However, if the internet is not working on any of your devices, then explore other solutions.  
Your internet connection comes with a Panoramic router, which has a number of excellent features. If you're facing connectivity issues, then you might need to restart your router to get things working again. It's a very simple process, as you just have to press the restart/power button on your router.  
Then, simply confirm if your internet is back to normal by checking your devices and doing a few basic tasks on them to confirm that the speed is fine,   
If restarting your router does not work, then both your modem and router may have some issues. In that case, you should reboot the connection and then try to start it up again. This is pretty simple to do and does not require any technical expertise. Simply unplug both devices from their power sources and leave them unplugged for 15-20 minutes. Then, reconnect them and start them up again.  
This will clear your device caches and make the modem and router work without extra data slowing them down. Make sure that you confirm the connectivity on multiple devices so that you can be sure your solution worked properly.  
If you've had your internet connection for a while, then you may have an outdated modem that cannot really support the high speeds your connection offers. If you've gone for the Cox self-activation facility, then you may even be using your old connection's modem. However, like any other device, you need to upgrade it after a few years.  
So, either get a compatible modem on your own or call up your internet provider to replace the modem with their latest model. This should help you resolve your internet issues in a convenient and easy manner.  
Coaxial cables are used throughout your internet connection, and basically, transmit power and signals to your modem and router. If they are frayed, broken, or simply loose, then your internet will not work. Therefore, they're one of the first things you should check when you have connectivity issues. 
Confirm that they're all in the right ports and tighten them, just to be on the safe side. Then, check if they're frayed or broken anywhere. If they are, then you'll have to replace the cables. However, they are quite easily available, so you can easily do this. You can buy these online or from most computer hardware stores. Make sure you get the right length for your home and check the cable for any defects before connecting it with your system.  
Sometimes, the problem may not even be related to your own connection. Network outages rarely occur, but they do happen for a variety of reasons, from storms to maintenance activities and such. Check your provider's social media pages or check your account on their portal.  
If there's a general area outage, then this is where you'll find out. If possible, the provider will also let you know when you can expect your connection to come back online. Therefore, you should keep an eye out for updates, and then wait for the outage to be resolved in these cases. There's nothing else you can do in this case except waiting and being patient.  
If you can't figure out anything else and find the solution on your own, then you shouldn't take too many risks and call up your provider. The customer support representatives will walk you through all your internet problems, whether your internet slows at night or is simply not working. So, call the helpline and let your provider know about the issue.  
Usually, the representatives will walk you through a few solutions. However, if they don't work, then they'll send over a technical support expert to help resolve your problem. Therefore, if you can't figure out the issue yourself, simply call the helpline.  
To sum up, this connection is an excellent investment to make. It will give you unparalleled speeds and let your whole family stay connected to the internet without a hitch. And even when you do face issues, you just need to walk through a few steps or call the provider to resolve them. Make sure you troubleshoot properly, as these problems are usually quite easy to solve. So, run through these solutions, and get connected again with your high speeds and stable connectivity! 
Disclaimer: To our knowledge, we have made all the required efforts towards obtaining owner/publisher approval for the use of images in VISIONECLICK.COM blog posts. However, if you find violations of any sorts regarding any image, please feel free to contact us. Prices and packages mentioned may vary with time and the specific locations.