5 Easy Ways to Fix Cox Upload Speed Slow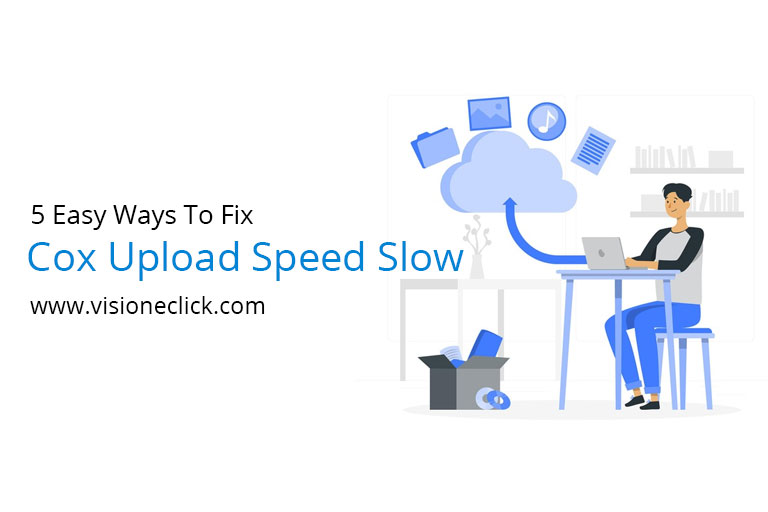 Issues related to the internet can come at any point in time. And no matter how reputable your provider is, problems with the internet connection are almost inevitable. Cox is not an exception to this. It's true that they offer the best services in all of the United States. However, there will be times when you will experience slow upload speeds.
This is certainly a bummer as the slow speed will prevent you from uploading urgent files. And if you are a content creator on YouTube, then it may frustrate you even more, when your video will take forever to upload.  This might even make you wonder why you are paying the Cox bill if the speed is that bad. But do keep in mind that it may not be your provider's fault that you are receiving low upload speed.
How to Fix the Upload Speed?
Slow upload speed may sound like a huge problem, but in reality, it isn't that much of a major issue. There are a number of troubleshooting methods available which you can try to fix this problem. So, without any further ado, let's take a look at them.
#1. Change Your Browser
If you are not getting the upload speeds promised by the provider, then the problem might be with the type of browser you are using. Most people tend to ignore this but it is in fact an important factor that shouldn't be overlooked. You should consider using Firefox or Chrome to run your Cox internet. This is because these browsers are more responsive and can easily resolve Java issues.
Apart from selecting a different browser, you must update them. An outdated browser will do you no good and might even play a role in the lagging of your internet connection. Therefore, make it a habit to install the updates the moment they become available.
#2. Reboot Your Device
Oftentimes, the device you are using can encounter various issues which can have an effect on internet speed. Most of the time, you can take care of problems by simply rebooting the device. And while you are at it, you may also reboot the internet router too. When you are rebooting, it is recommended that you pull out the power connection and then wait for at least a couple of minutes.
Once the time's up, you can switch on the device as well as the router. You will then need to wait for an additional 10-15 minutes to ensure that a proper internet connection has been established.
#3. Disable Your Firewall
Firewalls are extremely important as they protect you against online threats much better. This is why many people prefer to keep them enabled at all times. But what you may not know is that they sometimes slow down the internet connection.
So, if for instance, you are having troubles with the upload speed, then you can try disabling the firewall. And when you do that, you will notice a positive change in your internet speed. This will also help with your upload speed. But once you are done with the upload, it is suggested to turn the firewall back on so that your system may continue to remain protected.
#4. Try A Different Device
If you are having trouble with the upload speed, then it is advised to switch the device. You can then see if the problem still persists. If it doesn't, then it means that there is something wrong with the previous device.
You can then check the other device for issues. Also, take a look if the device needs a software update. And if it does, then launch the update process. This might resolve the issue of slow update speed on the device.
#5. Reach Out to Your Internet Service Provider
If the ways mentioned above don't fix the upload speed, then you should consider getting in touch with your internet service provider. The provider's customer support is very cooperative and they will do their best to resolve your issue.
Therefore, you should give them a call and explain what problem you are facing. They might troubleshoot the issue right then and there or might even send a professional to your home who can look at the matter and will then fix it.
Conclusion
Cox Communications is one of the best when it comes to providing internet, cable, and telephone services. They are highly trusted by millions of Americans across the country. The brand also offers a panoramic Wi-Fi service which makes sure that you get strong connection signals no matter where you are in the house.
However, while using the internet service, you may encounter some issues with the upload speed. And if you do then consider the above-mentioned ways to get rid of the problem. Also, you can always contact the provider's customer service to better deal with the problem. 
Disclaimer: To our knowledge, we have made all the required efforts towards obtaining owner/publisher approval for the use of images in VISIONECLICK.COM blog posts. However, if you find violations of any sorts regarding any image, please feel free to contact us. Prices and packages mentioned may vary with time and the specific locations.