5 Ways To Fix Optimum Altice One WiFi Not Working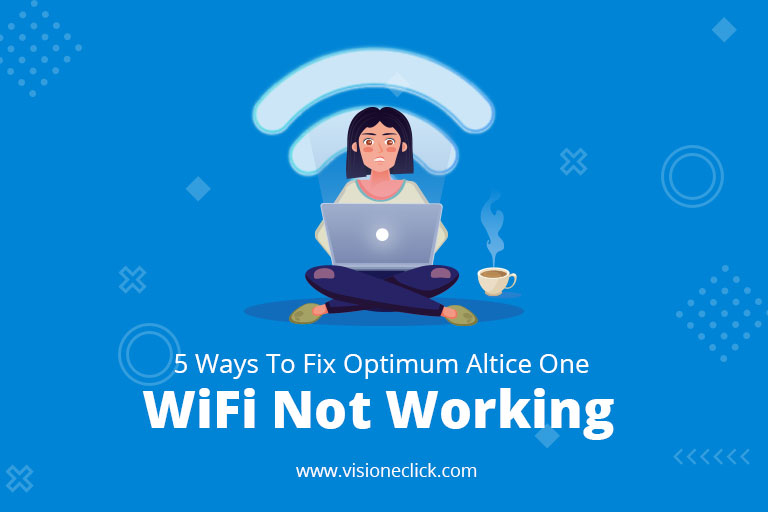 Altice One has been a breakthrough in home entertainment. It's the first-ever 2-in-1 router built for Optimum packages (TV and Internet included). This new device allows you to integrate music and video apps so that you get access to 24,000+ free videos and 2K ad-free music channels. Plus, you can also choose from 4K Ultra HD titles. 
Altice One Wi-Fi sure is great for gaming, streaming, and browsing minus the nosy "buffering." It's one great wireless connection that extends Internet services throughout the house. Some users, however, have been experiencing Wi-Fi disconnections, which has made them wonder if they overestimated the power of Altice One.
It's totally normal to experience connectivity problems. Even the best contenders out there are not perfect. It is easy to dump the blame onto the provider. Chances are some glitches are interrupting your internet experience. Hence, here is a guide for you to fix "Optimum Altice One Wi-Fi" troubles: 
1: Identify the Weak Link
Before reaching your connected device, the Internet connection has to make it through several pieces of equipment. It starts with the modem, reaches the router, and finally your PC or laptop's network adapter. 
If your connection is acting up, here are some ways to find the weakest link:
Find out the speed you are paying for
Some of us tend to forget what speed we signed up for. Check your bill to find your speed. It should be there in Mbps. If you can't find it contact Optimum pay bill number to confirm.
Run a speed test
After knowing what Mbps you have subscribed to, run a speed test by visiting speedtest.net. It's recommended to test the speed in the room where the router is placed. Note down the figure. 
Check speed in other rooms
Now check the speed in other rooms, particularly the ones where you sit and use the Internet regularly. 
Compare the speed to what you are paying
If you are getting the speed you pay for in all areas of the house, maybe it's time to upgrade to your Internet package. On the other hand, if you are getting lower speed than you are paying for, call support and let them know what's happening.
2: Try Restarting the Modem
The oldest trick in the book when you are experiencing a connectivity issue is to restart the modem. This normally fixes minor glitches and restores your connection. Follow these steps to restart your equipment:
Remove the modem's power cord

Unplug the coaxial cable

Wait for a 1 to 2 minutes 

Tighten the coaxial cable properly 

Check all cables to ensure they are in good condition 

Identify and replace exposed wires 

Plug the modem back 

Wait a few minutes to reconnect

Start using the Internet 
3: Change the Router's Placement
Not all rooms in a home distribute wireless signals equally. Where you place the router can significantly affect the wireless coverage and your online experience. Some of us prefer keeping the router inside a cabinet or out of the way but this habit could be interrupting your connection.
The router shouldn't be tucked away somewhere or placed at the far end of the house. Instead, it should be in the center of the home so signals can reach all corners easily. In addition, routers need open spaces without obstructions and walls. They must be kept away from heavy-duty electronics as well.
Change the router's placement and you should be able to experience improved speed. It's a good practice to sit closer to the router if you are performing an online activity that demands bandwidth. This way, you will get the most signals and make the most out of your plan. 
4: Upgrade Your Equipment
If you have tried all measures stated above and you continue to experience Internet trouble, check your setup.
Ideally, you should have a modem that supports DOCSIS 3.1 to be able to use the full speed of your Internet plan. However, if you have a fiber-optic connection or Optimum 5GHz WiFi, then this modem is not going to work for you. You might have contact support to learn about the modem options based on your plan. 
Go for a mesh system if you have a large house and multiple users. Mesh Wi-Fi consists of the main router connecting directly to the modem and a series of nodes installed throughout the house for better or full wireless coverage. These nodes are a part of a single wireless network. They share the same username and password. A bigger upgrade than this is the Wi-Fi 6 router featuring consistent coverage, faster speed, and improved latency. Keep in mind, only the new high-end gadgets support this router so far.
5: Get Rid of Wi-Fi Intruders
It is possible that the problem you are experiencing has nothing to do with a technical glitch or Wi-Fi range. If you have a weak password, an unwanted guest might be piggybacking on your network. This guest may be your neighbor who is downloading all seasons of Money Heist on YOUR wireless network. They could also be video chatting, playing HD games, or using your Wi-Fi for a high-bandwidth online activity.
Use online tools such as Wireless Network Watcher to see if an intruder is connected to your Wi-Fi. There are such tools available as well that tell which device is hogging all the data. You may even find that it's one of your kids who's sucking up all bandwidth and so you have reached your monthly data limit. 
6: Contact Support
Consider calling support after everything has failed because they might suggest you try the above remedies. Hence, save your time and contact customer care only when you have tried all quick fixes and are still experiencing connectivity issues or seeing Optimum error codes related to the Internet.
Tell the representative that you have tested all basic fixes already and found no luck. The friendly rep will connect you with the technical support department to help get your Internet service up and running ASAP.  
You may also be able to stream the debate on a TV app or live channel streaming platform like Hulu Live.
Disclaimer: To our knowledge, we have made all the required efforts towards obtaining owner/publisher approval for the use of images in VISIONECLICK.COM blog posts. However, if you find violations of any sorts regarding any image, please feel free to contact us. Prices and packages mentioned may vary with time and the specific locations.