5 Simple Ways to Fix Your Optimum DVR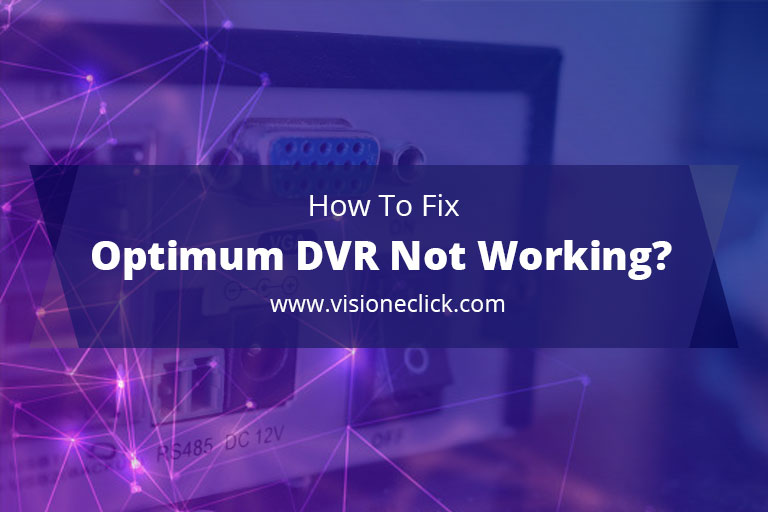 There are a lot of telecommunication brands in the United States but only a few of them truly provides value for money. And there is no doubt in saying that Optimum is one of them. The company understands its customer better than anyone. This is why they give it their all to ensure that they get nothing but only the best service.
The brand knows how to take care of its customers which is one of the many reasons so many American households trust them. The provider is currently offering all three major services i.e., telephone, internet, and cable TV.
Optimum DVR Issue
When it comes to their television service, this ISP is second to none. They are easily among the top-most promising TV service providers. The company offers cable boxes to people so that they can get on-demand entertainment. Also, they provide DVRs to their customers so they may record their favorite movies and television shows without any hassle.
However, there is one problem that people sometimes face. And that is for some people, it doesn't work which puts them in a disarray. But do note that this issue has no link with the quality of the cable service. It remains unmatched and will keep you entertained.
How to Fix the DVR Issue?
For people having DVR recording problems, you don't have to worry about a thing. There are five easy ways of how you can fix this issue in no time. So, let's get straight to it.
1. Reset Your DVR
If your DVR is not working properly then try to reset it. Doing this might just resolve the problem. But how to do that? Well, simply locate the reset button on your DVR. And then you can just press it. However, please note that you are required to keep pressing the button for at least 10-20 seconds. This will ensure that the device has been reset. This will fix the configuration issues if any and the DVR will start to work.
2. Reboot the Device
Resetting the DVR may solve the issue but it can delete any customized settings. So, if you want to save that then it is best to reboot the device. You can do this by simply pulling out the power cable from the socket. Make sure that you keep the cable out for about 30 seconds. This will give the DVR enough time to completely stop working. You can then plug in the power cable back and then check to see if the device is working fine.
3. Verify Your Services
For using the DVR feature, it is necessary for you to subscribe to their DVR services. If you are not then the device will simply not function no matter what you do. So, it is better if you call customer service support and ask if you are allowed to use the DVR service. If not, then you will have to pay the additional fee to the provider by contacting on Optimum pay bill number so they may enable the service.
4. Reset Your Modem
If you tried the first two ways and they didn't work then this one just might. But the question is; why should you reset your modem? Well, DVRs are often connected to modems. So, if you have connected the two and the device is not working then there is no harm in resetting the modem. Hence, it is advised to do so. There is a chance that your modem is not connected the right way or the configuration setting might be not correct. Therefore, resetting the modem may just get the device working properly. Once you have reset your modem, you can connect the DVR and see if it is functioning.
5. Get in Touch with Technical Support
If the DVR issue is still persisting and the ways mentioned didn't work then don't get frustrated. Instead, call the provider's technical support and brief them about your situation. If your DVR is giving you error codes then do let them know about that as well. They will be in a better position to help you out. If they are not able to troubleshoot the problem remotely then they will send a professional to your place who will fix the problem.
Conclusion
Optimum has a team of highly responsive personnel who are always available to solve any issues that you have. So, whenever you are having trouble with your DVR, then try implementing the above-mentioned ways. Also, call their technical support for further assistance.
Disclaimer: To our knowledge, we have made all the required efforts towards obtaining owner/publisher approval for the use of images in VISIONECLICK.COM blog posts. However, if you find violations of any sorts regarding any image, please feel free to contact us. Prices and packages mentioned may vary with time and the specific locations.