Optimum TV Channels Not Working: Easy Ways To Fix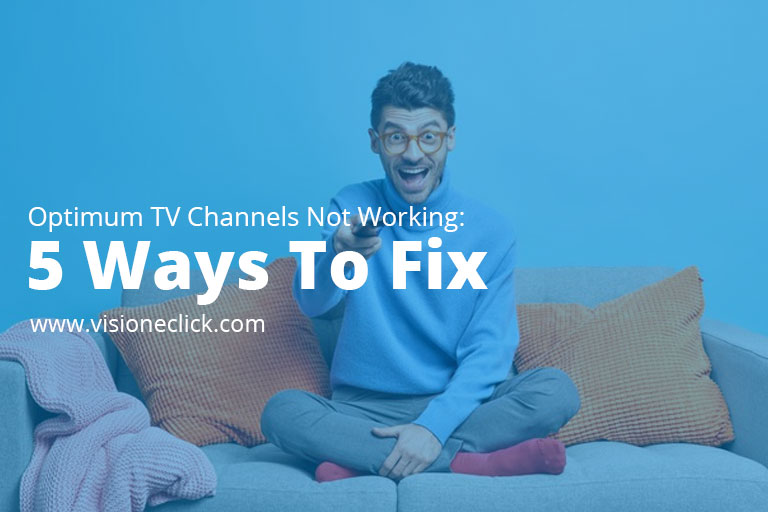 Having a good cable connection is a huge blessing these days. With the myriad of television content out there, you don't want to miss out on your interests. Whether you follow sports obsessively or just like to wind down after work to watch home renovation shows, you need a reliable cable TV connection. Optimum packages offer some great channel selections, with various premium channels also available as add-ons. This means that you can pick what sort of selection works best for you, and even bundle it with a decent internet connection. Resultantly, you get all the TV channels you want at a lower cost and save money on other services as well.
The provider really focuses on giving its customers a positive experience. Therefore, it has a reliable customer support system, with representatives available to walk you through any issues. Furthermore, if your issue cannot be fixed remotely, they will send over an expert to take a look. So, if you see those dreaded error codes, you know you can work out a solution soon enough.
However, in many cases, your TV channel issue may be due to something as minor as a loose wire. You need to troubleshoot a few basic solutions on your end before you bring in customer support. This will help save you a lot of time and effort and give you the liberty to fix the issue at your own convenience. Here are a few common solutions to the usual issues you'll face with your cable TV connection.
Restart Your Hardware
More than seldom, your cable box may just not be working properly. Therefore, one of the first things you should do is restart it and then check your TV channels again. The restart process is quite easy, and you should do it regularly with both your TV and internet boxes.
You just need to press the power button on the box to switch it off and then on again. Once the lights start blinking as they should, then check your TV. In a lot of cases, this is the primary solution to all of your connection problems. If you want to do a hard reset, however, you should unplug the box, leave it there for a few minutes, and then plug and start it back up.
Test The Wall Outlet
Just as wires and cables can degrade, your wall outlets may also malfunction. This is especially true if your house faces considerable power surges or fluctuation. In addition, older houses may have some wiring problems, with wall outlets fusing more often than they should.
The easy way to check this is by seeing if your cable box's lights are working fine. If they're off or are very dull, then the culprit is probably the wall outlet. In that case, you need to fix the outlet. Another piece of advice you should follow is not plugging too many things into one outlet or power strip. This causes devices to malfunction sooner, and may even be a fire hazard if a short-circuit occurs. So, make sure your wall outlets are working fine before worrying about calling up customer support.
Check The Cables & Wires
This is the first thing you need to do whenever you see your cable TV or WiFi not working. Usually, some wires or cables may have just come loose. See whether all the cables on your TV box are connected properly. Just in case, tighten them and check if they are frayed or broken anywhere. If you've had the box and cables for a long time, they may have degraded over time, or been gnawed, especially if you have pets at home.
If simply tightening the cables doesn't work, try replacing them. Most of the time, you can easily find the required coaxial cables. New coaxial cables will also help improve both your cable TV and internet connection's efficiency. So, this is the first step you should take when trying to resolve your cable TV issues.
Try Other Channels
Sometimes, there may be some availability issues with specific channels. Therefore, you shouldn't be too hasty in thinking your cable TV connection is not working. Whether it's due to a provider issue or licensing conflicts, some channels may not be showing up for a while. If the channel you're watching is not working, try switching to a bunch of other channels to confirm if they are up.
If other channels are working just fine, you should check with your provider to see if there are any changes with your selected channel package, or if there is some geographical or licensing restriction. Often, the provider will resolve such an issue by dealing with the necessary legalities.
Confirm If There's An Outage
You should follow your provider on social media channels, and also make sure you have your credentials to its customer portal. Often, your provider will update you about any ongoing outages and repairs on these channels. If there is any repair or maintenance activity, these platforms will let you know.
In addition, if you know anyone who has the same connection, ask them if they're facing the same issue. If there's a general area outage, there isn't really anything much you can do. You should just wait until it's over and then get back to your favorite TV shows.
Call Up Support
If none of the above solutions work, then you'll have to call up customer support. Whether it's a cable TV issue or a problem with your 5GHZ Wi-Fi, the support representatives will guide you to a viable solution. They will thoroughly assess your issue, and help you troubleshoot your way through it.
Most of the time, your issue can be solved on the spot. However, if the matter seems more complex, the provider will send over an expert to see what the problem is on-site and figure out a proper resolution. Also, you can call up Optimum pay bill phone number to check with pending bill payments.
In conclusion, if your TV channels are not working, there's no need to panic. You just have to troubleshoot your issue or call up customer support, if needed.
Disclaimer: To our knowledge, we have made all the required efforts towards obtaining owner/publisher approval for the use of images in VISIONECLICK.COM blog posts. However, if you find violations of any sorts regarding any image, please feel free to contact us. Prices and packages mentioned may vary with time and the specific locations.