7 Step Guide To Fix Slow Internet On Time Warner Cable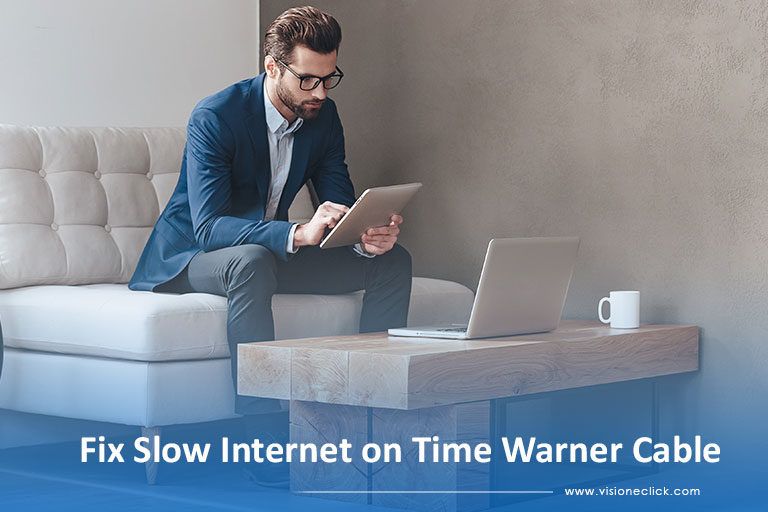 Time Warner Cable (TWC) is offering up to 940 Mbps of blazing speed in supporting areas. Most people are happy with their 100 Mbps and 300 Mbps plans. TWC (the registered term under the trade name Charter Spectrum) is known for its "no data caps" policy. It might be a celebrated provider but at times, its customers have been known to complain about slow speed.
Does slow Internet speed mean there's a problem with the provider and you need to call customer support? Not always! With a few handy steps, you might be able to fix the problem right away.
To get the most of your connection, you must find the slowest part of the network (also known as bottlenecks) and boost the speed. Find out how:
1: Conduct a Speed Test
The very first thing to do when you experience slow speed is to perform a speed test. With this test, you can determine whether you are receiving the speed you paid for.
ISPs throttle the speed. This is done at different times of the day on different devices. It's recommended to perform the speed test at different times of the day to compare the speed. If you find inconsistency and a large difference in speed, reach out to customer support.
2: Restart Your Modem
A possible cause of slowed down Internet could be burnt out the modem. Suppose you are sitting right next to the router and the speed still doesn't hit the spot. Try restarting your modem. Also, check it's settings to be certain everything's correct.
Time Warner Cable often provides new configuration information for modems. These settings are normally automatic. However, at times, the modem requires a manual restart for completing the update.
To restart the modem, just unplug it for about a minute and plug it back again. Apart from your modem, restart your router too.
3: Upgrade Your Hardware
An old router or modem always kills the speed of a home Internet connection. If you have found the hardware to be a weak link, go for an upgrade. If you are renting a modem from TWC, contact customer support to learn about the procedure of upgrading the equipment.
On the contrary, if you own the modem, find out more about the Spectrum compatible modems. For Gig Internet, Arris SURFboard SB8200 is the ideal option. For 100 Mbps or 300 Mbps plans, Netgear CM700 works great.
#4: Check Your PC
The health of your PC affects the speed of the Internet directly. So, if there's a virus in your system, it won't just slow down the PC but affect the speed of your connection also. Make sure your PC is free from viruses or malware.
#5: Network Traffic
When too many users are connected to the Internet at the same time, the speed always suffers. Let's say you are on a video call with someone, your sister is streaming a movie in her room and your little brother is playing an online game. When all these are happening at the same time, nobody is going to get enough speed to carry out their respective online activities.
Speed could also suffer when too many unused apps are running in the background. Therefore, when network traffic is higher, you will experience congestion. In this case, Time Warner Cable cannot be held accountable.
#6: Check Your Browser
Using an old version of the browser (Google Chrome, Firefox, Safari, etc.) slows down the Internet as well. On other occasions, browser history cache can also slow down the connection. If the speed test confirms that your ISP is not at fault, check your browser. There are a few things you can do:
Upgrade the browser, if need be
Delete the browsing history
Disable extensions
Reset the browser's setting to default
Performing these operations will make a huge difference in speed if the browser was actually the bottleneck in compromising the speed.
#7: Time for Speed Upgrade
Maybe it's time you need a bandwidth upgrade. 100 Mbps is good enough for one to two people. It lets you stream, sends emails, scrolls through social media, makes video calls, and even play HD games. Over time, your needs change. If the number of Internet users in your household has increased, you are eligible for an upgrade.
Consider subscribing to TWC's 300 Mbps plan. You can also get the 940 Mbps whopping speed plan or explore other internet deals. Do call customer support to figure out which plan is available in your zip code.
Final Words
Slow Internet is not a frequent problem with Time Warner Cable. But whenever the Internet is slow, these tips normally do the work. If you have tried everything mentioned in the steps shared above, maybe there's a network outage problem. In that case, call customer support for further assistance. When you need a faster package, again, reach out to customer support to pick a package based on your needs.
Disclaimer: To our knowledge, we have made all the required efforts towards obtaining owner/publisher approval for the use of images in VISIONECLICK.COM blog posts. However, if you find violations of any sorts regarding any image, please feel free to contact us. Prices and packages mentioned may vary with time and the specific locations.