A Comprehensive FuboTV Guide 2022 (Packages, Pricing, & Channels)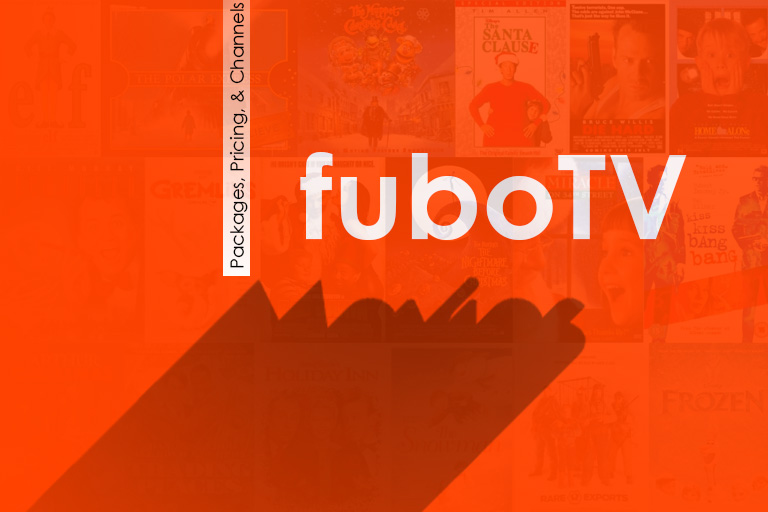 Many people are ditching their cable TV service to switch to a streaming service for their entertainment needs. With the advent of pristine and quality streaming services like Netflix, Amazon Prime, and Hulu, people finally have comparatively low-cost entertainment solutions. They don't have to buy expensive cable and satellite TV subscriptions anymore.
When it comes to love streaming services, fuboTV is hailed as a perfect mix of entertainment, sports, and Live On-Demand programming. The said service boasts of an amazing range of channels to appease sports lovers in particular. Among streaming TV service providers, fuboTV has earned a name for quality sports programming. We'll give you a quick rundown of all the pertinent details about fuboTV.
Is fuboTV a Streaming Service?
Yes, it is a live streaming service but it is distinct because it heavily emphasizes sports. In addition, it also includes versatile entertainment options and news. You can also take advantage of the DVR feature and record the programs and games of your choice to watch them on-demand. Just like Hulu TV, the DVR amenity is free.
Debuted in 2015, fuboTV was initially a live soccer-streaming service targeted to the soccer fans in the United States. The service took the initiative for the Americans who love soccer and felt neglected by all the cable services in the country. It began by offering 12 different soccer channels from across the globe. The streaming quality was 1080p HD, which means no pixelated picture or blurs. The service was compatible with iOS, Android, Amazon Fire, and Roku.
Today, it has emerged and expanded as an individual, all-encompassing, and popular live-streaming service. It now has a plethora of sports, entertainment, and news options.
Channels Available on fuboTV
By now, fuboTV has begun to offer hundreds of amazing channels. These channels are offered in two main packages namely the fubo pack and the Fubo Extra pack. In addition, they also offer Fubo Latino pack and Fubo Portuguese pack. Some of the most popular channel offered by Fubo are:
The Fox staples, such as Fox sports channels (regional), FSI, Fox News.
The Weather Channel.
Nat Geo Wild.
A&E.
MSNBC.
Football Report TV.
One World Sports.
USA.
Syfy.
Considering that fuboTV is primarily a sports-oriented service, none of their packages have ESPN and Disney suite. That's quite surprising! You can't even add them to an add-on package. While evaluating fuboTV as your primary source of TV, consider this fact.
Moreover, you have the liberty to add several different channels to add-on to the existing packages for an additional fee. For instance, you can add-on "Kids Plus."
Explore a Range of fuboTV Packages
Initially, when the service was first launched, there was only one package that offered a limited number of channels. Now they have refined the service and offered a wide range of well-designed packages, add-on packs, and channels. Therefore, when it comes to the competition with the main players in this arena, such as Sling TV and DirecTV Now, fuboTV wins.
If you read Sling TV guide, you will know that fuboTV is a better service with comprehensively designed packages and customizable options. Let's take a look at the various plan the service offers.
The Fubo Pack
This is the base package and is priced $45.99 a month with an introductory price of $39.99 for the first month. It is perhaps the most popular pick when it comes to fuboTV packages. With over 80 channels, this plan offers the following:
Regional fox channels.
FS1.
FS2.
NBA TV.
NFL Network.
beIN Sports.
PAC12 Network.
BIG10 Network.
AMC.
History.
Bravo.
A&E.
Nat Geo.
And the list goes on.
The Fubo Extra Pack
You can sign-up for the Extra pack for an additional $5 a month. In addition to all the channels that the aforementioned fubo base plan has, it has 20 additional channels. For a monthly price of $49.99, this entertainment-rich plan is a good bargain. For an introductory price of $44.99 for the first month, the package is a good deal for entertainment lovers. In addition to the channels in the base plan, here are some more:
The Cooking Channel.
Game Show Network.
Boomerang.
DIY network.
CNN international.
BBC World News.
The Fubo Portugues Pack
The content of this plan is geared towards Portuguese programming. It is available at a monthly price of $19.99, which is a little steep for a total of 5 channels. the following channels are broadcasted:
Portugal Primeira Liga.
Venezuelan Primera División.
Uruguayan Primera División.
Ascenso MX matches
The Fubo Latino Pack
If you are looking for some core Latino programming, this could be a great choice. For $17.99 a month, you get to have more than 15 channels. The pack offers Latino programming staples such as:
Galavision.
Fox Deportes.
Univision.
UniMas.
beIN Sports en Espanol.
A Quick Look at the Add-On Packages
Fubo now offers a myriad of add-on packages, which you can add to any of the core TV plans listed before. The add-ons are primarily geared towards sports with only a few exceptions. You can choose from a wide range of options according to what you prefer to add to your core package.
Packages
Price/mo
Channels
Adventure Plus
$4.99/mo
World Fishing Network
Sportsman Channel
Mav TV
Outdoor Channel
Outside TV
AMC Premiere
$4.99/mo
AMC Premiere
Entretenimiento Plus (with fubo Latino only)
$4.99/mo
Antena 3
Bandamax
De Pelicula
De Pelicula Clasico
FOROtv
NTN24
Ritmoson
Telehit
Univision Tlnovelas
Extra
$5.99/mo
American Heroes Channel
BBC World News
BET Her
BET Jams
BET Soul
Boomerang
CNBC World
CNN International
Cooking Channel
Destination America
Discovery Family
Discovery Life
DIY Network
FUSE
Game Show Network
GINX Esports TV
Logo
MLB Network
MLB Strikezone
MTV2
MTV Classic
MTV Live
MTVU
NBATV
Newsy
NHL Network
NickMusic
Nicktoons
People TV
REVOLT
Science Channel
Sony Movie Channel
Stadium
Stadium Plus (1,2,3)
TeenNick
Tennis Channel
Zona Futbol
Fubo Cycling
$11.99/mo
Fubo Cycling
Eleven Sports Network
FOX Soccer Plus
GolTV English
GolTV Spanish
TyC Sports
Zona Futbol
International Sports Plus
$5.99/mo
Eleven Sports Network
FOX Deportes
FOX Soccer Plus
GolTV English
GolTV Spanish
TyC Sports
Zona Futbol
Latino Plus
$7.99/mo
Cine Sony Television
CNN en Español
Discovery en Español
Discovery Familia
El Gourmet
FOX Deportes
GolTV Spanish
Más Chic
Nuestra Tele
Telefe
Tr3s
Zona Futbol
Portuguese Plus
$14.99/mo
Benfica TV
GolTV Spanish
RTP International
Rai Italia
$7.99/mo
Rai Italia
Showtime
$10.99/mo
Showtime 2
Showtime Beyond
Showtime East
Showtime Extreme
Showtime Family
Showtime Next
Showtime Showcase
Showtime West
Showtime Women
Sports Plus
$10.99/mo
Fight Network
Game+ Network
GolTV English
GolTV Spanish
MLB Network
MLB Strikezone
NBATV
NHL Network
NFL RedZone
Pac-12 Arizona
Pac-12 Bay Area
Pac-12 Los Angeles
Pac-12 Mountain
Pac-12 Oregon
Pac-12 Washington
Stadium Plus (1,2,3)
TVG2
TyC Sports
VSiN
Zona Futbol
Stadium
Tennis Channel
Cycling Add-On Pack
You can get 5 channels for a price of $11.99 a month. They are:
Fubo Cycling channel.
GolTV in English.
GolTV in Spanish.
Fox Soccer Plus.
TyC Sports.
Sports Plus
For as low as $8.99 a month, this pack offers 21 channels. Some of the channels are that of the core Fubo pack. While some others are:
NFL RedZone.
Stadium 1, 2, and 3.
Sports Illustrated TV.
Fox College Sports networks (regional).
PAC12 (regional).
International Sports Plus Pack
The International Sports plus package includes the Cycling pack's channel-lineup with an addition of 4 more channels and the exception of Fubo Cycling channel. This pack is priced at $5.99 a month.
Adventure Plus Package
For a monthly price of $4.99 a month, you get to have 5 outdoor & adventure programming channels. It includes:
Sportsman Channel.
The Outdoor Channel.
Outside TV.
Showtime
This entertainment-rich plan is not geared towards sports only. For a monthly price of $10.99, you get to watch 9 different channels by Showtime. These are:
Showtime.
Showtime West.
Showtime 2.
Showtime Beyond.
Showtime Extreme.
Showtime Next.
Showtime Women.
In addition to all these, there are a few more add-on packages too. If you compare these entertainment options with Wow TV guide or any other cable TV provider for that matter, you will see that the entertainment options are much better. You don't have to pay escalated monthly bills to have poor entertainment experience with cable TV providers anymore.
Compatible Devices with fuboTV
When it comes to supported devices, fuboTV has come a long way. Take advantage of this updated list of compatible devices for fuboTV:
iOS-based devices such as iPads and iPhones.
Apple TV boxes (gen 4+).
Android devices using the Google Play Store.
Android TV. From version 4.4 and above.
Chromecast.
Roku 2, 3, and 4.
Fire TV – Generation 1, 2, and 3.
fuboTV.com via any web browser.
You can stream fuboTV's content on two separate devices simultaneously. Also, you should know that game consoles are not compatible with fuboTV. You don't have to essentially download an app like the Directv app to access the content of fuboTV.
Limitations
Clearly, the service in question doesn't have many limitations. We have managed to figure out only two limitations, which are:
The service is available only in the United States.
Incompatibility with game consoles.
The Offered Picture Quality
The service offers excellent picture quality and that's a pleasant surprise. For a service that is comparatively new in its niche industry, offering pristine picture quality is a major plus.
Whether you are live streaming, gaming, or watching a show on-demand, the loading/buffering wait time is minimal. Also, the quality of the feed is surprisingly excellent. The 1080p high-definition is free of any blurriness and gritty pixelated picture.
Keep in mind that just like other streaming services, the picture quality has a lot to do with the quality and strength of your internet connection. Make sure you subscribe to a high-speed and efficient internet plan, especially if you completely rely on the streaming service for your entertainment.
Pros and Cons of fuboTV
Let's have a quick look at the pros and cons of the said service.
| | |
| --- | --- |
| Pros | Cons |
| There are no long-term contracts. | The prices for all the packs are quite high. |
| No penalties on service-cancellation anytime. | Incompatibility with game consoles. |
| For sports and soccer fans, fantastic options. | |
| On-Demand and DVR options. | |
| Compatibility with most of the devices. | |
| Quality watching experience. | |
| Variety of Add-ons for additional programming. | |
It is evident that the pros are many. For soccer fanatics and sports enthusiasts, fuboTV is particularly exciting. With no-penalty service cancellation, you can test the service to see if it's up to your expectations.
Make a Well-Informed Decision
Now that we have summed up each and every detail pertaining to fuboTV service, plans, add-ons, pricing schedules, and programming, you can now make the right decision for yourself and your family. If you hail from a family of sports and soccer lovers, the said service is a dream come for you.
fuboTV allows you to escape the limiting and irrelevant relationship with a traditional cable TV provider. While curbing your sports enthusiasm and being a complete replacement to cable TV for die-hard soccer lovers, the service also offers amazing programming options regarding entertainment and news.
It's time to embrace futuristic entertainment solutions!
—————————————————DISCLAIMER—————————————————
Prices and availability depend upon your location. These packages were taken from the official site.
Disclaimer: To our knowledge, we have made all the required efforts towards obtaining owner/publisher approval for the use of images in VISIONECLICK.COM blog posts. However, if you find violations of any sorts regarding any image, please feel free to contact us. Prices and packages mentioned may vary with time and the specific locations.