HBO East vs HBO West: What's The Difference?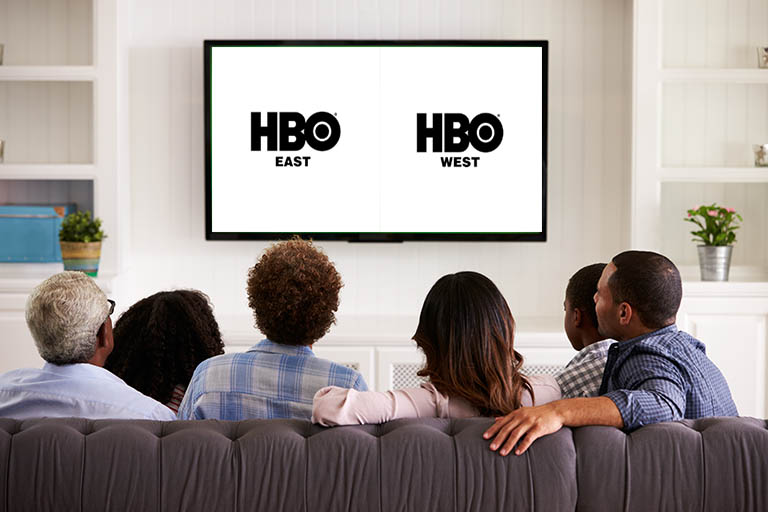 This part of the 21st Century has been all about the emergence of streaming platforms. Originally, platforms like Netflix and Amazon Prime Video grabbed a large market share. They offered huge libraries of on-demand content delivered OTT (or over-the-top). As these services became more popular, one glaring problem was evident: they had no live broadcast coverage. This prompted other live TV streaming platforms like SlingTV to pop up.
Even more, premium networks like HBO created their own streaming service for exclusive content. Of course, there is nothing that beats watching TV the old fashioned way, like HBO on Cox. Of course, if you're subscribed to HBO, then you may have noticed the channel lineup includes several HBO channels, including HBO East and HBO West. This blog explores the difference between the two.
Different HBO Channels On Cable
If you're getting your entertainment from a cable provider, you may have noticed there are several channels that come with your subscription. For example, if you've subscribed to premium channels like HBO on Optimum, you'll notice that there are actually several HBO channels included in your network. The word HBO is used interchangeably to describe a channel, when in fact HBO or Home Box Office is actually a premium TV network. That means it has a number of channels operating under the HBO umbrella, including the following:
HBO East

HBO West

HBO Family East

HBO Family West

HBO 2 East

HBO 2 West

HBO Signature

HBO Latino

HBO Zone
Difference Between HBO East Vs HBO West
While channels like Latino, Zone, and Signature are geared towards separate audiences, the East and West designation on different channels can often confuse people. The major difference between the two is as follow:
HBO East
This can be considered the primary entertainment channel from the HBO network. You find it in nearly every premium channel subscription, allowing you to get HBO on Spectrum Charter or any other provider. The channel primarily features HBO original TV shows, fresh movie releases, feature-length films, and even documentaries as well as sporting events. On the whole, HBO East consists of a well-rounded and varied selection of entertainment content. The channel is primarily known as HBO East because it schedules its broadcasts for Eastern Standard Time in the United States. If you live along or near the East Coast, you are more likely to spend your time absorbing entertainment from HBO East.  
HBO West
Since HBO East gets its name from the EST scheduling, the same applies to HBO West. The channel broadcasts content on the West Coast timezone. This is by far the only major difference between the two. In terms of broadcasts and programming schedules, HBO West is virtually identical to HBO East. The only thing different is the timezone that it follows is Pacific Standard Time or PST. For all other aspects such as scheduled programming, commercial breaks, and special broadcasts, the two are identical.
Why Does HBO Follow Different Timezones?
The United States of America from one of the largest countries in the world, covering the majority of the entire North American continent. With borders stretching from the East Coast to the West Coast, the United States has to use different timezones to ensure the maximum utilization of daylight hours in the country. Based on differing timezones, networks like HBO often come up with two or more versions of the same channel. Each version caters to a specific timezone while being identical in all other aspects such as programming, broadcasting, and even repeat broadcasts.
This is the primary reason HBO East and HBO West exist. They are both catering to different audiences in different timezones within the same country. However, that doesn't mean you have to be on the East or West Coast to watch HBO. There's nothing restricting you to only one of the channels. This is something you can use to your advantage. For example, if you missed the latest episode of The Boys on HBO East, you can catch it again on HBO West later the same day. That means you don't have to look into additional streaming services such as the provider's HBO GO and HBO NOW. All you need to do is ensure that you know what time the program is broadcasting on the other channel.
Disclaimer: To our knowledge, we have made all the required efforts towards obtaining owner/publisher approval for the use of images in VISIONECLICK.COM blog posts. However, if you find violations of any sorts regarding any image, please feel free to contact us. Prices and packages mentioned may vary with time and the specific locations.