What Channel is HLN on Spectrum?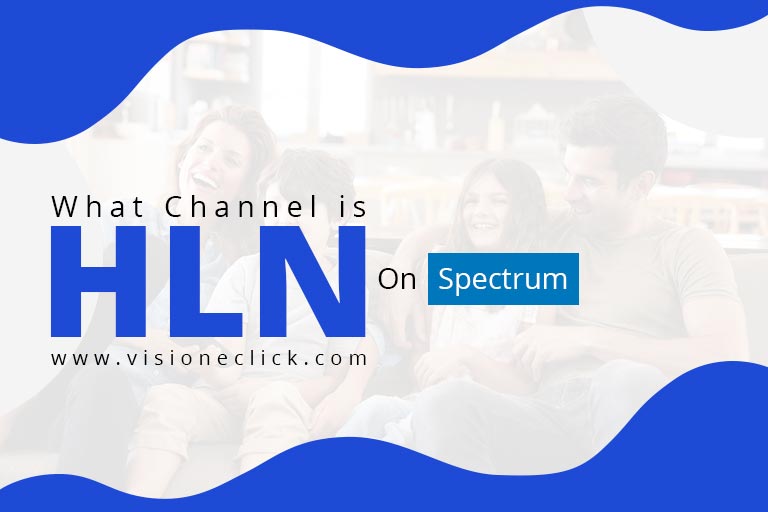 News channels are the staple networks in every American household. The morning breakfast is incomplete without the dose of the headlines, right? For millennials and centennials, their social media feed is the go-to way to catch local and global highlights. Boomers still prefer the old-fashion way i.e. to tuning in to popular news networks such as HLN on Spectrum.
If you are here to find details including the right channel number for HLN on Spectrum Cable, help has arrived. Let's dive right into it.
A Little Background of HLN
HLN is owned by CNN and it carries news programming during the daytime whereas true crime programs in the remaining schedule.
Originally, it was the spin-off of CNN and was called CNN2.  It used to touch short segments covering different interests like business news, weather, national news, sports, and entertainment. Soon after its launch, it was rebranded as Headline News and then CNN headline News.  In 2001, the channel diverged from its strict format and added live anchored programming much like Newsmax.
In 2010, the network repositioned itself as the social media-centric network. It started introducing programs related to the subject of social media. Then again, the channel started shifting its focus on crime, entertainment stores, and regional headlines. True crime programming remained its primary content as well.
What Channel is HLN on Spectrum?
HLN is one of the most distributed American subscription networks like WGN America. It is also available internationally in countries including Latin America, North Africa, the Caribbean, Canada, and the Middle East.
If you are a subscriber of Spectrum TV packages already, simply refer to this table to find HLN on Spectrum Cable in your respective city and state:
| | | | |
| --- | --- | --- | --- |
| City/State | Channel Number | City/State | Channel Number |
| Albertville, AL | 44 | Bergen Co, NJ | 61 |
| Yakima, WA | 856 | Albany, NY | 47 |
| Clarksburg, WV | 26 | Charlotte, NC | 33 |
| Milwaukee, WI | 11 | Grand Island, NE | 18 |
| Cheyenne, WY | 33 | Carson City, NV | 45 |
| Barre, VT | 752 | Lancaster, NH | 25 |
| Richlands, VA | 24 | Duluth, MN | 30 |
| Austin, TX | 47 | St. Louis, Missouri | 39 |
| Alcoa, TN | 42 | Billings, MT | 32 |
| Corry, PA | 13 | Bangor, MN | 30 |
| Columbia, SC | 34 | Worcester, MA | 42 |
| Greensboro, NC | 31 | Greenville, MI | 31 |
| Akron, OH | 26 | Bourg, LA | 42 |
| Dallas City, OR | 55 | Lexington, KY | 31 |
What to Watch on HLN on Spectrum Cable?
First thing's first, HLN is not a typical news network. The daytime shows focus on true-crime programming. Some of the shows are reruns while some are original series. Just like QVC is the favorite network of online shoppers, HLN could become your favorite network if you are a crime fanatic.
Let's check out some of the top shows you can watch on this network:
Morning Express with Robin Meade
It's a news programming that gives its viewer a dose of news on sports, finance, weather, entertainment, and travel. Each news segment has a different anchor. For instance, Hine Wards talks about sports, Jennifer Westhoven narrates business and finance news, and Bob Van Dillen delivers weather and air travel news.  The show airs every weekday morning, which makes it perfect to start your day with.
Forensic Files II
Now here comes juicy crime. Forensic Files II is about real-life investigations wherein experts draw on forensic science to solve puzzling crimes and mysteries. Because of that, it is considered the gold standard of crime and justice programming. This show features 16 episodes of 30 minutes each of content and storytelling which are mesmerizing.
How It Really Happened
It's one of the HLN original series that revisits and reveals answers to trials, celeb tragedies, mysteries, and some of the most notorious crimes. So far, it has delved into the trail of Lyle and Erik Menendez and the brutal murder of their parents. Each episode dissects clues and re-examines the conspiracy theories connected to those clues.
The fun part is each episode touches on a new crime event. Get ready to dive into the deepest, and gruesome mysteries of the past. Hill Harper, who is best known for his role in CSI: NY is the show's narrator.
Showbiz Tonight
Let's say someday you would like entertainment. Good thing HLN on Spectrum has this covered. The program features celebrity interviews and stories about new movies. It also highlights stories about celeb problems.
The show is hosted by A.J. Hammer. Some say it is one of the most provocative entertainment news show since the debates are mostly on controversial celebrity entertainment. What's interesting is that the show also engages viewers and their opinions through email, Twitter, Facebook, and phone lines.
Sex and Murder
This one's another intense crime investigation, involving detectives uncovering dirty secrets, scandalous sexual affairs, online sex addictions, and other twisted fantasies tied with murder motives. Hence, this show is not for the faint of heart.
Spoiler alert: some episodes can be crippling so watch at your own risk.
Conclusion
From news to celebrity gossip and a good amount of true-crime, HLN on Spectrum has everything juicy covered. Of course, when you wish to watch a movie, you would have to tune into UP TV.
Make sure your Spectrum channel lineup covers HLN if you are up for crime-time. In case you couldn't find the channel number in your city/state, reach out to customer support at 1-866-200-8303. They will help you find the right channel so that you don't miss out on the entertaining content aired on this network.
Disclaimer: To our knowledge, we have made all the required efforts towards obtaining owner/publisher approval for the use of images in VISIONECLICK.COM blog posts. However, if you find violations of any sorts regarding any image, please feel free to contact us. Prices and packages mentioned may vary with time and the specific locations.