How To Burglar-Proof Your Home With Simple Security Tips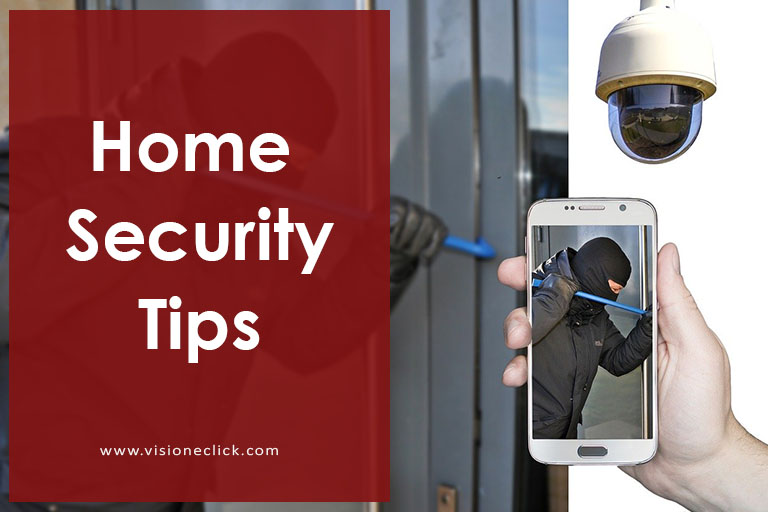 "Home is where the heart is", "there ain't no place like home" – these and many other phrases express our affection and compassion towards our house. When it's so special to you, beefing up its security must be your top priority.
Crime in the country has reduced and that's great news. The 2019 Preliminary Semiannual Uniform Crime Report tells robbery has reduced by 7.4 percent, burglary by 11.1 percent, and motor vehicle theft by 6.7 percent. But that doesn't mean it's ok to compromise on home security. You must secure your home just like you would secure your mailbox.
Tips to Keeping Your Home Safe and Secure
Locking the doors, windows, and installing a home security system are some ways to keep your home secure. But there is always something more you can do. Keep intruders out with these home security tips:
1: Get a Nice Home Security System
The foremost method to protect your precious home from burglars is to invest in a home security system. Modern systems come with automated features. Let's say someday you are in a hurry and you forget to lock the front door. Nothing to worry about – just open your home security app and use the smart lock feature to lock the door even if you are miles away.
Do not shy away from investing in home security systems that cost a bit extra. The long-run benefits always supersede the expense. But before you do that, doing a bit of market research would be wise. There are so many home security systems available in the market such as the Abode home system and the likes which may be better suited to your needs.
2: Reinforce Your Windows
Burglars are always on the lookout for windows of opportunity. It's just like online hackers sitting in ambush. You download one wrong software and boom – everything in your PC or smartphone could be hacked. With web-surfing precautions and special security features like Spectrum Internet Security suite, you can keep the cybercriminals at bay.
Your home's windows are an easy entry point for burglars. Keep them locked. You are right, even locked windows can be opened. Try these tips for extra security:
To keep the windows partially open and secure, use window pin locks.
Install window sensors to prevent break-in through windows.
Keep the basement and garage windows covered with curtains.
Plant thorny and prickly bushes under the first-story windows
3: Safeguard Your Wi-Fi
Part of home security is also taking care of your Panoramic Wi-Fi. Since home security systems and smart homes essentially operate through Wi-Fi, you shouldn't ignore the wireless connection.
With a few steps, you can secure the virtual world just like the physical world.
Set up a firewall
Use a unique username and complex password for your home network
Keep your antivirus up to date
Enable WPA2 for another layer of protection
4: Keep Your Garage Secure
Cover all the windows in your garage. You don't want to let the thieves see there's a car inside. Apart from that, keep the garage door locked at all times. Install sensors for additional security.
5: Don't Be Complicit
You wouldn't believe it – there are plenty of home break-ins that involved perpetrators using household tools like ladders, hammers, shovels to breach the security defense. It's not just important to keep your garage locked but to place tools like these in storage.
Burglars always look at obvious places for spare keys and tools like these. Don't make your home tempting like the Spectrum Triple Play package.
6: Don't Advertise Your Absence
By this, we don't mean don't tell you are neighbors you are going. We simply mean not to give subtle signs to the thieves that the house is empty.
It's very obvious – when you are away for vacation, your home is an easy target. Burglars can enter in whatever way they like.
Do yourself a favor, don't leave your home by itself. Ask a friend or a neighbor to mow the lawn, park another car in the driveway, and collect your mail. There should be some activity. Whenever you are headed for a longer trip, arrange a house sitter.
7: Keep All Valuables Out Of Sight
Make sure all the blinds are closed so that no intruder can see what's inside the house from the windows. Ideally, keep valuables such as antique decoration pieces, a stash of money, jewelry, etc. away from the front door. Keep them hidden deep within the house. Don't mind getting a safe to store all such valuables.
8: Keep Your Yard Clean
A messy landscape doesn't just ruin the curb appeal of your house. It makes your place tempting to intruders. Because it's so easy to hide in the shrubs. Hence, it's extremely important to keep your yard clean. Light up the front as well as the back of your yard. Follow these handy tips:
Install automated lights with infrared motion sensors
Save money by choosing solar-powered lights
Build a fence or gate around the property to make it more secure
Request your neighborhood association to add more lights to the street.
9: Turn On the Radio
This tip is for those who are gone on a long vacation. Get a battery-operated radio and leave it on.  Turn down the volume of your doorbell. If you have watched the movie Home Alone, you would know that burglars ring the doorbell or knock on the door to check if there is someone home.
When you have done what's said above, it will make the intruders believe the residents are home and they didn't hear the door. This might push them away.
10: Don't Leave the Second Key Under The Pot
Movies have highlighted this so many times. And it's obvious an intruder will first search for the keys under the doormat or the pot nearby. If you do that, stop it right away. It's always better to leave the key with a trusted neighbor.
And if you must place it somewhere, make sure it's out of sight.
With these home security tips, securing your home won't feel like a chore. Once everything is in place, the peace of mind that you get will be irreplaceable. The satisfaction would be the same kind customers receive when they call Spectrum support.
Disclaimer: To our knowledge, we have made all the required efforts towards obtaining owner/publisher approval for the use of images in VISIONECLICK.COM blog posts. However, if you find violations of any sorts regarding any image, please feel free to contact us. Prices and packages mentioned may vary with time and the specific locations.