How To Cancel Xbox Live Subscription?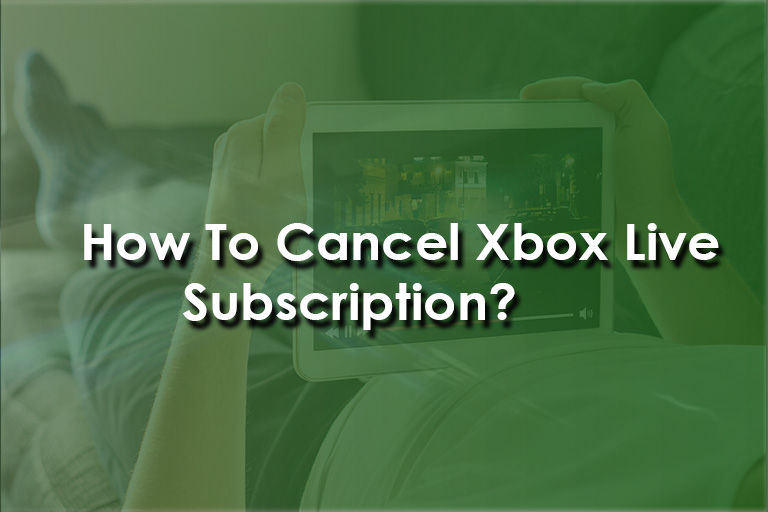 Streaming services have redefined gaming for millions across the globe. There's no denying that. Gamers can't get enough of Xbox Live or PS Now. That doesn't mean you can't cancel your Xbox live subscription. Of course, gaming for extended hours comes with a series of setbacks. 
What Is Xbox Live?
Xbox is one of the most popular gaming consoles on the planet. It has been around since the new millennium. Microsoft co-founder Bill Gates introduced the first Xbox alongside Dwayne "The Rock" Johnson in 2001. The gaming console was an instant success and sold millions of units. Today, Xbox is a household name in the gaming console industry. 
Microsoft introduced the Xbox Live service in 2006. Xbox Live or Xbox network is an online gaming service. It lets players play against each other online. You can also watch trailers for new games, download demos, and enjoy the Xbox Live Arcade. Moreover, you can watch TV shows and HD movies on your TV using the Xbox network. 
Suggested Read:How to Block YouTube Channels?
How to Sign Up for Xbox Live Gold?
Xbox Live Gold is a top-tier online gaming service from Microsoft. This platform lets you play different titles for free every month. It comes with a Deals with Gold feature. Plus, you can purchase games at discounted rates on the Microsoft Store. That said, follow these steps to sign up for Xbox Live Gold: 
Go to Microsoft Store App 

Select Home 

Go to Subscriptions 

Select Redeem if you have a digital code 

Go to Xbox Live Gold 

Follow the instructions 
Suggested Read:How To Cancel Disney Plus Subscription?
Can I Cancel Xbox Live Subscription?
Xbox Live is a great service. It comes with dozens of free titles, a multiplayer gaming experience, and chat rooms. But the Xbox network isn't for everyone. You may want to cancel the subscription due to different reasons. Canceling the service removes all the free titles from your Xbox network. To cancel the Xbox Live subscription, you must have an active internet connection. Follow the steps below: 
Open your Microsoft account on a web browser 

Type in your account credentials 

Select Xbox Live Gold 

Click on Manage 

Select Turn Off Auto-Renew 

Hit Confirm to Cancel the subscription 
Please note that you won't be able to renew your subscription after you've canceled it. However, you'll still be able to enjoy the existing titles as long as your existing subscription date allows you. All the benefits will be gone as soon as the subscription date expires. 
Suggested Read:How To Unsubscribe From Starz?
Does Xbox Offer Game Pass?
Xbox is one of the best gaming consoles out there. Players can get different gaming passes. The platform currently offers three different types of gaming pass Xbox Game Pass, PC Game Pass, and Game Pass Ultimate. Let's learn about each pass in detail. 
Xbox Game Pass
This pass lets you play more than 100 titles on your Xbox. Moreover, it comes with exclusive benefits. Plus, you can cancel the subscription any time you want. So, will you be getting the Xbox Game Pass or miss out on it just like your plans to cancel Hulu Live? 
PC Game Pass
The PC Game Pass is the same as Xbox Game Pass in the sense that it lets you play games on your Windows 10 or 11. Also, the platform adds new games now and then. 
Suggested Read:What Channel is Yellowstone on Spectrum?
Game Pass Ultimate
This gaming pass is the best one yet from Xbox. It comes with all the benefits of Xbox Live Gold, as well as Xbox and PC titles. Also, you get games at discounted prices and play with your friend on the internet. It is safe to say that Game Pass Ultimate is the ultimate online gaming experience for Xbox gamers. 
Which Is the Best Internet Plan for Xbox Live?
You can't get the most out of online gaming without a reliable internet plan. Online gaming requires high-speed internet. Low-speed internet, on the other hand, can create all sorts of problems for you during an intense gaming session. Make sure that the internet plan you get comes with good download and upload speeds. 
Many broadband companies have great gaming internet plans for hardcore gamers. You can opt for Cox plans if you want to enjoy uninterrupted gaming on Xbox Live. The best part, you can choose the plan that meets your budget requirements and streaming needs. It's better than choosing a plan that would leave you utterly disappointed in the end. 
Suggested Read:How to Cancel Discovery Plus?
How to Cancel Game Pass Ultimate Plan?
Though Game Pass Ultimate is a great plan, it isn't for everyone. You can cancel the plan anytime you want. All you have to do is open the Game Pass Ultimate and click on Payment and Billing. Hit on Cancel. Also, you can choose to terminate the subscription on its expiration date, or you can end it immediately. It all depends on whether you want to enjoy the benefits of the service. 
You can also use your console to cancel the subscription. This method is as easy as canceling your Hulu, Amazon Prime subscription. Press the Xbox button on your console. Select Profile and System, followed by Settings. Go to Account and then Subscriptions. Follow the instructions to cancel your Game Pass Ultimate subscription. 
Suggested Read: How to Get Internet While Traveling?
Conclusion
Online gaming has its pros and cons. Gaming subscriptions services are great if you are a fan of online gaming. However, they may not excite you if you are a casual gamer. Make sure you know whether you'd be willing to pay for the extra titles and chat rooms. After all, online gaming platforms are still far from becoming essential. This cannot be said for services like Optimum bill pay. So, consider the benefits before you go for a subscription plan.
Disclaimer: To our knowledge, we have made all the required efforts towards obtaining owner/publisher approval for the use of images in VISIONECLICK.COM blog posts. However, if you find violations of any sorts regarding any image, please feel free to contact us. Prices and packages mentioned may vary with time and the specific locations.