How to Connect to Both Ethernet and Wi-Fi Simultaneously?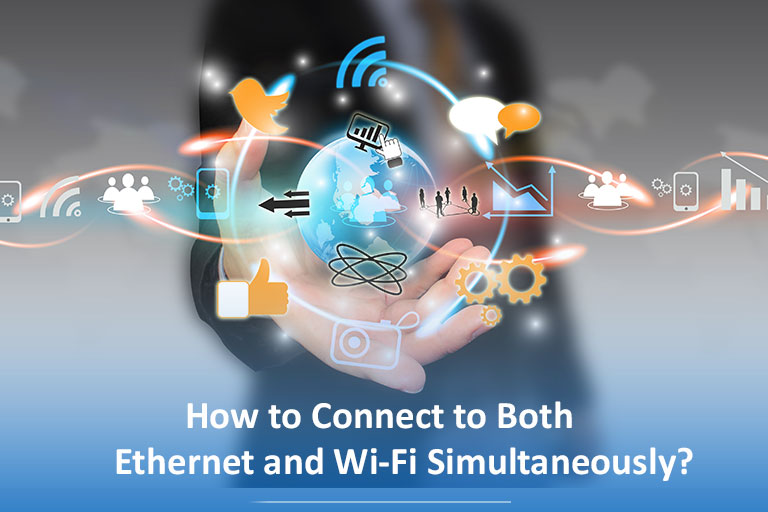 In the Digital Age, it is virtually impossible to find people who don't use or haven't heard of, the internet. The internet has been as important an invention as electricity. Like electricity, it has given strength to industrial and technological progress. So much so, that the world in 2020 is far different from that of even the early 2000s.
People can use the internet through a wired connection known as Ethernet, allowing them a lossless connection to their modem. But wireless connectivity over a Wi-Fi network is by far more popular, if less reliable than Ethernet. But did you know you can use both at the same time on supported devices?
What is Ethernet?
A wired or Ethernet connection usually requires your computer or console to be connected to your internet modem via an Ethernet cable. Your internet modem allows internet signals to travel to and from your computer, making a connection possible.
Since the signals only travel through the cable from the modem, Ethernet tends to offer a more stable connection. In fact, most advertised speeds and bandwidth you see internet providers offering are measured over a wired connection.
An Ethernet cable is fairly cheap. This makes it a useful and cost-efficient way to get internet access on a computer or gaming console. However, if unnecessary cables cluttering your space annoy you, it may not be the best option for you.
What is Wi-Fi?
Wi-Fi stands for wireless fidelity and refers to the internet connection you make over a wireless router. Wi-Fi is a mainstay in the modern age, with cables being a relic from a time long gone. It is by far the most preferred mode of connecting to a home or office network. Unlike Ethernet, you can connect a large number of devices over the same Wi-Fi network, depending on your router.
And you won't need a single cable, except the one that connects your Wi-Fi router to your modem. It is fairly easy to connect to a Wi-Fi network if you know the password. Even if you don't, most modern routers come with a Wi-Fi protected setup or WPS button to help you connect in a jiffy.
However, you can't create a wireless network without a Wi-Fi router, which you will have to rent from your provider or buy it yourself. In certain cases, internet service providers offer equipment that serves both as a modem and a router.
Wi-Fi has a much longer range than the average Ethernet cable. But it is still limited by a number of factors, including the age and model of your router. Physical obstructions like walls, ceilings, and doors may also interfere with the signals, resulting in poor connectivity in some parts of your home/office.
Connecting to Ethernet and Wi-fi at the Same Time
If you're wondering if it is possible to connect to both Ethernet and Wi-Fi at the same time, the short answer is yes. But it is only possible if you own a PC. Depending on what operating system your PC runs, you can connect to both fairly easily.
Connecting to Ethernet is very simple and straightforward. Most PCs come with an Ethernet port built-in. All you have to do to connect to the internet is run an Ethernet cable from your modem to the port on your PC.
Most modern PCs also come with built-in wireless receivers, although with some models and custom PCs, you may have things differently. This allows them to easily connect to an existing Wi-Fi network in your office or home.
However, older operating systems like Windows 7 and 8 may not have the functionality to bridge both the Ethernet and wireless networks. But don't worry, several third-party apps can do the job for you.
Windows 10 is a more recent operating system that has the functionality to bridge both networks at the same time. You need to run the Ethernet cable from the port on your router to the port on your PC to accomplish this. Windows 10 internet settings come with an option to automatically bridge and manage wired and wireless internet access.
This feature makes it possible for you to take advantage of the connection stability of Ethernet and increase the speeds that your wireless network offers. The result is a smoother and more seamless internet experience, whether you want to use Wi-Fi for streaming or Ethernet for gaming.
You can also set your PC to connect to only one type of network at a time. Certain gaming consoles may offer both Ethernet and Wi-Fi connectivity. But in most cases, their firmware lacks the capability to bridge both connections. For now, if you want both Ethernet and Wi-Fi connectivity, a PC is the only option you have.
Disclaimer: To our knowledge, we have made all the required efforts towards obtaining owner/publisher approval for the use of images in VISIONECLICK.COM blog posts. However, if you find violations of any sorts regarding any image, please feel free to contact us. Prices and packages mentioned may vary with time and the specific locations.