What are Local Channels? How to Get Local TV Channels Without Cable?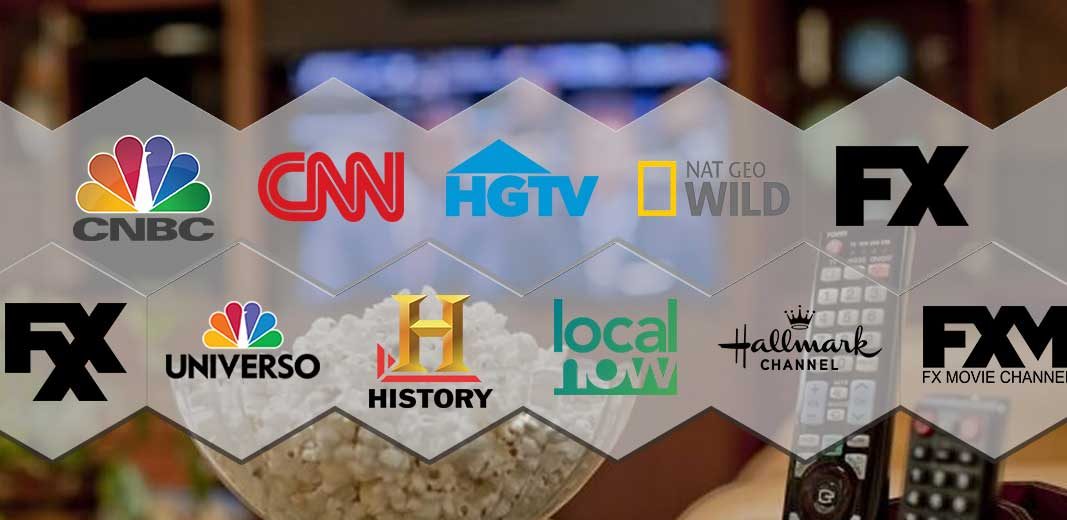 Local TV channels are the over-the-air channels available for free. Anyone can access them even without cable. What you need is an antenna or a live streaming service.
The local channels include the main network that offers its affiliate networks all over the country. These channels provide content such as news, live sports, and other local or regional content.
How to Stream Local TV Channels?
The good news is you can still get access to local channels without cable or satellite TV subscription. You can watch them using streaming services with your home Internet package. All you need is a device such as Roku, hook it up with your TV and start streaming online.
Streaming services are a cheap alternative to cable. Some of their packages start from $20 a month whereas if you have cable, you are paying $100 a month or even more to access just a bunch of channels.
Another benefit is that you can watch them from anywhere. All you have to do is sign into your streaming services. You can hook your streaming device to any compatible TV. Another good news – devices are portable as well.
How to Get Local Channels without Antenna?
Antennas have come a long way. They are available in HD and they let you watch local channels without paying for a subscription. You just have to buy an HDTV antenna to make it work. Plus, we now have access to both indoor and outdoor antennas.
Even though antennas have progressed, they still give you trouble with signals, picture quality and you might not have access to all channels because of your location. That's why people look for alternatives
If the antenna is off your list, these are some alternative options to get local channels:
Watch online: Most local channels air the recent episodes of their popular shows online.
Get YouTube TV: It's a cable-free live TV service by Google. It costs $40 a month and you will get live TV from 60 different networks.
Streaming services: Streaming services such as Netflix and Hulu let you watch programming from your local stations. All you need is a subscription and will have access to a huge library of shows.
How to Get Local Channels on Roku?
You can watch local channels on Roku with and without a subscription.  The best way to watch live content on Roku is by subscribing to a live TV streaming service. There are no long-term contracts and you can cancel the subscription anytime. Your options include:
Sling TV
Hulu with Live TV
PlayStation Vue
Fubo TV
DIRECTV Now
If you want to watch live and on-demand local news, NewsOn is at your service. It's a free Roku channel that lets you watch newscasts from 200 different news states around the US.
Roku Local Channels Lineup
The local channels that you can watch on Roku include;
| | | |
| --- | --- | --- |
| PBS | FOX | 25 Boston |
| NBC | ABC | NCB |
| CBS | Food Network | ABC |
The channel lineup might vary depending on where you live.
How to Get Local TV Channels on Sling TV?
Sling TV is the pioneer of live TV streaming. It's the only streaming service that provides access to free HD TV antenna.
To watch local channels on Sling TV, you must subscribe to one its packages – Sling Blue, Sling Orange or Sling Orange + Blue. With Sling Blue, you will get access to over 40 channels at the price of $25 per month.
Sling TV Local Channels Lineup
Unfortunately, Sling TV doesn't offer much choice when it comes to local channels. You will only be able to access;
FOX
NBC
FS1
FS2
FX
AMC
CNN
FXX
NFL Network
Another unfortunate thing is that the availability of local channels varies by location.
How to Get Local Channels on DiSH?
To watch local channels on Dish, you must first subscribe to one of the DiSH channel packages. You must subscribe to one of the DiSH packages. The basic one starts from $59.99 a month with 190 channels. DISH anywhere allows you to watch TV on the go from your mobile device.
Dish Local TV Channels
The local channels which you can watch on DiSH include;
| | | |
| --- | --- | --- |
| UniMas | Fox | Univision |
| NBC | ABC | NCB |
| CBS | The CW | Azteca |
How to Install Local Channels on Amazon Fire Stick?
Amazon Fire TV stick is another incredible way to stream all sorts of video content directly onto your TV. For that, you will need a third-party software or a skinny bundle. However, the best option is to use third-party software.
You can watch local TV channels on Amazon Fire TV with one of these streaming services:
CBS All Access
Sling TV
FuboTV
Hulu with Live TV
PlayStation Vue
Xfinity Instant TV
Pro tip: Choose any streaming service by finding out which one is offering more local channels.
Can You Get Local Channels on Hulu?
Local channels are available on Hulu via Hulu with Live TV. Their major package costs $39.99 per month. You can also add premium channels such as HBO with an extra charge.
Local channels are available with membership giving you access to on-demand or live episodes. Hulu with Live TV doesn't feature many local channels. You will only find the big networks. The channel lineup will vary by your location.
You can expect to find CBS, ABC, Fox Sports, NBC, My TV, Telemundo, CW, Fox Sports Sun, NCB, SNY, etc. on Hulu.
Does DirecTV Now have Local Channels?
DirecTV Now has an entire range of local channels that you can watch without cable. You can get all the local channels you want in its streaming packages. Here are your options:
Plus: 40+ channels (including HBO) starting at $50 per month.
Max: 50+ channels (including HBO and Cinemax) starting at $70 per month.
Entertainment: 65+ channels starting at $93 per month
Choice: 85+ channels starting at $110 per month
Xtra: 105+ channels starting at $124 per month
Ultimate: 125+ channels starting at $135 per month
DIRECTV Now Local Channels Lineup
The set of local channels offered by DirecTV Now includes;
The live local channels are only available in a few locations. On-demand is available in all areas though.
Does Spectrum have Local TV Channels?
Spectrum has a live TV streaming service through which you can watch local channels. It is called spectrum TV Essentials and it includes all popular networks such as MTV, Food Network and The Weather Channel.
You can access TV Essentials through the Spectrum TV app. It is also available on Xbox One, Apple TV, Roku, and Samsung Smart TV. The service is available at a price of $14.99 per month.
TV Essentials Local Channels Guide
You will have access to 60 channels which includes;
HGTV
Comedy Central
AMC
BBC World News
BBC America
TV Essentials doesn't have HBO which you can add-on in your package separately. It also doesn't support popular local news channels. It's more of a streaming service for entertainment.
Does Optimum have Local Channels?
Optimum brings users different ways to watch local channels without cable. Their most recent and popular service Altice One brings TV, home Internet, Wi-Fi, and streaming apps together. It eliminates the need to get separate cable service, modem/router or a streaming device.
Optimum Local Channels
Local channels supported by Optimum service includes following but not limited to this list. Also, channel lineup differs in each geographic region.
| | | | |
| --- | --- | --- | --- |
| NBC | ION | Antenna TV | NYC life |
| CBS | HSN | C-Span | News 12 |
| FOX | QVC | Educational Access | This TV |
| ABC | CW | EVINE Live | VMBC |
Does AT&T U-verse have Local TV Channels?
AT&T U-verse is a pay-tv service that uses fiber optic technology instead of satellite. You have to pick one of their packages to start watching local TV channels. Their highest-tier gives you access to more than 550 channels.
The AT&T U-verse mobile apps can convert your device into a remote control as well. And lucky for you, if you are an AT&T wireless customer, you can stream live TV from your smartphone or tablet without using mobile data.
U-verse Local Channels Guide
The channels offered by U-verse in the local markets vary based on geographical regions. However, local affiliates of the following channels will be included in the company's packages.
Does Cox have Local Channels?
Cox has local channels which you can watch on Contour TV. You just have to log into your app and stream your favorite shows any time anywhere. It supports up to 120 TV networks. The subscription starts from $89.99 per month (TV and Internet are bundled together).
Cox Local Channels Lineup
The local channels that you can watch on Contour TV include:
Does Frontier have Local Channels?
FiOS TV from Frontier let you view your favorite channels on Samsung smart TV, Xbox 360, Xbox One, and other blue-ray players.
Their bundle starts at $64.99 per month. It includes TV and Internet.  It also includes Amazon Prime and HBO. You can add premium channels by paying $5 for each.
Frontier local TV channels Guide
Depending on your location, these are some of the local channels that are included in FiOS TV plans:
BBC America
AMC
UniMas
FOX News
Animal Planet
ABC
PBS
ION Life
Bloomberg TV
CBS
FOX
PBS Kids
Mega TV
CW
Does Verizon have Local Channels?
Verizon offers local channels through FiOS Custom TV, letting you watch your favorite local channels on your terms. You have to select a TV plan and then you can customize it by choosing any channel pack you like.
FiOS Local Channels Lineup
Initially, Verizon FiOS TV offered only 9 local cable TV channels and now, it's offering 75 channels on live TV.
Scripps Networks
Fox
BBC America
Tennis Channel
ABC
NCB
Food Network
EPIX
HGTV
BBC World News
CBS
The new additions include local affiliates of big names and some Spanish channels such as Univision and UniMas in states like Washington DC, New Jersey, New York, and Philadelphia. These channels might vary according to location.
Does Windstream have Local Channels?
Windstream brings local channels on TV or any other mobile device through its service called Kinetic TV. You can watch 5 different shows at the same time on 5 different devices. Cool right? The Kinetic TV app is compatible on Android, smart TVs and gaming systems.
Kinetic TV Local Channel Lineup
| | | | |
| --- | --- | --- | --- |
| FXX | E! | HGTV | FOX News |
| ABC (WPVI) | ABC | TMC | CNBC |
| ESPN | TBS | AMC | METV |
| TN | ION | CW | THIS TV |
Conclusion
To sum up, watching local channels without cable is not a big deal now. You don't have to pay a high cable bill to watch even the local channels. The most convenient and affordable way to watch them live is through the popular streaming services. All you have to do is choose is the service that supports the most local channels.
Disclaimer: To our knowledge, we have made all the required efforts towards obtaining owner/publisher approval for the use of images in VISIONECLICK.COM blog posts. However, if you find violations of any sorts regarding any image, please feel free to contact us. Prices and packages mentioned may vary with time and the specific locations.