How to Reset the Cox Panoramic Router?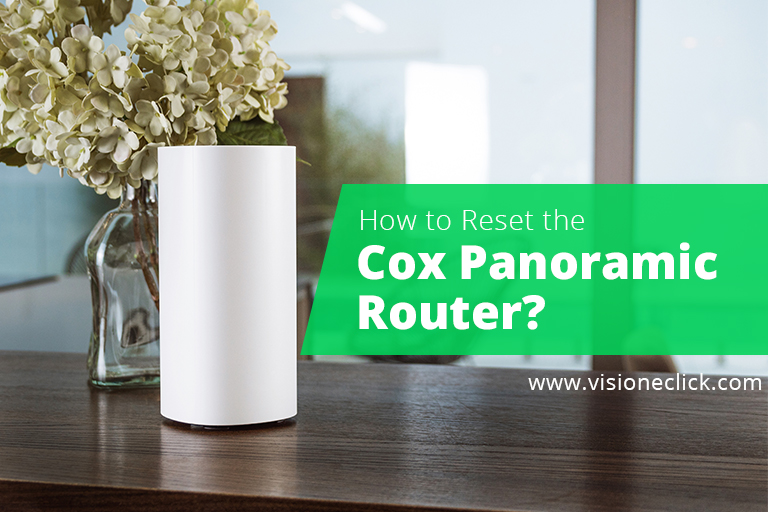 Cox Internet has been among the favorite Internet providers of American; It's fast and reliable. When you sign up for their Internet service and also opt for a wireless connection, you get Cox's Panoramic Wi-Fi. It features a panoramic Wi-Fi gateway, which makes it a modem as well as a router. It's pre-enabled with Cox Hotspot, and it comes with a Panoramic Wi-Fi app that lets you set Wi-Fi rules, control your devices, and even track who is using the Wi-Fi.
No doubt this Cox panoramic router is great, but sometimes it disables the Internet all of a sudden. This usually happens when you are in the middle of an important task. When you face such an issue, one of the options is resetting the device. But should you always reset the router straight away? Nope. Try rebooting first. There is a difference between resetting the device and rebooting it. Rebooting is more like restarting the router by unplugging and plugging it back again. What about the resetting process? That's a different process which you will learn about later in this blog.
How to Reboot the Cox Panoramic Router?
How to reboot, you ask? In the case of Cox, there are two ways about it. First is the old-fashioned one, which we all know, and second is Cox's way. Let's look into both methods:
Reboot by Unplugging the Device
 Follow these steps and you will be done in no time:
Unplug the Cox router from the power outlet

Wait for about 30 seconds

Plug the router again

Connect the intended device to the Panoramic Wi-Fi network

This will restore your connection
Send Reboot Signals to the Modem
Another way is to send reboot signals to the modem using your online portal. This solution will fix issues you are experiencing with slow speed and connectivity. This simply sends a reboot signal to the router and fixes everything. Here is how it's done:
Go to My Wi-Fi from Cox's official website

Enter your login credentials

Go to the network setting tab

Choose "Show advanced settings" from there

Scroll down, and you will find "send reboot signal to modem"

Click on the "reboot modem" button

The reboot might take several minutes, but it's worth it because it will fix the issues you are experiencing.
How to Reset the Router
If the above methods don't resolve the issue, it's clear you have to reset the router. In other words, you are doing a factory reset. When you reset the device, this means you are wiping out all settings and going back to square one. This is generally not recommended. Resetting the router should always be the last resort. Spoiler alert: It's also a bit technical.
Note:
When you click to perform a factory reset, all devices connected to the Wi-Fi are disconnected from the network.
You will have to use the default SSID and password listed on the sticker of the modem. It's recommended to write down your current SSID and password before performing the factory reset. This way, once the factory reset is complete, you will be able to use your current credentials and connect all devices automatically once the Wi-Fi is turned on.
Steps to Reset Your Cox Panoramic Router
Here are the steps required to perform the factory reset:
Visit cox.com and go to the My Wi-Fi portal

Enter your account credentials

Go to the "network settings tab"

Click "Show advanced settings"

Click on "restoring to the factory default setting"

Then click on the link that says "restore to factory setting"
Once it's done, you will have to create a new SSID. Like mentioned earlier, use the old one so that you feel as if nothing is changed. You may also change your WiFi password Cox if you would like. As the network is established, you will just have to connect the intended devices and start using the network flawlessly.
Conclusion
If nothing changes, chances are there's a problem at the end of the company. Their internet service could be down. Call Cox customer service, and they will be able to help you out. The agents are ready for all sorts of questions whether they are related to the Cox bill or technical support. There is also a possibility there is some fault in your equipment. If that's so, the agent will let you know what to do.
As a rule of thumb, first, try rebooting the device before going straight into resetting. When rebooting doesn't work, you can always reset the modem to its default settings.
Disclaimer: To our knowledge, we have made all the required efforts towards obtaining owner/publisher approval for the use of images in VISIONECLICK.COM blog posts. However, if you find violations of any sorts regarding any image, please feel free to contact us. Prices and packages mentioned may vary with time and the specific locations.