How To Unsubscribe From Starz?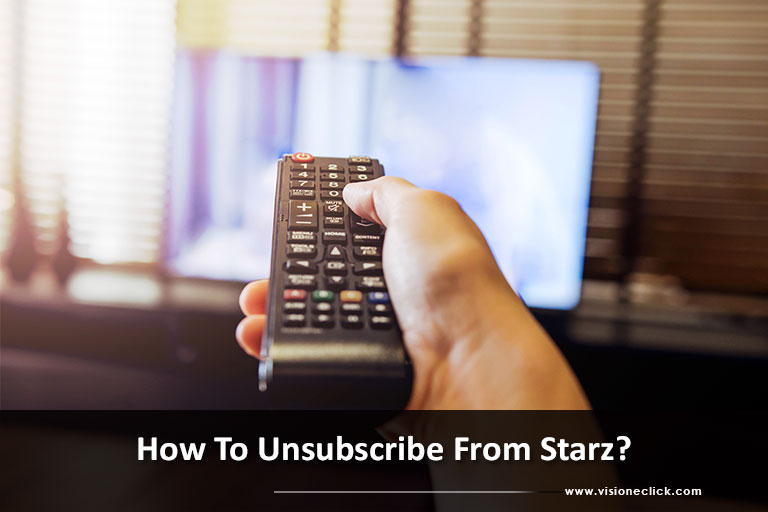 Starz is a premium channel that is owned by Lions Gate Entertainment. This is the ultimate network for people who seek quality entertainment. After all, this is the channel where you will get to enjoy all the theatrically released films. But movies aren't the only thing you will watch on this channel as it also broadcasts original television series. Starz is provided as an add-on by all the major cable TV providers. And although the network offers a lot of great content, people may want to unsubscribe from Starz. Their reason for wanting so can be different. For instance, they might not want to pay extra for this network, or they simply didn't find the content entertaining enough. If you are someone who wants to get rid of this channel, read on!
What You Need to Know About Starz
As stated above, Starz is a premium channel that can be added to your existing plan for a cost that may vary depending on the provider you are subscribed to. For instance, if you got Starz on Optimum, you would be paying around $10/month. Do keep in mind that this price is tentative. But did you know that this channel offers a free trial? So, before you actually subscribe to this channel, opt for the trial and see if you like what it has to offer. If not, you would never have to unsubscribe from Starz.
Although the channel offers a trial period of 30 days, however, if you are getting it through Amazon, you will get seven additional days to try the service. But once the trial period is about to expire, you can easily cancel the subscription. And guess what? There will be no cancellation fees or penalties. What's more? If you end up subscribing to the service but want to opt out after one month, you will get a full refund.
How to Unsubscribe Starz?
Canceling your Starz subscription has never been easier. There are multiple ways via which you can unsubscribe from the service. Let's discuss them:
1. Online
There's nothing that can't be done online. The internet has definitely proved to be a blessing for everyone. And so, Starz gives you the option to unsubscribe from the channel online. There are a few steps involved which you have to perform carefully. And here they are:
Launch your favorite web browser and open the Starz website.

Once there, click the option that says Have Starz.

You can now hit Starz Streaming.

Enter your credentials and log into your account.

Now head over to the Settings. This option will be located in the upper right corner.

Click Subscription and then hit Cancel My Subscription.

You will not be presented with a few steps that you have to take in order to confirm your cancellation.
And voila! You have just unsubscribed Starz!
2. Android & Apple
If you have Starz on your smartphone (Android/iOS), you can cancel the service quite easily in two ways. Let's first discuss how you can do it by logging into your Starz account.
On your smartphone, open the browser and go to the Starz website.

If you are on Android, tap on the three dots that you will find in the upper right corner.

Once done, you will see an option Request Desktop Site. Click on that.

If you are using iOS, simply hold the Refresh Icon that is located next to the URL field. You can now log in.

For accessing your account, enter the credentials and hit Log in with Starz.

When your account opens, go to Settings, tap Subscription, and then hit Cancel.

A few steps will appear, follow them, and you will successfully cancel the subscription.
Canceling Starz Subscription on Android
If you don't want to cancel your subscription by the aforementioned way, there is another method you can try. This will work only for Android devices. Here's what you have to do:
Open your Funimation App

Go to Settings and select Your Plan. This will take to your Google Play subscriptions.

Find Starz.

Hit Cancel Subscription.
Canceling Starz Subscription on iOS
If you are an Apple user, there's an alternative method for you as well that will help you unsubscribe from Starz. And here are the steps that you will have to follow:
Head over to your Apple ID.

Hit Manage.

Choose Starz.

Switch off the Automatic Renewal toggle.
3. Call the Provider
This is perhaps one of the simplest ways to cancel your Starz subscription. All you have to do is call the provider and ask them to unsubscribe you from the service. You can also ask them about any other information if you want, like inquiring details about your Cox bill pay.
The beauty of this method is that it will work no matter which cable provider you are subscribed to. For instance, if you have Starz on Charter Spectrum, you can simply get in touch with their customer support and request them to cancel your subscription.
4. Send An Email
You can even cancel your Starz subscription by emailing your provider. But for that, you will need to have their email address. You can find this information on their contact us page. So, head over to their website, take the details, and send an email, requesting the provider to unsubscribe from the channel.
5. Fire TV
If you chose not to have Starz on DIRECTV or any other cable provider and selected Fire TV instead, you can still cancel the subscription easily. However, there are a few steps that you will need to follow. And here they are:
Head over to your Amazon Store Subscriptions.

You will find the option of Actions next to your Starz Subscription. Select that.

Select Turn Off Auto-Renewal.

Hit Confirm.
Conclusion
Starz is one of the top premium channels. Therefore, it's no surprise that many people want to have Starz on Comcast Xfinity or any other cable providers that they are subscribed to. However, it's important to note that people have different tastes. And not everyone tends to like the same thing. Hence, if you don't find this network entertaining enough, you can unsubscribe from Starz by following one of the aforementioned ways.  
Disclaimer: To our knowledge, we have made all the required efforts towards obtaining owner/publisher approval for the use of images in VISIONECLICK.COM blog posts. However, if you find violations of any sorts regarding any image, please feel free to contact us. Prices and packages mentioned may vary with time and the specific locations.