Bring Your Metal Cutting In-House with Waterjet Machining

media.defense.gov
If you outsource a lot of your 'material cutting' you might want to consider installing waterjet machining facilities. In doing so, you can bring everything in-house and dramatically cut costs in your business.
Of course, even if you know of other businesses that have experienced success with waterjet machining, you may still have some doubts.
Keep reading to learn more about the benefits of waterjet machining. By the time you're finished, you'll have a better appreciation for all that waterjet cutting can do your company and whether you should invest in it.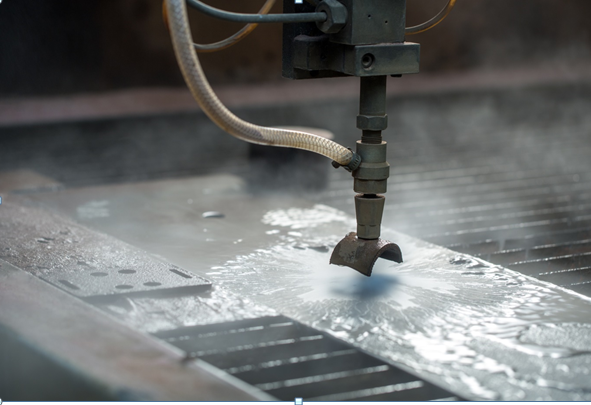 Let's begin!
Cut Items with More Precision
One of the great things about waterjet cutting is that it provides you with a lot of precision. This means you're less likely to end up with wasted materials when cutting a particular item.
A computer dictates the waterjet cutting process and this increases precision.
If you're using another method, you might not have such high levels of precision. Thus, if there's a mistake during the cutting process, you may need to discard the materials in question and start over. This, of course, is going to amount to an increase in material costs.
There's also a lot less heat involved during the waterjet cutting process.
This is important because heat can warp certain materials. Should a material become warped during the cutting process, you'll likely need to get rid of it.
With waterjet cutting, the issue of warping is dramatically reduced. This means you'll need to spend less money replacing items warped during cutting.
Cut a Greater Range of Items
Another benefit of waterjet cutting is that it provides you with the chance to cut a wide range of materials.
You no longer need a wide range of machines, to cut different kinds of materials. Thus costs are now lowered because you don't need to invest in many cutting machines.
It's worth noting, though, that different waterjet cutting setups have different capabilities.
Before you invest in a waterjet cutting setup, be sure to know what your needs are. Once you do, you'll then be able to decide what kind of machine setup will best suit you. If you want to learn about the different kinds of waterjet machining that are on offer, and how they compare you can view here for more.
It's also worth noting that if you provide machining services to clients, you now have the chance to service a wider range of clientele.
Your equipment setup or outsourcing facility may only be able to work with clients interested in cutting wood, for instance. But with a waterjet cutting installation, you can cut a wide range of materials, meaning you can help a wider range of clients.
Easier to Manage Waste
One of the cool things about a waterjet cutting setup is that it makes it easier for you to manage waste.
Following this, you're not going to need to spend a lot of money on waste removal. This environmentally friendly aspect of the machining process is attractive to a lot of businesses.
Having a business that can cut items in an environmentally friendly manner, can also help boost profits. This is because you can use this aspect of the machining process as a selling point. It can give potential clients a reason to work with you and not the competition.
Waterjet cutting, is on the whole, environmentally friendly. But different setups are going to vary, in regards to how environmentally friendly they are. You'll want to check out the different options on offer, so you can invest in the one that is best, in relation to this specific issue.
Cut Items in a Shorter Time Frame
With waterjet machining, you're often able to cut items in a shorter period of time.
This can potentially reduce energy costs because you don't need to have the machines turned on for as long. It can also reduce labor costs since you don't need people to watch the machines for as long either.
The fact that you can cut items in a shorter time frame, also improves the odds of profit increasing.
You can now process more items in a given time frame. This means that you might be able to take on, and complete, more projects than you could before.
This increased capacity is what'll lead to an improvement in profits for your business. If you can deliver projects in a shorter time frame, it'll also make your clients happier.
Often Safer Than Traditional Methods
Waterjet machining can also be safer than traditional methods of cutting.
Because the machine uses a computer to dictate the cutting process, employees are less at risk. This can help reduce costs associated with employees having to take time off work due to injury.
Of course, risks still exist with waterjet cutting. You'll need to provide training so that employees know how to protect themselves from harm.
You'll also want to ensure everyone has the proper safety gear so that the risk of injury is lower, should something go wrong. Investing in this gear can add to the initial costs of buying waterjet cutting facilities, so remember to factor it in.
Can Waterjet Machining Help Your Business?
If your business requires the use of machining equipment, there can be a lot of options to choose from. To keep costs low, you might outsource this aspect of your business. But if you want to lower costs and bring things in-house, you should take a look at waterjet machining.
In this post, we have examined some of the benefits of waterjet machining. With it, you can machine items in a way that's environmentally friendly. It can potentially also allow you to cut items in a shorter time frame.
Each business has different requirements. So if you're going to invest in waterjet cutting, make sure you go with an option that best suits your business.
This'll help reduce the odds you overspend on features you don't need. But it'll also ensure you don't end up buying an installation that doesn't meet your requirements.
Interested in how you can improve your internet speed? Check out this post for some tips!
Disclaimer: To our knowledge, we have made all the required efforts towards obtaining owner/publisher approval for the use of images in VISIONECLICK.COM blog posts. However, if you find violations of any sorts regarding any image, please feel free to contact us. Prices and packages mentioned may vary with time and the specific locations.