How to Watch Spectrum Originals?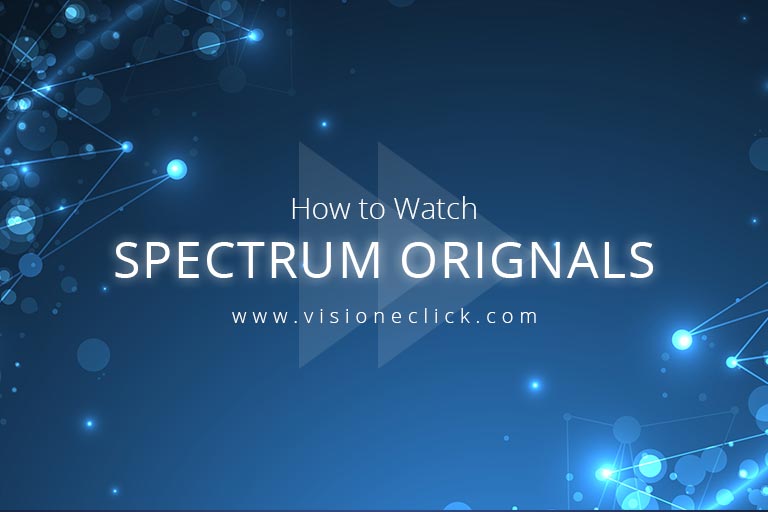 All Spectrum cable subscribers have been gifted with the opportunity to watch funny, powerful, and compelling Spectrum original content with Spectrum Originals. If you are hearing of this first time or you would like to know how to access as well as watch content on this service, hop on.
Introducing Spectrum Originals
Fortunately, Spectrum understands that TV fanatics want much more entertainment than standard cable. Also, now that so many streaming services are available, content watchers have loads of options. They switch from one streaming service to another to watch captivating shows, even if they have cable. For all such fans, Spectrum Original series is a treat!
Spectrum Originals is an on-demand service, available for Spectrum subscribers. It's not just FREE it's also ad-free. It features all premium series that are not available elsewhere, hence the name "Originals."
This service was launched in 2019 with "LA's Finest" a top-charting season. You may call this service the latest expansion of the company's video offering. Apart from the series, it also covers regional sports networks and spectrum news services.
How to Watch Spectrum Originals Shows
Now let's move on to the real deal, how to watch the Spectrum Originals shows? The first rule is you MUST be a cable subscriber. Once this mandatory requirement is off the checklist, you now have four options to stream the trending shows. Let's find out what they are:
Option 1: Regular Cable
It is a relief to know that Spectrum customers can watch shows featured on this service on their smart TV like regular cable. You can also watch any of the original shows on any preferred mobile device but let's assume you have chosen your TV. Follow these steps to get started:
Open the Chrome app on your TV

Enter https://watch.spectrum.net/

Use your Spectrum.net credentials

After signing in, enter the show's name

Start streaming!
You will feel as if you are watching these shows on cable.
Option 2: Stream Online
Just to give your mind the satisfaction that you are watching the exclusive Spectrum Original series, you can also stream these shows online. For that, all you have to do is visit their official website. Here is what you have to do:
Visit https://spectrumoriginals.com/

Sign in with your spectrum.net credentials

Choose the show you would like

Start streaming
You will feel as if you are watching content from a novel streaming service. Those who are tired of watching pandemic movies and want something different and exclusive to watch will fall in love with these series.
Option 3: Stream via the Spectrum TV App
Some cable subscribers prefer watching content from a single platform. That's why we have the Spectrum TV app. it allows you to access your entire channel lineup from a single place. You can also apply filters and set preferences for the type of genre you would like to watch.
So all you do is log into the app and you are all set. In case you don't have the Spectrum TV app on firestick, then download it from the Google play store or app store and sign for an account. The app is free! Here is what you have to do:
Open the app

Enter your credentials

Type the name of the show

Tap to open and stream
Option 4: Watch via Channel 2010
The simplest way of streaming Spectrum Originals shows is by tuning in to channel 2010. It's like just you are Paramount Network on your cable. You enter the channel number and start watching whatever program is airing.
Here is how it's done
Turn on your TV

Switch to channel 2010

Pick any series you prefer

Let the streaming begin
How Much Does Spectrum Originals Cost?
In case you have missed it, Spectrum Originals cost nothing! The service is free for all spectrum cable service subscribers (for now). Let's hope this supply of premium series remains free forever!
What Cable Plan Do I Need To Access the Content?
Now that you know these series are free for subscribers, you must be wondering what cable plan do I need to get access to. These series are available to all cable customers, regardless of the tier!
Want to know what cable plans are available? Here's a quick introduction:
TV Select
This is the most basic tier by the provider. If you are on a budget but would like some great cable entertainment at home, this ones for you. The package includes 125+ channels which include all local affiliates. Not, bad right?
Silver
It's their mid-range cable plan that includes 175+ channels. Expect networks such as HLN and TCM to be in this tier. 
This package is for those households who want a good bundle of entertainment without breaking the bank.
Gold
The Gold plan is their premium tier. It's a bit expensive though. However, you can check the double-play bundles to see if you can afford this plan.
Beyond the basics such as TLC, this plan includes all premium channels like Showtime, Epix, NFL RedZone, and more.
Types of Shows Available
Okay, another thing fans must be interested in knowing about Spectrum Originals is what type of shows are available to watch. You can expect all kinds of genera. It doesn't really have an extensive array of options but still, a good amount of shows are available. These are the featured series you MUST watch:
LA's Finest
Starring Gabrielle Union and the hottie, Jessica Alba, this drama and action series feature two detectives with different personalities who always manage to take down criminals. Spoiler alert: There is a good amount of comedy. The show is a spinoff of "Bad Boys"
Temple
A surgeon sets up a clinic below the Temple tube station to fund the operation of his ill wife by treating desperate patients and criminals.
Man Hunt
It's a crime anthology series inspired by true events, diving into the twisted minds of criminals and brave souls who hunt them.
Conclusion
These shows must have excited you and chances are you can't wait to watch shows on Spectrum Originals. Subscribers can do it right away. If you are still not a subscriber, explore their Triple play deals or call support to to learn more about the availability of cable plans in your a
Disclaimer: To our knowledge, we have made all the required efforts towards obtaining owner/publisher approval for the use of images in VISIONECLICK.COM blog posts. However, if you find violations of any sorts regarding any image, please feel free to contact us. Prices and packages mentioned may vary with time and the specific locations.