A Step-Wise Comparison of HughesNet Gen4 Vs HughesNet Gen5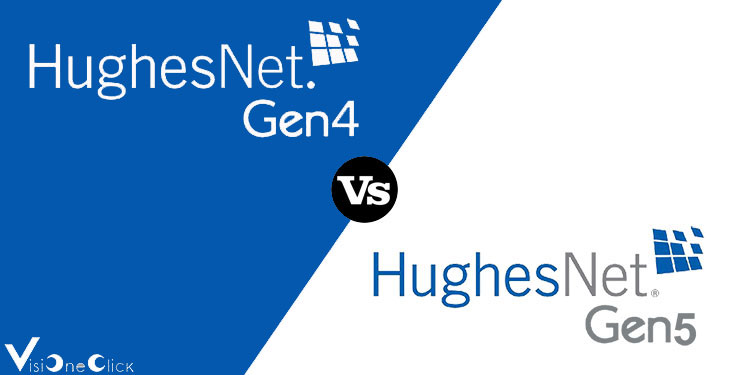 The internet has become inseparable from every household and workplace. And when it comes to bandwidth, the faster the better! When it comes to domestic use, online activities like streaming and downloading have become ways of life.
And workplaces can't afford to have a momentary disconnection from the internet. With HughesNet Gen5 on the menu of internet packages, it's hard to go for any other package. Let's explore its features.
While we are talking about the latest offered package of Hughesnet, here is the tricky part. Some people claim that Gen5 hardly offers anything different and better than Gen4.
So, if you are confused about making a switch, take advantage of this blog post that deals with the comparison of all the offered features of the said products.
HughesNet Gen5 – Is It Worth the Switch?
Are you a Gen4 subscriber? And you want to know everything that Gen5 has to offer before you make a switch? If yes, you are in the right place. For those who are not into long arguments and discussions, we have created a quick and crisp chart that will give you a comprehensive comparison of the features of both, Gen4 and 5.
HughesNet Gen5

HughesNet Gen4

SmartTechnologies™

(do not refer to any individual technology names)

SmartTechnologies™
No hard and fast data limits
SmartBrowsing
Not Available
SmartFetch™, SmartResources™,  SmartCompression™
Wi-Fi Modem
Satellite Modem
Data (or Service Plan Data)
Data Allowance
Bonus Zone
Bonus Bytes
Anytime Data
Anytime
Lease Set-up Fee
Upfront Lease Fee
Data Tokens
Tokens

Packages Names: 10 GB, 20 GB, 30 GB, and, 50 GB

Plan Names: Prime, Choice, Pro, and Max

Usage Meter
Status Meter
Video Data Saver
N/A
HughesNet Gen4 Subscriber? It's Time to Upgrade
The chart has already made it clear that you will not regret the switch. Some of the upgrades such as the Wi-Fi modem and offered speed limits are worth it. The feature-comparison chart clearly indicates that those who claim there isn't much difference between HughesNet Gen4 and Gen5 are wrong. Let's elaborate the offered features a little more.
Check Out the New Features of Gen5
For those who have been researching the Gen5 features, it is a great time to take full advantage of the brand new features and services offered by Hughesnet Internet.
If you are already conducting your research about switching to a new Internet package, you would have skimmed through some comparisons like Viasat Vs Hughesnet and other popular ISPs for that matter. Just make sure you are getting your info from authentic sources.
With HughesNet Gen5, you get access to one of the fastest satellite internet provider. Since it's satellite service, the coverage area is incredibly massive. Even if you live in the remotest areas of the country, you get excess to this high-performance internet service.
If you are still not convinced, read on to explore the benefits of Gen5 below:
SmartTechnologies
SmartTechnologies is a revolutionary data optimization technology. It was first introduced with Gen4. And it is available with Gen5's all the offered plans.
You will have plenty of data optimization features with this in-built technology and it will allow you to use lesser data and stream more and more videos. The DVD picture quality will not be affected too.
Moreover, the downloaded content is compressed automatically by 30%. So, get reliable connections, faster speeds, and forget about interruptions in the downloaded content. Take advantage of this incredible technology with every data service plan.
Names of Packages & Plans
HughesNet has transformed everything with the new Gen5. And it also has not left the plan names unattended. They have gotten their due makeover. The service plans are now named after the amount of data they offer. They are now named:
50 GB.
30 GB.
20 GB.
10 GB.
Well, not only these names are catchy but they also indicate the amount of data you will exactly receive. Hence, there will be no confusion.
Gen5 Bonus Zone
Bonus Bytes of Gen4 is a great additional feature. Now with Gen5, it is called Bonus Zone and you get to have an additional 50 GB of data for browsing, streaming, and downloading. You get this additional data in the off-peak hours that is 2 – 8 a.m.
The online activities, which you do in this time with this additional data allowance doesn't use up your actual plan data. It's time to maximize your plan!
Faster Speeds
Gen5 offers mind-blowing speeds with satellite internet! And the best part is the coverage. Whether you are located in the remote locations, exurbs, or the suburbs, you get a massive 25 Mbps downloading speed to stream your music or videos.
The upload speeds that you get is 3 Mbps and that makes sharing photos and files effortless. Whereas, Gen4 offers 15 Mbps downloading speed.
aster speeds facilitate you with faster load times, faster bill payments, online banking, and so on. Perk up your online experience!
Video Data Saver
This one is a new feature is only available with Gen5. This feature allows you to save video data.
Streaming videos have become a way of life. And with this video saver feature, you get to watch more movies and videos without consuming all the data in your subscribed service plan. Gen5 automatically optimizes your data and adjusts your video streaming rate.
Therefore, you end up watching three times more videos with this amazing feature and that too in great picture quality. If you have HughesNet mobile app, you can even monitor all the data usage yourself and see all these things for yourself.
Wi-Fi is Built-In
This one is another huge transition. Gen4 came with a satellite modem. Gen5 has introduced a built-in Wi-Fi modem that has taken online browsing to a whole new level. You can easily create a home network that will be sufficient to provide coverage of satellite internet for all the devices in your home. And you need to purchase any additional equipment for this purpose.
You can ensure the security and safety of your home network and still offer Wi-Fi to your guests by allowing them access to a separate guest feature in Wi-Fi. You can take advantage of this new guest internet feature offered by the new Gen5.
The great benefits and features of Gen5 simply have no comparison. All you need to do now is to get in touch with Hughesnet customer service and let them help you figure out the best package according to your online activities. You can enjoy great rates with ultimate online entertainment. So, connect more, experience more, stream more, and download more!
FAQs Section
How fast is HughesNet Gen4?
HughesNet Gen4 offers speeds up to 15 Mbps. In areas where high-speed landline connections are not available, this is a great choice. It also offers greater and better download capacity.
How fast is HughesNet Gen5?
The downloading speed offered by Gen5 is 25 Mbps and the uploading speed is 3Mbps.
Why should I choose HughesNet Gen5?
Gen5 offers faster speeds, better plans, more coverage, and high-end technologies. You have every reason to switch to better internet service and package and Gen5 is all that a modern internet user needs.
What makes HughesNet Gen5 different?
Its massive coverage makes it different. It offers the same internet speeds in remote places as it does in the cities. Satellite internet technology allows this incredible coverage.
Does HughesNet Gen5 come with built-in Wi-Fi?
Yes, it comes with a built-in satellite modem and this new feature has perked up their browsing game to another level.
How much data does HughesNet allow?
As the plan names indicate, with Gen5, HughesNet allows 10 GB, 20 GB, 30 GB, and 50 GB of data.
Can I stream Netflix with HughesNet Gen5?
Yes, you can. The incredible speeds will facilitate smooth streaming in pristine picture quality. You can also take advantage of Video Data Saver to stream Netflix.
Is HughesNet Gen 4 Internet good for gaming?
The speeds are incredible and can easily support any intense gaming session.
Is HughesNet Gen 4 good for streaming?
Yes, with 15 Mbps of downloading speed, Gen 4 is great for streaming.
Disclaimer: To our knowledge, we have made all the required efforts towards obtaining owner/publisher approval for the use of images in VISIONECLICK.COM blog posts. However, if you find violations of any sorts regarding any image, please feel free to contact us. Prices and packages mentioned may vary with time and the specific locations.