Find Out Internet Providers Are Lifting Data Caps During the Coronavirus Outbreak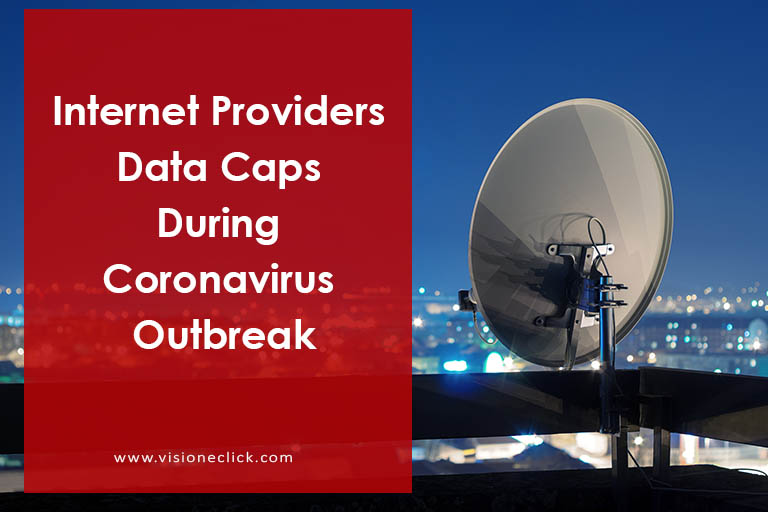 The novel coronavirus outbreak, or the COVID19 pandemic as it is formally known, has caused disruption on a global scale. Being one of the largest hubs of international business, tourism, and learning, America has not escaped the coronavirus. According to the Centers for Disease Control, as of March 18th, 2020 there are over 7,000 reported cases in the US. This has brought businesses to a standstill, with Americans confined to their homes.
Internet Data Consumption and COVID19
Businesses, schools, and universities have temporarily shut down in many states across the country. This means a very large segment of the American population is currently in their homes. Whether working home-based jobs, studying, or just passing the time, Americans have never needed access to the internet more.
Just think about it. You have to join two back-to-back videoconferences every day. You may also be downloading or uploading large files frequently. At the same time, your children aren't going to school. So they're on the internet at home too, talking to friends or playing games. Meanwhile, you put on Disney+ for your toddler to have something to watch while you work. All of this strain on the same connection will consume a lot of bandwidth and data. This could lead to you easily going over the internet provider's data cap that comes with your plan.
The Crisis Response from Internet Providers
In response to the ongoing crisis, many internet providers are stepping up to help people who are working or studying from home. Many providers are following FCC Chairman Ajit Pai's Keep Americans Connected Pledge. Others are going a step beyond and reducing bills as well as removing hard data caps on residential internet. Still, others are yet to officially respond to the crisis and the unprecedented demand for internet access. Read on to read about specific providers and see what yours is doing in response to the COVID19 pandemic.
According to the provider, AT&T lifts data caps on all its residential Internet Wireline and Fixed Wireless Internet subscribers. That means if you subscribe to these services, you don't have to worry about overages or buying more data. Qualifying customers can still get access to the internet for $10/mo. Over the next 60 days, the provider will not terminate services in case a subscriber is unable to pay their bill. The company will also waive any late payment fees during this period. All public Wi-Fi hotspots will remain open to everyone.
Like AT&T, CenturyLink is also waiving late payment fees, and pledging to not suspend services to residences or small businesses. Residential customers will also be temporarily freed from monthly data limits for the next 60 days. The provider is adhering to the FCC pledge in letter and spirit.
The provider has stated that it is temporarily suspending data overages for 60 days. If you subscribe to an Unlimited or 500GB plan, you will receive credits. New subscribers can sign up for the Starter Internet plan without a long-term commitment. This plan will now carry increased speeds of around 50Mbps. The Essential plan will also see speeds increased from 30 to 50Mbps. The provider has said it will not be terminating or suspending services in case a small business or residential customer can't pay. The provider's hotspot network will remain open to all.
Charter Spectrum
The provider already does not have any data caps on its internet services. It has also promised to offer Spectrum free internet and Wi-Fi to qualifying homes. To qualify, your household must have K-12 or college students, who don't already subscribe to the provider. The provider has promised to open its Wi-Fi hotspot network to all users.
While Earthlink does not have any data caps for residential customers, the provider has not announced any relief plans as of now.
The provider has not publically announced a relief plan for the coronavirus pandemic.
Mediacom has temporarily suspended monthly data limits on all internet tiers till May 15th. The provider has also reduced the cost for new customers to sign up for its Access Internet 60 service. The provider's Connect2Compete assisted-income internet will see an increase in speeds from 10Mbps to 25Mbps. Mediacom will be making it's public Wi-Fi hotspots available to everyone. Over the next 60-day period, the provider will not suspend or terminate services for customers. However, the customer will need to call the provider and inform them beforehand that they will be unable to pay their bill.
Qualifying households with K-12 or college students will receive free broadband access. The provider has also agreed to not terminate services for customers who cannot pay their bills. Of course, this only applies for the next 60 days. During this period, the provider's Wi-Fi hotspots will remain open to all. l
The provider has announced that it will not be charging late payment fees for the next 2 months. It will also continue to offer services to residential and small business subscribers affected by the pandemic. Subscribers to residential services already have no hard data caps. The provider's Innovative Learning program for middle school students will see an increase in its data limits from 10GB per month to 30GB per month.
The provider does not have any data caps on its internet services. As of now, however, the company has not announced any plans for relief.
Disclaimer: To our knowledge, we have made all the required efforts towards obtaining owner/publisher approval for the use of images in VISIONECLICK.COM blog posts. However, if you find violations of any sorts regarding any image, please feel free to contact us. Prices and packages mentioned may vary with time and the specific locations.