Is There a Suddenlink Outage in My Area?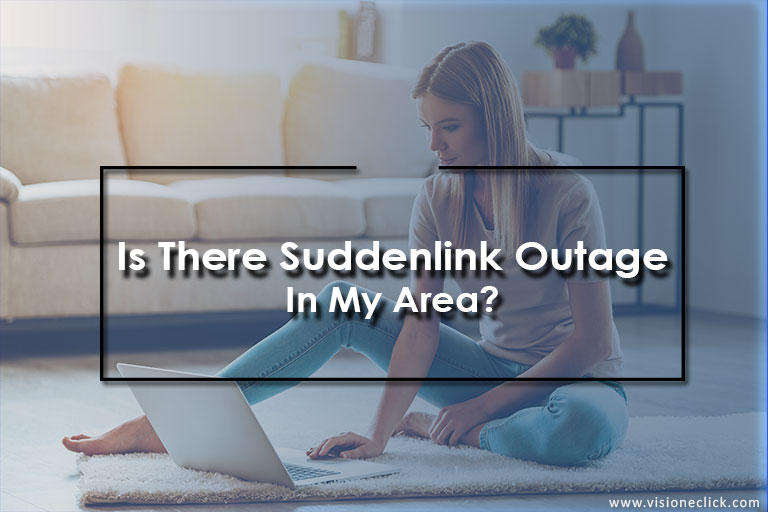 The first thing that comes to mind when there is an unexplained internet outage in your region is to pick up the phone and call customer service. Nothing is more frustrating than not being able to complete the tasks you were looking forward to completing.
Hence, the Suddenlink outage can always make you want to pull your hair. The outage issue is much more common for subscribers of a 1 Gig internet plan. But not every internet issue is a sign of an outage. So, the question, is how to verify an outage in your area, and what should be your first step in resolving the problem?
To figure out how to identify the issue of internet outages and resolve it here's all you should know…
Why Is there a Suddenlink Outage?
If you're experiencing a Suddenlink outage in your area, it's possible that there's a technical issue on the backend so don't troubleshoot WiFi because it's a problem at the provider's end, not yours. There's also a possibility that Suddenlink's operational region is moving from one power outlet to another. In both cases, the outage is for a short time and could take anywhere from a few minutes to an hour or two.
Suddenlink (Now known as Optimum) outages in your area could also occur because of infrastructure restoration, in which power supplies and other cables must be temporarily removed to avoid any hazards. Other possible causes of outage include:
A windy situation caused a tree to come in contact with the power line

Short circuit caused by an animal like a squirrel

Heat weave or overburdened cables that melted or fell

Equipment failure
You can contact customer service at any time to inquire about the downtime regardless of how long it has been since the Suddenlink outage. Alternatively, check the visit the Suddenlink report outage page to get updates online.
Read Suggestion: Wi-Fi Booster, Repeater, and Extender
How to Check the Suddenlink Outage Map
You can also verify service outages by checking the outage maps by third-party providers where Suddenlink users themselves have reported outage and service issues. The map usually generates reports received from users belonging to different regions in the last 12 hours or so. The Suddenlink outage map highlights all regions where the provider's services are unavailable or have been affected because of some reason.  
How to Tell If Suddenlink's Down?
If you suspect that other people are having problems with the company's services, perform a quick check to see if this is true. Here's how you can tell if there's a Suddenlink outage:
Check Social Handles Like Twitter
Look for the hashtag #suddenlinkdown on Twitter. Look for timestamps on tweets indicating that other individuals are having the same issues as you. You can also search Suddenlink outage by zip code on social media and find accurate results.
Look For Updates in The App
Like Altice One, Suddenlink also offers online support to its customers. So, launch the app go to your online account. Follow these steps to check if there's an outage in your area:
Go to the "My Services" tab

Hit "Service Help"

If there's an outage, you will know.
Subscribers can also enable notifications for receiving alerts about Suddenlink down issues or service outages. Once you do, you will receive updates regularly. Even if the provider is about to begin maintenance, you will receive a message before they start and after they have restored the services.
Suggested Read: What Channel is BTN on DirecTV?
Report Your Service Outage via the Suddenlink Report Outage Page
If your services break while you were in the middling of your favorite show or movie, you're advised to stay calm and follow these steps to report the issue:
Visit the Suddenlink report outage page

Enter your account details

You will be taken to a page about the outage details

If there's an ongoing outage, chances are the company is resolving it already.
In case there's no outage, you must contact support to report the issue.
Suggested Read: How to Cancel CenturyLink Service
How to Check Suddenlink Outage by Zip Code
For this, simply Google if Suddenlink (Now known as Optimum) is down in your area by typing your zip code and this should give you the information you need. If you're unable to find the right information, then don't hesitate to contact customer support like you contact Cox internet support whenever you have a query.
Troubleshooting Your Services
So, let's suppose there was no Suddenlink outage and something's is particularly wrong with your services. In that case, you may try these tips to try and restore your services:
Make sure all cables are securely connected and that all connections are finger-tight.

All devices must be on

If your wired Ethernet connection is fine but your Suddenlink Wi-Fi isn't, make sure the equipment is located in a central region.

Check for missed Cox bill payments

Try resting the equipment
This should restore your services but in case it doesn't, call support, let them know Suddenlink's down and they should be to look into the problem.
Disclaimer: To our knowledge, we have made all the required efforts towards obtaining owner/publisher approval for the use of images in VISIONECLICK.COM blog posts. However, if you find violations of any sorts regarding any image, please feel free to contact us. Prices and packages mentioned may vary with time and the specific locations.