9 Dead in Tragic Helicopter Crash Including Kobe Bryant and Daughter Gianna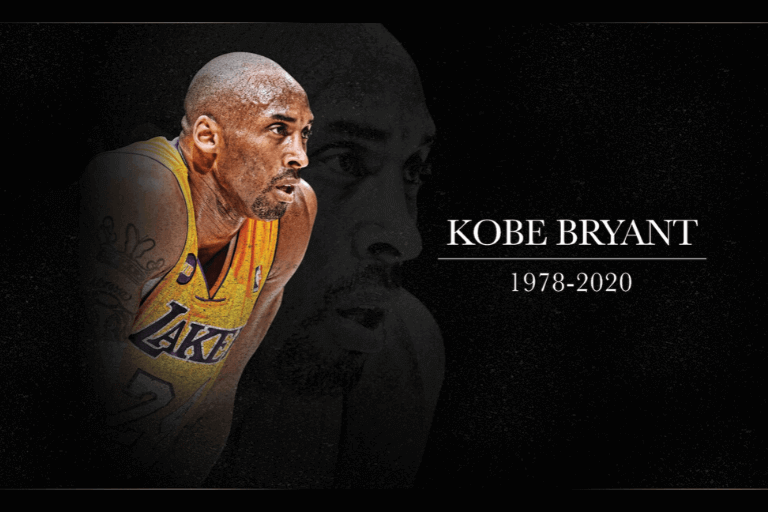 Nba.com

Legendary L.A. Lakers star and all-time basketball great Kobe Bryant passed away along with his 13-year old daughter Gianna in a tragic helicopter crash, Sunday morning.
The basketball legend, aged 40, was traveling on a private helicopter along with 8 other people when it crashed into the hillside above Calabasas. L.A. County Sherrif's Department confirmed that there were no survivors. As Kobe Bryant dies, there is an outpouring of grief, affection, and support for the family from celebrities, fans, and friends.
Kobe Bryant, one of the NBA's all-time greatest players and an athlete of global renown, died in a helicopter crash near Los Angeles along with his 13-year-old daughter Gianna and seven on board. More here: https://t.co/8Uy8SiKaVa pic.twitter.com/obihD9Tf8y

— Reuters (@Reuters) January 27, 2020
Remembering Kobe Bryant
The L.A. Lakers legend spent 20 years with the team and was unarguably one of the best players the game has ever seen. Bryant was consistently one of the highest-paid NBA players and earned even more from sponsors and endorsements. Also known as Black Mamba, Bryant had a kind heart and wanted to give back to the community once he retired from the NBA. His Mamba Sports Academy offers sports coaching and facilities to hundreds of children each year. In fact, on the day of the ill-fated helicopter ride, Bryant was scheduled to coach a game at his academy.
The academy soon became a focal point of attention as news of the crash broke. Heart-wrenched fans turned the front steps of the Mamba Sports Academy into an impromptu memorial. People left Lakers memorabilia, flowers, and even Sports Illustrated's covers of Kobe Bryant. Twitter, Instagram, and Facebook were buzzing a range of emotions from shock to sadness to nostalgia.
It hurts so bad 💔my thoughts and condolences to your family @kobebryant
Thank you for all the advices and stories we shared, Man you are a true Champion and a great Man
May you and your lovely daughter rest in Heaven 🙏🏾#blackmamba #kobe pic.twitter.com/wtvKl5iQDu

— Didier Drogba (@didierdrogba) January 27, 2020
What The Authorities Say
L.A. County Sherrif Alex Villanueva confirmed there were 9 individuals, including the pilot, on board the helicopter when it crashed. The Sherrif did not confirm the names of all the victims that died in the crash, choosing to wait until the next of kin had been informed first. On Sunday night, the Sherrif's Department also confirmed that recovery efforts were underway, but given the terrain and condition of the crash site, it could several days to recover all 9 potential victims. In addition, roads leading up to the crash site were closed off to prevent people from thronging the site.
Flight History and Crash
According to flight records from John Wayne Airport, a 1991 Sikorsky S 76B helicopter took off at 9:06 am. The same helicopter crashed just before 10 am near Calabasas, with the first 911 call coming in at 9:47 am. Over 56 fire personnel, as well as members of the Sherrif's department, responded to the 911 call. They arrived to find the incident had ignited a brush fire in roughly a quarter-acre radius around the crash site. The respondents bravely fought steep terrain and a brush fire containing magnesium which is very difficult to extinguish.
The NTSB and FAA have already begun investigating the crash, assisted by the FBI. According to flight records, the helicopter in question had no history of accidents or incidents. Sikorsky, the company that manufactures the helicopter, assured of full cooperation in the probe. The private helicopter was titled to Island Express Holding Corp., a Fillmore-based entity.
Poor Conditions or Engine Failure?
While there is still no report as to what exactly caused the crash, many are attributing it to bad weather and low visibility instead of mechanical failure. Apparently, on Sunday morning, the fog was bad enough to ground Police Department helicopters. Josh Rubenstein, spokesman for the L.A.P.D. confirmed that the weather did not meet the department's flight safety standards. These standards require a minimum of 2 miles of visibility and at least an 800-foot cloud ceiling. Both these conditions were too poor for the L.A.P.D. to allow helicopter flights.
The L.A. County Sherrif's Department also confirmed that weather conditions did not allow any helicopters to go up on Sunday. Former pilots have pointed out that the probability of a twin-engine failure on that type of aircraft is extremely low.
Kobe Bryant was a living legend in the game. The Lakers hotshot played 20 seasons for his team. In more than 1,300 regular-season games, he averaged an impressive 25 points, 5.2 rebounds, and 4.7 assists. Bryant was featured multiple times on the cover of Sports Illustrated (the Lakers featured more times than even 5-time Super Bowl winners Dallas Cowboys), was selected to play in 18 All-Star games, and won 1 MVP Award throughout his career. Known for making a difference both on the court and off it, Kobe Bryant is survived by his wife of 19 years, Vanessa and 3 remaining daughters Natalia, Bianka, and Capri. We wish the family strength and support in this difficult time. Rest in peace, Black Mamba.
Source: Buzzoid.com via Celebrity Baby Scoop

Disclaimer: To our knowledge, we have made all the required efforts towards obtaining owner/publisher approval for the use of images in VISIONECLICK.COM blog posts. However, if you find violations of any sorts regarding any image, please feel free to contact us. Prices and packages mentioned may vary with time and the specific locations.