Love and Hate in the Time of Trump: An Opinion Piece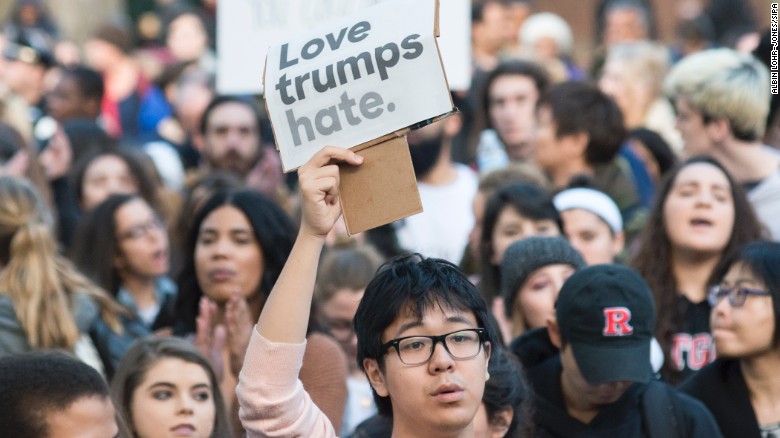 Photo Credits to cnn.com
As a lifelong Southern Republican, I have always stood by my ideals. These include an abiding belief in strong family values, the free market, and social conservatism. And, of course, a solid stance against big government and family planning. But even though I voted for the man, I now kind of regret my decision. Because I strongly believe that the Trump Presidency is far removed from all these concerns. And to put the long-story-short, I think the Donald Trump Twitter account is adding further fuel to the fire.
If only someone would take his wretched mobile phone away, and spare us of all the drama! Which, incidentally, makes all Americans look bad.
Yes, even those die-hard Trump apologists who suffer from a case of 'selective conscience'. As my grandfather, himself a staunch Republican, likes to call this ailment.
I've Been Accused of Being a Liberal Time & Again
Many of my conservative friends and family members accuse me of being a closet liberal. But honestly, I've stopped caring for what other people think. In this life, you've got to believe in everything that puts your soul at ease. And not live for anyone other than yourself. Otherwise, you'll be forced to deal with some constant heartache and suffocation. Everybody knows this, but sometimes all of us can do with some reminding of the basics!
Recently, I was arguing with a couple of Democrat millennials, and some of the things that they said got me thinking. They used the word 'polarization' again and again. You've probably heard it too. Because all the major media outlets are currently infatuated with it. Along with the terms 'impeachment' and the '2nd Amendment', its turned into a horrible cliché.
Love (and Hate) is all around me…
But the word does speak some truth about the mess that we're all in.
I'm referring, in particular, to the severely opposite states of emotion that everyone is currently dealing with. Trump, the person, seems to invite extreme levels of adoration and hate from Americans. There's really no such thing as 'healthy moderation' where he's concerned. But what's interesting to note is that by becoming strong opposites, many people have also become attractive! To one another, that is.
Yes, opposites do attract. In a strange 'melding of minds' kind of way.
And on this front, I can speak from personal experience.
I Tied the Knot with an Anarchist!
It happened right around the corner of the last Trump-Clinton caucus debate.
I'd always admired Christy from afar. She was an extreme Libertarian, and (interestingly) a self-described anarchist. And I had 'the feels' for her since our very first library meeting. She had been studying for a Philosophy mid-term, and wanted help in deconstructing a tricky concept. Being in the building at the time, I was only too happy to oblige. And from there onward, our friendship blossomed into something spectacular.
Just like in the movies.
Truth-be-told, she was horrified upon coming to know about my political orientation. And I have to admit that we did have our fair share of passionate fights in the beginning. Most of these, if you haven't guessed it already, were centered on the Constitution. And on such questions as:
How far does the Liberty of the Individual Extend? (Shout out to John Stuart Mill!)
Is the American Two-Party system too limiting? (I answer 'no' to this)
Should the Electoral College be dissolved? (Again, a solid 'no' from my side)
I'm sure you get the picture.
Our Commonality Outgrew our Differences
But even though we were (and continue to be) strongly opposed in some matters, we were also similar.
Both of us were the same in sharing a powerful sense of activism for our beliefs. Something which requires a deep level of honesty and commitment. And it was these traits that eventually made us truly respect each other.
A few days ago, she joined a couple of college professors to stage a protest outside Congress. The group was calling for an increase in government-sponsored aid for foreign students. And even though I'm of the opinion that American taxpayer money should be strictly spent domestically, I accompanied her. Though not in the name-calling that a lot of street anarchists always resort to (her included!).
Coming Back to the Donald Trump Twitter Account
But not all people fared as well as Christy and me in our country's political turmoil. A black family in our neighborhood lost a son due to a hate crime. While an Asian store owner got his shop ransacked by a couple of wannabe white extremists. And both of these incidents, shockingly, happened on the 9/11 holiday just a few weeks ago.
So in sorry cases like these, hate truly seems to have trumped love in every way. Because how else could someone go out and harm another in such a grievous way?
I believe that to inflict injury, you need to other-ise others in such a way so as to rob them of their humanity. That way, according to many of our notorious murderers, you still get to sleep at night.
Disclaimer: To our knowledge, we have made all the required efforts towards obtaining owner/publisher approval for the use of images in VISIONECLICK.COM blog posts. However, if you find violations of any sorts regarding any image, please feel free to contact us. Prices and packages mentioned may vary with time and the specific locations.