The NBA's Highest-Paid Players 2019-20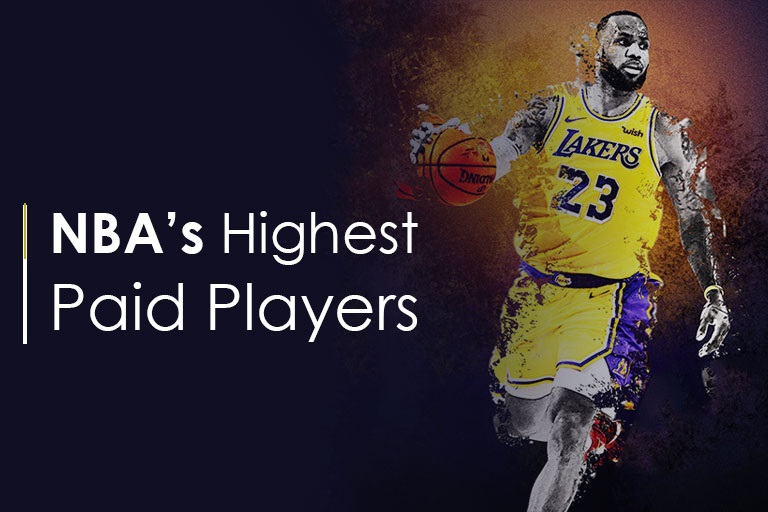 NBA athletes have some of the highest on-court playing salaries in sports. The salary caps keep going up, but the best NBA players make even more off their endorsements and off-court incomes. It is no surprise that LeBron James bags the top playing salary for the current season with $270 million over his 16 years of playing. Lebron also made twice that amount from endorsements.
The NBA Highest-Paid Players for The 2019-20 Season
Take a look at Kevin Durant. The man has earned around $187 million from his playing salary in 12 years. His 10-year deal with sports giant Nike nets him $275 million. Lebron makes $92 million this year, making him the highest-earning athlete in the NBA for the 6th straight year.
James and Durant are not the only members in this club either. Teams are paying higher salaries in order to rope in better talent. The NBA also has a multi-billion dollar agreement with ESPN that guarantees 51% of earnings to go-to players. The more accolades a player has, the higher the individual salary cap goes. This year, more than 40 NBA players will earn upwards of $25 million! Here are 10 of the NBA highest-paid players this season:
Lebron James – Los Angeles Lakers
Stephen Curry – Golden State Warriors
Kevin Durant – Brooklyn Nets
Russel Westbrook – Houston Rockets
James Harden – Houston Rockets
Kyrie Irving – Brooklyn Nets
Klay Thompson – Golden State Warriors
Chris Paul – Oklahoma City Thunder
Giannis Antetokounmpo – Milwaukee Bucks
Damian Lillard – Portland Trail Blazers
Read on for stats on which player earns the most this season.
Lebron James – Los Angeles Lakers
The L.A. Lakers star stands to earn a whopping total of $92.4 million in the current season. Out of his total earning only $37.4 million is his playing salary, which is still the highest salary in all NBA franchises. LeBron earns the remaining $55 million from his endorsements.
In 2019, James entered into a community work endorsement agreement with Walmart. The star has also worked with the retail giant in the past with its Fight Hunger. Spark Change. campaign. That's not to mention the work he has done on Walmart's back-to-school initiative. Lebron James is also part of the investment group that around 19 pizza chains in Florida and Illinois called Blaze Pizza.
Stephen Curry – Golden State Warriors
Stephen Curry of the Golden State Warriors bags the number 2 spot as the second-highest-paid NBA star for the current season. The two-time MVP won his second award unanimously, a first in NBA history. He stands to earn a total of $85.2 million this season, with 40.2 million coming from his playing salary and $45 million from endorsements.
Curry recently bought a $31 million mansion this June in Atherton, California. The two-time MVP star also donated a sizeable seven-figure sum to Howard University to support a golf program. Curry has also signed an endorsement agreement with Callaway Golf.
Kevin Durant – Brooklyn Nets
Kevin Durant of the Brooklyn Nets is on the number 3 spot with a whopping total of $73.2 million. Over $35 million comes from his playing salary while the remaining $38.2 million comes from his off-court earnings and endorsements.
Durant will likely miss this season due to tearing his Achilles tendon in the NBA Finals in June. However, he will still get to pocket his first-year's salary in full under his four-year deal. Durant has a capitalist bend and has invested in over 30 diverse startups, including Acorn, a well-known investment app.
Russel Westbrook – Houston Rockets
Russel Westbrook is the highest-earning Houston Rockets star. He has a $207 million contract with the Rockets, which is the largest in NBA at this time. Westbrook also endorses Nike Jordans and has averaged a triple-double for the past three seasons. Westbrook is set to earn $38.5 million from his on-court salary and another $18 million from endorsements.
James Harden – Houston Rockets
Harden is the only other player from the Houston Rockets on this list. The star was MVP in the 2018 season and holds diverse investments to supplement his playing salary of $38.2 million, just slightly below Russel Westbrook. Harden is also set to earn $17 million from endorsements. He is an avid investor, with stakes in Stance socks, BodyArmor, and Art of Sport. This makes him one of the NBA's highest paid players.
Kyrie Irving – Brooklyn Nets
The Brooklyn Nets are Irving's third team in 4 years. He has signed a 4-year, $136 million deal with the Nets, which will earn him $31.7 million in playing salary. Irving also earns around $20 million from endorsements with brands like Pepsi, where he owns part of the aged Uncle Drew character that airs on channels like TNT. Kyrie Irving is also one of the earliest investors in Beyond Meat.
Klay Thompson – Golden State Warriors
The Golden State Warriors star will, unfortunately, have to sit out this entire season due to a torn ACL in the NBA Finals in June. Thompson will still collect his full playing salary, amounting to a healthy $32.7 million. He also earns $15 million this season from endorsements for brands like Chines shoe company Anta.
Chris Paul – Oklahoma City Thunder
Chris Paul is the only player from Oklahoma City Thunder to make it onto this list. His on-court salary, however, tops everyone's except Stephen Curry's at $38.5 million. The star is also set to earn $8 million off-court, from sources like his early investment in and endorsement of Beyond Meat.
Giannis Antetokounmpo – Milwaukee Bucks
The Greek Freek bags the number 9 spot with his $25.8 million on-court salaries for this season. He has an endorsement agreement with Nike and is also eligible for a $248-million-contract extension this year. This would make it the biggest deal in NBA history so far. He also stands to earn around $20 million in endorsements this year.
Damian Lillard – Portland Trail Blazers
Lillard won Rookie of the Year in 2013 and is a four-time All-Star. He signed a 4-year deal with the Trail Blazers worth $196 million and will earn around $54.25 as salary by his final year with the team. He also has an endorsement deal with Adidas and earns $14 million off-court.
Remember, NBA players have their money guaranteed as soon as they sign the agreement, unlike the NFL. Individual salary caps depend on season statistics and accolades.
Disclaimer: To our knowledge, we have made all the required efforts towards obtaining owner/publisher approval for the use of images in VISIONECLICK.COM blog posts. However, if you find violations of any sorts regarding any image, please feel free to contact us. Prices and packages mentioned may vary with time and the specific locations.