27 Interesting and Surprising Facts about Netflix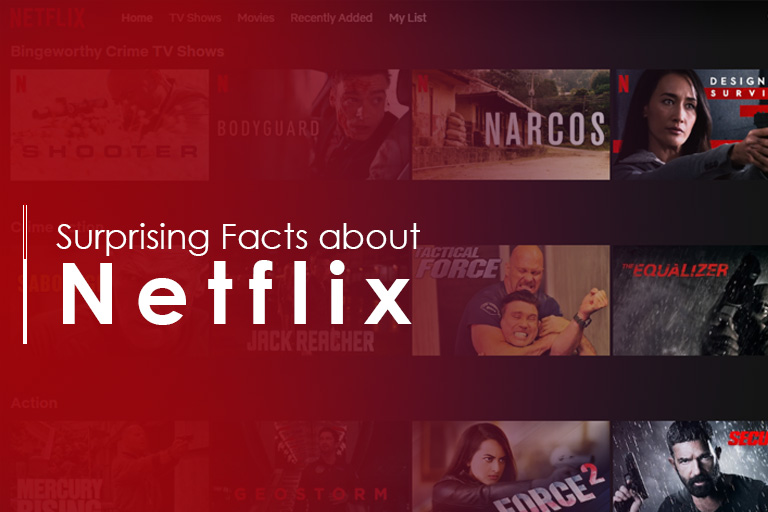 Netflix is known as the intravenous line for entertainment throughout the world. It has become a media empire. The best quality of Netflix is anyone who has the Internet can buy its subscription.
Netflix Timeline

27 Facts About Netflix
The library of Netflix original shows seems to be never-ending. Have a look at the lesser-known facts about this streaming giant:
1: Netflix older than Google
Netflix was launched as a subscription service in 1997 whereas Google was founded in 1998. It's actually 1-year older than Google.
2: It was about to be sold to Blockbuster
Netflix offered Blockbuster to buy their service for $50 million. They declined the offer. Netflix is now worth $20 billion and is doing very well in business as compared to Blockbuster which is practically dead.
3: Netflix's revenue
The estimated revenue of Netflix is 5.2 billion U.S. dollars.
4: Netflix's global availability
Netflix is available in more than 190 countries around the world.
5: Country with the highest market growth
The market in which Netflix is growing and expanding the most in Latin America.
6: Netflix subscribers
As of the 3rd quarter of 2019, Netflix has over 158 million paying streaming subscribers and 5.5 million free trial customers worldwide.
7: Largest contributor to online traffic
Netflix is the single largest contributor to online traffic in several countries. In the United States, the traffic is almost one third during primetime. No wonder users prefer ISPs with higher download speed.
8: Netflix was originally named Kibble
When the streaming giant was being incorporated, the founders named it kibble.com. This wasn't a permanent name though.
9: The first Netflix original was an abstract test footage
Netflix produced 11-minute test footage in 2011. It was their first original production for testing frame rates and examine how a streaming service can handle different types of content. It's still available in the Netflix library. You will see an unidentified man juggling and reading Shakespeare.
10: Netflix has a secret menu
Just press shift + ALT and left mouse click. This will bring a troubleshooting menu that lets you adjust the bit rate of the stream. This might affect the picture quality. If you are planning to watch thanksgiving movies, it's recommended not to adjust the settings then.
11: Soon, you will get to stream Netflix in TESLA
Elon Musk, the founder of Tesla announced that soon, Tesla owners will be able to stream YouTube and Netflix in their cars. There's a catch, you can't stream while driving. The service will only work when the car is parked.
This has got people wondering is 100 Mbps fast enough to stream Netflix in the Tesla. Well, you better hold on because of how and when this feature will be available – the company still has to determine that.
12: Netflix has its own awards show
Netflix owns an award show named the Flixies. It was just an experiment nothing serious. The company made it public in 2013. The company is silent about it ever since.
13: Average streaming time
An Average subscriber streams for 90 minutes a day.
14: Parents are more likely to have Netflix subscription
It is statistically proven that people who have children are more likely to have a Netflix subscription. No kidding, parents need something to keep their children distract whether it's Christmas movies or kids shows.
15: 70 percent of the users binge-watch
70 percent of the Netflix users binge-watch their favorite shows every few weeks.
16: The most-watched show
So far, the most-watched Netflix show is Breaking Bad.
17: Netflix spends more money than it earns
Even though Netflix is making tons of money in revenue, the company has been operating at a loss. This is largely because it is still growing and it's investing heavily in creating original content.
18: Netflix saves 160 hours of advertising
It is one of the most appreciated streaming services because it doesn't have commercials. It saves you hundreds of hours by getting rid of advertisements.
19: A subscriber watched Madagascar 3 352 times
One subscriber watched Madagascar 3 352 times in the year 2017. The user loved the film so much that they almost watched it every day throughout the year.
20: Netflix consumes 15 percent of the global internet bandwidth
It is no surprise that a good chunk of Internet bandwidth around the world goes to this streaming service. Different users across are world spend leisure hours watching their favorite shows and movies on this streaming service.
21:  Netflix employees can take as many days as they wish to
A spokesperson from the company said that they encourage freedom and responsibility. They treat their people like adults. As long as the work doesn't suffer, their employees can take as many days off as they want to. Of course, they need to notify in advance.
22: Netflix is the most wanted company among job seekers worldwide
The company pays you to watch the content it has produced and purchased. You just have to tag the content with words from a pool of one thousand keywords.
23: It was the first streaming to win the golden globe
It was among the first online programming service to ever win a major TV award.
24: It got an Oscar nomination
Netflix managed to score an Oscar nomination for "The Square" an Egyptian-American documentary.
25: Netflix will introduce an "Ultra" membership tier in future
This membership will allow users to stream Ultra HD video and audio content on up to 4 devices at the same time.
26: Netflix has more than 76,000 categories
Netflix has 76,000 + categories and each one has a unique code. Whether you are looking for Halloween movies, teen movies, or something romantic to watch on your anniversary, there are so many options.
27: You can become a translator for Netflix
The company launched a tool called HERMES to find translators around the world. It is an online subtitling and translation test. The applicant has to take a 5-part test of thousands of multiple-choice questions to gauge their English and ability to translate them.
Summing Up
Now that you know so much about this streaming, you will develop a new appreciation for the original shows, movies, and documentaries.
Disclaimer: To our knowledge, we have made all the required efforts towards obtaining owner/publisher approval for the use of images in VISIONECLICK.COM blog posts. However, if you find violations of any sorts regarding any image, please feel free to contact us. Prices and packages mentioned may vary with time and the specific locations.